Innovation Strategies To Grow Your Business – #TomFerryShow
Reading Time: 2 mins, 20 secs
Times are-a-changing!
$16 BILLION was spent in online real estate ads last year.
Nowadays, the ad spend it will take to get your potential customers to click on ad is bananas!
We are all arbitraging those ads, but I want to talk to you about your customer database.
There are two important strategies you NEED to know about online advertising in real estate…
NAR says 92% of home shoppers found their home online.
RE Trends 70% of buyers and 75% of sellers found their agent online.
Don't make your strategy strictly referrals!
Furthermore … the Zillow report found that:
"The local market knowledge is the most important consideration of a buyer when selecting an agent."
Be sure to download and read the whole Zillow Consumer Report.
3 Important Questions For Your Business
1. How can you stay top of mind in the most relevant way with your database?
2. How can you intelligently share your expertise and experience?
3. How can you generate more referrals and direct transactions?
4 Actions to Take Right Now
Here are the actions you can take to answer those questions:
1. Create an avatar of your database
Who are your customers?
What are the problems they face?
Create the stats and paint a picture of who they are.
It could be as simple as a 3 question survey:
1) What are your thoughts on the future of housing?
2) Do you plan on living in a bigger house or a smaller house and why?
3) What is important to you in a home today, versus when you bought yours?
Know your customers, and market to them specifically!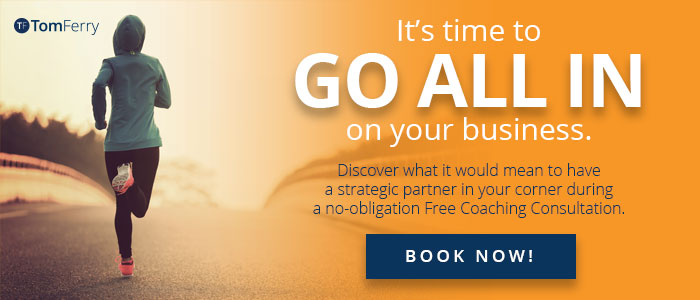 2. Bring value through meaningful content
Use the right platforms: Direct Mail, Instagram, Facebook, etc. for your specific audience.
Note that Facebook changed their algorithm and Facebook live video is now dominating feeds.
Once a month provide a simple Facebook live video update with important, relevant information to the people in your database.
3. Connect
Whether it is over the phone or face to face, you have to connect with your customers.
Quarterly, you should call every person in your database.
If you don't contact them at least once a quarter, you'll lose that relationship.
Coffee meetings are also great!
4. Innovate or die
Make no mistakes there are agents out there right now who are upping their innovation and taking business away from agents who refused to adapt.
Your strategy for 2017 can't simply to be "work harder!"
You have to put new ideas in place, because what got you HERE, won't get you THERE.
Opportunities
This New Year is full of amazing opportunities, and it is up to you to innovate and take advantage of them.
Take a good look at the items above and find the areas where you can UP YOUR GAME.
Remember that your strategy matters, and your ability to innovate absolutely rules!