10X Your Business in 2017 – #TomFerryShow
Reading Time: 2 mins, 11 secs
Happy New Year!
Yes, I know, it's still only September, but…
2017 starts NOW.
Here's the thing … you might still be in the mindset of "finish 2016 strong", and you should be! But in order to start the new year off with a bang, you MUST start planning now.
You deserve to make 2017 your Best Year Ever.
One of my favorite sayings is:
"Show me your behaviors … and I'll predict your business."
What you do on an everyday basis determines how much money you make.
So instead of waiting until January 1st, 2017 to decide what you'll do every single day, let's start mapping out your behavior NOW.
Set the patterns that will create momentum.
3 Crucial Questions to Ask Yourself
1. What's your goal for 2017?
This includes number of transactions, sales volume, and GCI.
Also write down how much money you want to SAVE in 2017. (Click here for more info on managing commissions)
There are no fears about the future when you're mapping out your goals and following a plan you believe in.
2. What are 3 new & improved behaviors that will naturally and automatically cause this to happen?
You can't FORCE success … it's got to feel natural.
Think about the behaviors that already align with who you are, and commit to those.
3. How do we install these behaviors?
This is the crucial part.
Wanting to do something is one thing…
Actually completing the behaviors necessary to reach those goals is entirely different.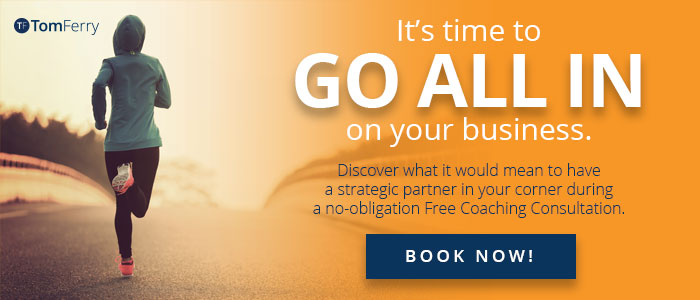 The 5 Steps to Change Your Behavior
1. Create awareness
Get clear on the pain your current behaviors are causing.
Also, realize the lack of pleasure that surrounds this behavior.
This helps to elicit the WHY behind your need for CHANGE.
2. List out the reasons to change
Make a list of not only the positive benefits for following through … but also the negative consequences if you DON'T take action.
3. Track & measure
Set a time period for your actions.
Whatever you want to improve, you measure.
When you measure, it matters!
4. Create some accountability
Most of us follow the path of least resistance.
When you have accountability, it helps to bond the commitment to change.
Having a coach is one of the best ways to create accountability.
5. Celebrate the new behavior
When you follow through, you feel good.
When you feel good, you want to keep doing the same behaviors every day!
Make it a point to celebrate your dedication.
Looking for Guidance?
Even with the steps laid out here … change can be tough.
That's why Top Producers turn to coaching…