Execute And Get More Done – #TomFerryShow
Reading Time: 2 mins, 0 secs
I took a little break from Summit to film this week's episode of the #TomFerryShow with special guest Kyle Whissel!
Kyle leads a team of rockstar agents in San Diego, CA and they are on track to do 400 transactions totaling over $200 million!
What separates Kyle is his ability to prioritize and get things done!
Check out this amazing tool Kyle uses to keep everything straight…
The Eisenhower Matrix
The Eisenhower Matrix consists of four different boxes to help you get things done.
Do
Keep this down to 3-5 tasks; the more tasks you add the less that will actually get done.
When you get two things done, you are almost halfway through your tasks!
Are you in revenue generating mode or organization mode?
Do you need to generate more revenue or focus on streamlining your business?
Delegate
How much is your time worth? (Think down to your hourly rate)
Can you pay someone $10 – $15 an hour to take care of the little tasks?
Your assistant is your best accountability partner.
Plan
These are the things you need to take care of the future.
This is similar to the do category, but look at this as more of a place for long term tasks.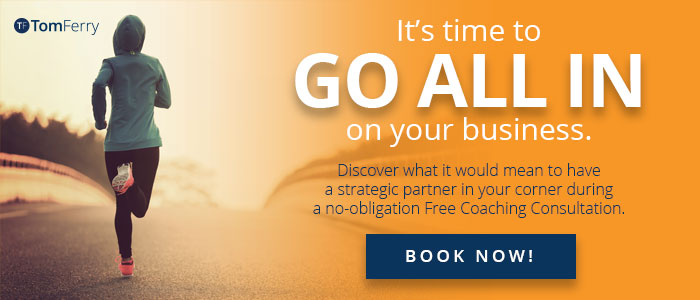 Eliminate
Analyze your ROI.
Are you getting 2 to 1 or 5 to 1 return on the money you are spending?
Are you trying to do things simply because you heard someone else was doing them?
Focus on what you are good at.
Do, Doing, Done Board
I'm a big fan of having things up and visual.
One of my first mentors Mike Vance, taught me about this board years ago and I use it all the time.
For me, it serves as a great capture device for all of my ideas!
How it works
In the "Do" column I usually have 25 – 50 ideas.
The "Doing" column has a maximum of three ideas that I am currently working on.
"Done" is a great place to see the work you've completed!
Trello.com is a free resource that is a digital version of this board.
It is sharable, and a great resource to collaborate with others.
So how do you get stuff done?
Get a process and place and make things happen!
Create an Eisenhower Matrix and/or Do, Doing, Done Board
Learn how coaching can help you get a proven process in place to achieve your goals.