Overcoming Your Excuses With These 3 Steps – #TomFerryShow Episode 72
Reading Time: 1 min, 34 secs
This week we have a special guest, my son Michael Ferry!
He breaks down the premise of one of my favorite books, The Power of Habit!
3 Parts of a Habit
1. Cue – I have no money!
2. Cycle – I get on the phone to start generating business.
3. Reward – I've got listings and sales!
Are your habits helping you make 2016 your best year ever?
Ask Yourself These 4 Very Important Questions
1. What do I need to be doing more of?
Example: Following up with more clients, sending more emails, etc.
2. What do I need to be doing less of?
Example: Less first time showings
3. What habits do I need to start?
Examples: Facebook advertising
4. What habits do I need to stop?
Example: 24/7 email checking
Bottom Line
There are still 6 months of the year left, and I've watched agents make more money in the second half of the year than they did in the first.
I'm still committed to making 2016 my best year ever.
Are you?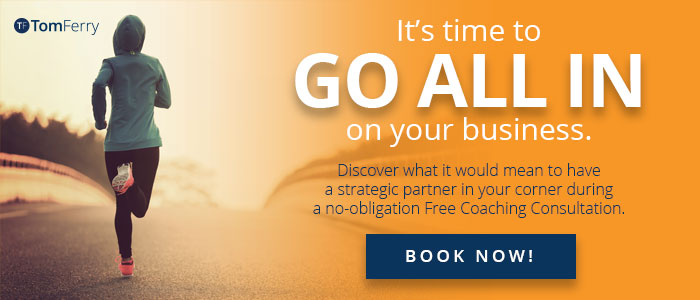 You need to commit to what matters most, and here's how you can do it:
3 Actions to Take Today
1. Focus on your morning routine
Goals, affirmations, role playing.
Control your morning routine, and set the tone of the entire day!
2. Pre-schedule your most important new behaviors
These are the things you need to "start" and "stop"
Put your new habits/actions in your calendar!
For example 8-9a – reviews scripts and role play
When it is all planned out you have less drama and uncertainty.
You know exactly what to do, and when to do it.
3. Up your accountability
Drop the excuses
Overcome your fears
Next Steps
This can be your best year ever, and one of the best ways to achieve that is through accountability.
Learn how our coaching programs can give you the accountability you need to make this year your best yet.