The Winning Mindset of Top Producers – #TomFerryShow
Reading Time: 1 min, 59 secs
What separates the winning and top performing agents from the rest?
Their mindset.
Your mindset sets the tone for the actions you will take and the success you can achieve.
You've heard me say it before, but your mind is a scary place to be.
Because your mental chatter doesn't help build you up or create self-esteem; it does the opposite.
How do you over come the negative mental chatter?
Your Mind
Think about your mind in terms of conscious and unconscious.
The unconscious is sort of this "mind cloud" that remembers every thought, action, and everything you've experienced.
Unfortunately, the unconscious mind doesn't separate the data into categories like true and false; it just stores them all in the same place.
How the unconscious mind can affect you…
Let's say for example I give you a script to get out there and make some calls.
The unconscious mind gets to work and recalls a time where you had a bad experience on the phone.
That negative experience is pushed over to the conscious mind, where the thoughts, words, and actions take place.
This leaves you not wanting to make a call and maybe even fearing the outcome!
Be sure to check out this episode of the #TomFerryShow to learn how you can combat your fears.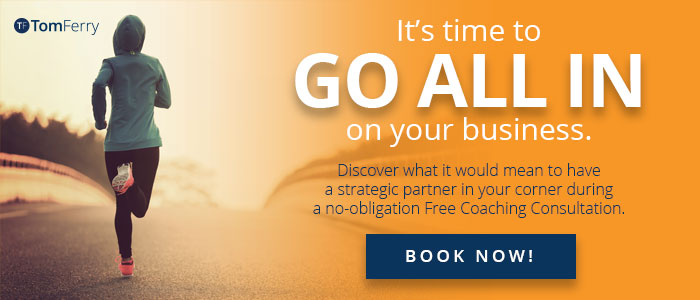 3 Strategies Used By Top Performers
1. Interrupt the pattern
Attitude is a reflection of your self-talk.
Self-talk is the things you say to yourself, about yourself, and about other people.
The good news is you can take control of your self-talk.
2. Condition Your Success
Take responsibility for your self-talk.
Read or listen to books that will build you up!
3. Work daily to build your confidence
The difference between good, great, and outrageous success in real estate is the ability to move beyond your limiting beliefs.
Things like how many homes can be sold, people that can be served, and how much money can be earned.
The only way to do that is through daily discipline.
Feeling tired?  Make just five more phone calls.
Don't let the self-talk prevent you from doing the work!
The Challenge
I'm committed to your success and pushing you outside of your comfort zones.
I dare you to match me!
Learn how you can take your success to the next level with our coaching programs.