Choosing The Right Lead Generation Systems – #TomFerryShow
Reading Time: 3 mins, 27 secs
How's your 1st Quarter going? Are you hitting your goals?
Here at Tom Ferry – Your Coach we work with our members on tracking and measuring their efforts to maximize their time and sales.
So as we start to wrap up the 1st quarter, it's the time we start to look at what's working, what's not and what are the strategic adjustments need to be made.
The big question we ask is – do you have enough clients?
Because at the end of the day the leading indicator of a successful real estate business is CLIENTS!
In this episode of the #TomFerryShow I am going to talk about the biggest mistake I see agents right now and show you how to serve more clients.
"All business is marketing and innovation." – Peter Drucker
The biggest mistake I see right now is that agents are not feeding their sales funnel enough.
They have a few lead generation systems but not enough so their business is always in feast or famine mode.
The goal of every business is to feed the funnel as much as possible with new, fresh leads.
And to do that you need to always stay on top of your lead generation systems.
So in the spirit of spring cleaning it's out with old and in with the new!
But before you start bringing on new systems make sure you are taking advantage of your existing lead sources.
Get the Most out of Your Funnel
1. Feed the Funnel
Adopt new lead generation sources quarterly or annually
Measure your lead sources to see which are the best investments
Treat all leads the same, stop Judging opportunities and just serve the client
2. Respond to leads within 5 minutes 
5 minutes is the time period where that person is still in the modality of wanting the information
3. Spend time to nurturing your leads
Lead generation is important but even more important is lead nurturing … providing helpful information for buyers and sellers and staying top of mind consistently until they are ready to make a decision
All the money is in conversion! So make sure you know what to say when you get a prospect on the phone
Aligning your behaviors with your commitments will maximize the opportunity in front of you and allow you to serve more clients.
You can't do the same thing over and over with your lead generation and expect to serve more clients.
So what you need to do is take an account of which lead sources are providing the biggest return on investment.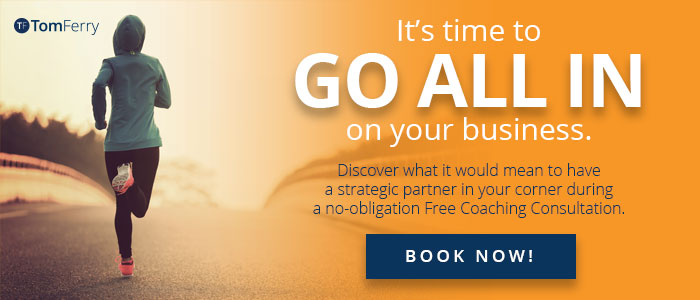 Do the Math!
Make Quantitative Decisions
Do you know your Cost Per Lead per lead source?

The cost much to get a new name in your database

Cost Per Appointment per lead source?

Not all of your leads will pick up the phone and not all of them will meet with you

Cost Per Sale per lead source?

Of all the people you meet with only a percentage will buy or sell with you
Once you have made your current funnel as efficient as possible and you know what your metrics look like it's time to consider new lead generation systems.
Mini Coaching Session
1. Know what works NOW!
Invest in the lead sources that give you the highest ROI and try out a few new lead sources for at least 90 days
2. Systemize & Improve
 For every lead source you need a system so that no one falls through the cracks and you follow up fast
3. What are the natural extenders?
Which systems work naturally with the ones you're already getting results from?
4. Add 1 new system a quarter
Everything takes 90+ days to have enough data to decide if it's working or not
5. Learn the pain points and create solutions 
With each new system make sure you tailor your message to the channel and the audience
Real estate is a business and if you take the time to innovate your marketing you'll always have a full pipeline.
Because we know we can help and we know you want to sell more homes!
If you've ever considered our programs I suggest sign up for a complimentary coaching consultation.