5 Ways to Improve Your Listing Presentation Today – #TomFerryShow
Reading Time: 2 mins, 48 secs
I'm soooo excited about this episode of the #TomFerryShow.
My friends, this is the one episode you've been waiting for that is going to make the biggest difference in your business.
Bookmark this video and watch it over and over again to ensure you are mastering every step of these powerful listing presentation tips.
Now, let's get into it …
Would you say that your listing presentations are stale and generic?
Do you walk into an appointment saying the exact same spiel as the three agents before you did?
It's time to up your game, stand out from the competition and get the easy YES!
Tip #1: Know Your Customer
Research your customer before the appointment:

Check out their social sites (no, this isn't considered stalking)

Look for commonalities that you can build rapport on

Pre-qualify your customers

Who are the decision makers?

What are their exact needs and desires?

When are they looking to make a decision?
Tip #2: Do Your Homework on the Market
Go beyond the comps!

Really know the features of each recent sale, know the neighborhood, the culture, the community – everything
Tip #3: Show up Mentally Prepared
Don't be LATE! This disrespects the client and does the opposite of building rapport
Visualize speaking with your customer and your desired outcome for the meeting
Set your mindset to knowing that you are the obvious YES

Don't be over-confident – move and speak with elegance surrounded by trust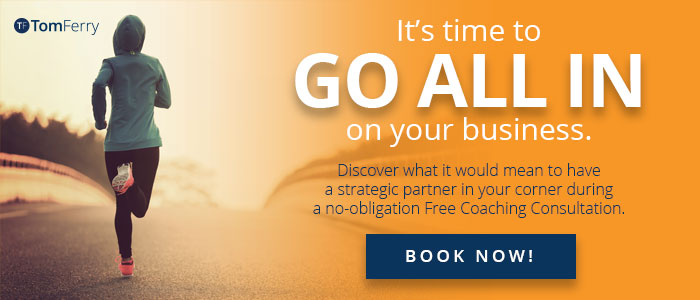 Tip #4: Tell the Story
Starting the meeting with a story that immediately captures interest and differentiates you from the rest
For example:

"I've been on 62 of these appointments and 58 people chose to work with me. My goal is to make this as easy and quick of process as possible for you."

If you're a newer agent: "Our firm has successfully listed and sold over 275 homes and every week at our team meeting we debrief. We discovered there are 5 questions that every customer asks. Would you like to know what they are?"

Here are the 5 questions:

How are you going to get me the most money?

How much time is it going to take?

What's your track record?

What's your marketing plan?

Who else is involved in the process/team?
Tip #5: Share Case Studies, Not Promises
Continue the story by sharing case studies of similar customers. This allows you to demonstrate your expertise and experience in an engaging and memorable way.
For example:

"When I helped Tom and Kathy sell their 3 bedroom, 2 bath home down the street, what worked really well was …"

Here's the flow of a case study (image below) that works

Earned the listing

Staged the home to took professional photos and video

83 agents at the broker preview

Major online impressions

87 people at the mega open house

Received 8 offers

Sold for 3% over asking!
Check out our Agent Tools page for sample listing presentations and social proof pieces.
I'd love to hear how these tips helped you improve your listing presentation. Leave me a comment on Facebook, sent me a tweet, or post a video on Instagram.
And of course, I'd love to help you build a business and life that you love by becoming a member of our coaching community.
The first step is a coaching consultation … it's absolutely free and there are no strings attached.