6 Winning Hacks to Get More Done in Less Time – #TomFerryShow
Reading Time: 5 mins, 4 secs
I know your days are busy.
But I also know this – there are different types of "busy."
There's good busy, where you have appointments booked back-to-back all throughout your day.
And then there's bad busy, where you're running around doing errands, stuck in traffic, doing paperwork… and likely falling behind on the truly "important" aspects of running your business.
So today, I want to help. This #TomFerryShow is all about making sure you're maximizing efficiency with your time.
Here are six hacks to get more done in less time, in no particular order…
Time Management Hack No. 1: Know Your Desired Outcome
This one applies to anything and everything you do throughout your day. From picking up the phone to meeting with prospects to solitary time spent working "on" your business, you need to know exactly what you're trying to achieve at all times.
"What is my outcome?"
That's the question you should be asking yourself dozens of times every day. When you know what you're trying to accomplish, you'll perform that task with greater focus, speed and effectiveness.
On the other hand, if you haven't defined what you're trying to achieve, a project can easily get away from you and dominate your day.
Before everything you do, make sure to take a moment to create the specific, measurable outcome you desire.
Do you do this already or do you need to incorporate it into your process?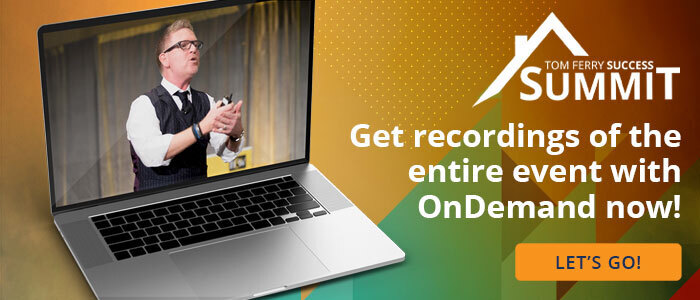 Time Management Hack No. 2: Create Your Best Day Ever
If you're familiar with me at all, you've likely heard me say this at one time or another:
"If it's not in your schedule, it doesn't exist."
So… why do I repeat this mantra over and over and over?
Because if things aren't built into your schedule, they won't get done. You'll be far less effective if you wander aimlessly from one task to the next rather than following a strict schedule.
Think of a busy day on your schedule… Each of those little blocks of time are like mini deadlines that push you to get stuff done before the next block begins. If you're not working from that type of mindset, you're not going to get nearly as much done.
Taking this idea broader, it's typically around September or October when I map out the entire next year on my calendar. You should always start with your personal priorities first (family vacations, etc.) and then slot your work time into what's left, focusing mostly on your HBUTs (Highest and Best Use of Time).
Which brings us to…
Time Management Hack No. 3: Focus Solely on Income-Generating Activities
Tell me if any of this sounds familiar:
A couple hours spent addressing postcards
A couple hours spent organizing your files
A couple hours spent searching the MLS for just the right property
You get the idea, right?
It's important all those tasks get completed. However, what's not important is that YOU'RE the one doing them.
I strongly believe the only things that should be in your schedule are income-creating activities.
There's an old acronym for P.L.A.N.: Prospect, Lead follow-up, Appointments, Negotiate and get deals done. If it's not one of those activities, outsource it!
In today's world, anything that can be automated should be outsourced. Don't do work that someone else will gladly do for $15 an hour! Your time is worth more than that! Whether you hire part-time help or a virtual assistant, don't limit your own income by doing work that is beneath your pay grade.
Bonus Tip: Summer is on its way… Are you considering hiring a summer intern or two? Find a college student interested in real estate and give him or her a chance to learn the industry while performing important tasks like social media, admin or marketing tasks for you!
Time Management Hack No. 4: Stop Typing, Start Speaking
We've all gotten pretty adept at typing on our phones these days.
But it's still not as fast as speaking.
Take advantage of your phone's microphone by using voice commands for everyday tasks like note taking and composing text messages.
I do this, and in my phone, everything I do is then saved in Evernote. This provides an additional benefit as I can later access ideas and tasks with a simple search.
Time Management Hack No. 5: Create a Productive Commute
How much time do you typically spend driving to and from work every day?
Such a waste of time, but a necessary evil, right?
Wrong!
With the advent of ride-sharing, there's no reason you should be wasting your time behind the wheel stuck in bumper-to-bumper traffic.
Instead, you should be in the back seat of an Uber or Lyft and making your phone calls, following up with leads and getting stuff done!
What's even better, is by adopting this approach, you'll be fully "in the zone" by the time you arrive at your office. As a result, you're likely to be more productive all throughout the day.
Time Management Hack No. 6: Get Up Earlier
There's really no two ways around it: Those who get up and get going early get more out of life. They're more productive, they earn more and they achieve a higher quality of life.
Even if you're "not a morning person," try it! Set yourself up for success by going to bed earlier so you feel good when you wake up.
Stop hitting the SNOOZE button on your life! Get up and go attack the day!
For more on making effective use of your time, be sure to download our Time Management Tool Kit including my Daily and Weekly Million Dollar Checklists, scripts, planners and more!
Which of these hacks will you put into use right away? Which one scares you the most and why? Let me know your thoughts in the comments below!