Tips & Tricks to Maximize Your Video Marketing – #TomFerryShow
Reading Time: 3 mins, 7 secs
When I got approached to be interviewed about The Power of Video Marketing, I knew the conversation would be packed full of valuable tips for today's video-first marketing environment.
So we shot it as a #TomFerryShow as well!
And what resulted was 30+ minutes of powerful video tips and tricks.
I'm focusing on some of the highlights and top takeaways here in the blog.
Being There is More Important than Innovating
Some people avoid video because they don't know how to bring something new to it, or they fear it requires all sorts of creativity and innovation.
What's more important is just being active in the video space and delivering content.
If you can deliver creativity and innovation, that's just a bonus.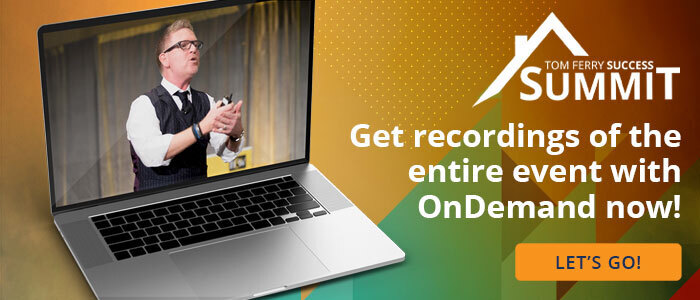 The Three E's of Video Marketing: Engage, Entertain & Educate
Engage:
One of the most important keys to being successful with video is to be yourself. People will either like you or they won't, but don't look at video as if it's your job to try to convince people to work with you.
Entertain:
Again, it's important to be yourself. If entertaining people comes naturally, go for it. If it doesn't, don't do it. People will know if you're faking it. Stay in your lane and let your personality shine through – the real you.
Educate:
This is the game changer. Agents who consistently provide valuable information through video stand out in their markets and become the trusted voice in their local real estate communities. Deliver that value and become the "knowledge broker" for your area.
Quick Hit Do's & Don'ts
Do:
Go LIVE! (Make sure to write a compelling headline around your planned topic)
Recognize people who join your live videos
Promote engagement – Don't be afraid to ask for those hearts and likes when shooting a live video
Don't:
Have bad lighting
Have bad sound quality
Create a boring thumbnail: You must captivate people and make them want to know more
Which Platform is Best?
My advice is to never get too myopic with any one video platform. The more well-rounded you are, the better your chances for success. That means spreading Easter Eggs all over YouTube, Facebook, Instagram and IGTV, Twitter and LinkedIn, at the minimum
How to Overcome the Epidemic of Facelessness (Getting Started in Video)
If you're struggling to get yourself in front of the camera and put yourself out there to the world, I'd recommend you try BombBomb Prompt. Shooting videos that are intended to be sent directly to individuals rather than published online should help you ease into the process of making videos and feeling comfortable on camera. Getting in the mindset that you're delivering a message to one person is always a good way to approach your videos anyway.
4 Videos You Absolutely Must Create
Get to Know You – All things being equal, people prefer to work with those they know and like. Give them some insight into who you are in this video.
First-Time Buyer Tutorial– What tips do you have for first-timers? What pitfalls must they avoid? Provide that insight and deliver value.
Selling Your Home in [Your Area Here] – I recommend you create this exact video for every city you serve. This is the type of video that makes YOU the local expert in people's minds.
Reviews on Video – Whether it's video testimonials or a scroll of text from Zillow reviews, it's always a good idea to demonstrate proof of how you've assisted others.
What's one tip you will integrate into your video strategy from this episode? Let me know in the comments below.