3 Steps to Snap Out of "Survival Mode" – & More! – #TomFerryShow
Reading Time: 2 mins, 32 secs
On today's #TomFerryShow, I answer some excellent agent questions about…
Social media's place in building your business (0:36)
IGTV's emerging role in marketing (1:15)
The ideal real estate team size (2:22)
Who makes more money: Solo agents or teams? (3:36)
I encourage you to watch the full episode to get all the answers.
Here on the blog, though, I want to focus on a question from Laurie Baker. Here's her question:
When you wake up and realize slowly over the years you have only been surviving with life's "stuff" throwing you off and you lost who you really are… What are 3 steps you would suggest to getting back to who you really are?
Deep, huh?
Actually, I love this question because it's so relatable. I know Laurie's not the only one out there feeling this way, and I thank her for being willing to ask this question so everyone reading this can snap out of "survival mode" and start living the life they desire.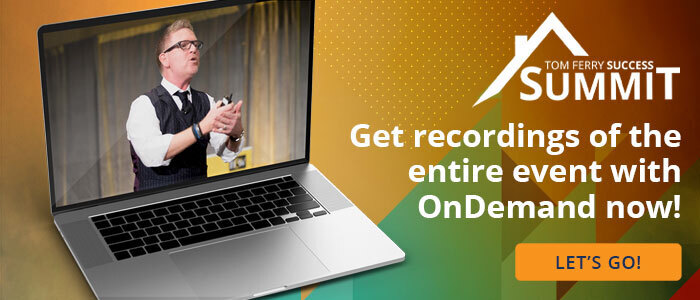 3 Steps to Snap Out of "Survival Mode"
Get Pissed Off
Normally, getting upset with yourself isn't very productive. But in this case, I think it's essential.
It's time to look yourself in the mirror and realize you have been granted an insane opportunity simply by being alive.
You've been put on this planet with an ability to do extraordinary things.
If that's what you want, you need to set a goal and commit to it.
Remember: Until one is committed, there is only hesitancy.
If you're not working toward something, you're simply existing and deteriorating over time.
Where getting pissed off comes into play is that you need to shake yourself out of this funk enough to commit to making a change in your life, which brings me to…
Commit to Something
For some, it might be "I'm going to commit to lose 10 pounds."
Or "I'm going to commit to make $100,000."
Or better yet, "I'm going to commit to shake up my environment and not allow my circumstances to impact me."
What allows people to turn things around is shedding their personal history and realizing the only thing that matters is what they're committed to right now!
What do you want?
Set your goals and make those commitments to get you there.
Commit to Discipline
You need discipline to get where you want to go.
In life, you're either moving forward, laterally or backwards.
Discipline is the only thing that will keep you moving forward through down markets, challenging times and upsetting situations.
Start by determining the actions needed to accomplish the goals you set for yourself.
Then practice those actions like brushing your teeth.
You brush your teeth every day, right?
Yes, because it's a discipline.
Make whatever actions are needed to succeed part of your routine.
Make them your priority. Make them automatic.
I hope you found value in this episode. Let me know your biggest takeaway in the comments below!