Sales & Growth Strategies with Tiffani Bova – #TomFerryShow
Reading Time: 3 mins, 25 secs
On Wednesday, August 8, Salesforce's Global Customer Growth and Innovation Evangelist Tiffani Bova will take the stage as one of two keynote speakers at this year's Success Summit in Anaheim.
With that appearance still four weeks away, I wanted to give you a sneak peek of her wisdom into helping salespeople grow their businesses…
…So I invited her to be a guest on this #TomFerryShow!
And she delivered with some fantastic insights for anyone in sales.
To make sure you catch all those insights, I encourage you to watch the show. Here in the blog I'm highlighting several standout ideas she shared.
The Greatest Sales Force Possible
You know how it goes: When a trusted friend recommends something to you, it's meaningful, right?
Tiffani couldn't agree more.
"Your greatest advocate is your past customer," she said. "You can't pay for that type of marketing. No mailer is every going to beat word of mouth."
That's just one reason why providing an exceptional customer experience is essential to your success.
People having natural conversations about how much you impressed them will out-convert any sales script or marketing effort. So it's up to you to create an amazing experience for every client.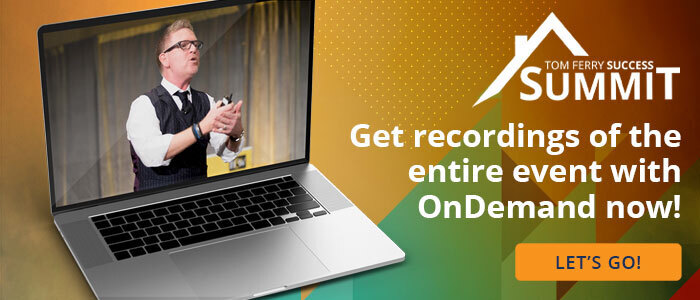 How to Make Your Fee a No Brainer
Being known for providing a premium experience also translates into fewer battles over your commission.
As Tiffani pointed out with her Uber analogy, people are willing to spend a premium for a better experience.
"You and what you deliver are part of that experience."
Never forget that!
Why Your Philosophy on Tech Matters
Tiffani says you can't be afraid that technology is changing our behaviors. Instead, you need to embrace that change and embrace what's coming. The harder you dig in your heels and resist that change, the harder it will be for you.
I loved this line Tiffani shared:
"How many of you took the training on how to buy on Amazon?"
The point being… It doesn't require training. It only simplifies the customer experience. When you make things easier for people, it doesn't take much convincing to get them to change their behaviors.
Continually Tighten Your Experience
A real estate transaction has a long supply chain, one that involves many touches out of your direct control: Mortgage brokers, title reps, contractors, inspectors… the list goes on. If your customer had a bad experience with ANY one of these vendors, guess who it reflects poorly on?
Yes, YOU.
As a result, Tiffani says forging strong relationships with those people is essential…
…As well as continually tightening that experience for your customers.
Getting Ahead of the Curve
In today's tech-savvy marketplace, this one is more important than ever.
When it comes to customer experience, you need to get out in front of your customers and greet them when they get there. (Think of the famous Wayne Gretzky quote, "Skate to where the puck is going, not where it has been.")
Now, don't worry. Tiffani said you don't have to be years ahead of your customers. But strive to be half a year ahead of the curve.
Then she gave the perfect example:
If you meet with a buyer and start telling them all the basic info about the property, you're going to get some funny looks, and you're definitely not going to impress them. Today's buyers have access to all of that information already.
"Tell me something I don't know," Tiffani says. "You need to be able to provide information your customers cannot get on their own."
5 Ways to Get More "TBo" in Your Life
• Buy her book. (I got an advance copy and it's GREAT!)
• Watch the Facebook Live Tiffani and I did on the same day we shot this episode.
• Join us at the Summit, where her keynote speech is bound to be a highlight!
• Check out her website.
• Follow her on Twitter… She's one of Inc. Magazine's "37 Sales Experts You Need to Follow on Twitter"