Top 6 Ways to Dominate Your Geographic Farm – #TomFerryShow
Reading Time: 4 mins, 14 secs
Geographic farming is one of the great lead generation systems beyond your database, past clients and centers of influence. Recently, agents from all over the world have adopted geographic farming as a standard in their business model.
Here are 6 tips from top producing agent and Tom Ferry coach Eileen Rivera on how to establish a geographic farm to get buyers and sellers wanting to work with you.
Top 6 Ways to Dominate Your Geographic Farm
1.) Consistency with marketing. 6 years ago, I came to Tom to talk about geographic farming because I wanted to have a presence in my neighborhood. We came up with a marketing strategy that was all about consistency. It wasn't about fancy, expensive, and beautiful marketing pieces. It was about doing what I can afford so that I do it every single week–week after week. And because I didn't have a big budget, a lot of time cultivating my geographic farm was face-to-face.  So sweat equity versus check equity. Within the first 6 months, I saw great results with the amount of business coming in. After that, I was able to expand my marketing budget and always had the funds to support whatever we've done in our farm, but our face-to-face activity never lapsed. My team and I still knock on doors to get that face-to-face time with our farm because consistency is key.
2.) Be in your farm. Which means everything that puts you in your farm. So for me, I live in my farm and so I do a lot in my community. I do my grocery shopping, walk my dog, and have dinner with my family and friends centered around my farm. If you are investing in your community, it will invest in you. Be present to that community and find the reasons why you love doing real estate in that farm.
3.) Give back. So it's not just about sponsoring the brochure in the local elementary school. These people are your neighbors. In my case I live in my farm which I love so I give back when the elderly woman from five blocks away is walking, the dog gets away, or she's struggling with something. Be the person to stop what you're doing and go help. It's not just monetary. The monetary part of giving back is easy. Stopping and slowing down long enough to make who you are the contribution because people will notice and will respond positively to that.
4.) Have a kick-ass listing presentation. I've been selling real estate for 20 years and have built a business where people just call me up and say "come list my house." But I will never say that is my biggest competitive edge. So what I've seen in the industry for years is someone gets good and become successful. They are attached to their presentation and have a mentality of "this works, so it's gonna keep working." For me I will never become complacent. I'm always learning  and step up my game because I care for the people I help buy and sell homes.
For example, I've learned what other agents do to improve on their listing presentation and have implemented some of these tools into mine. So I now have a pre-listing video strategy where I shoot a coming soon video of the listing I'm going up for. I shoot it right on my phone in front of the seller's home. It's a competitive advantage, but at my core the message I want to get across to my seller is I'm already invested in you.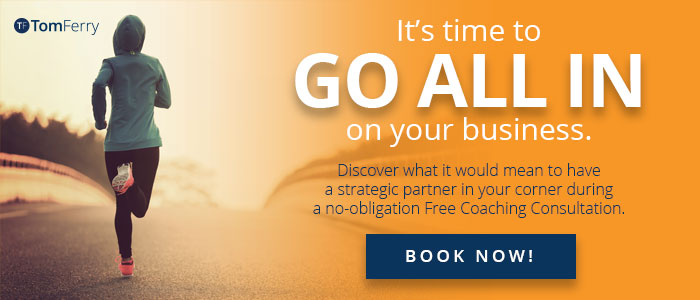 5.) Control the online footprint. It matters to me how anything with my name on it is perceived online. Whether it's our photos on MLS, social media, our website, basically anything online I want it to match what we are like in person. So I  joke, and the owners of Zillow have heard me say this, and Tom's heard me say this, I have a love/hate relationship with Zillow. I love the results that I get, I hate that I need them. I think that resonates for a lot of agents, but at the end of the day the results speak for themselves. I invest in Zillow and I invest in postcards and marketing and my team knocks doors because I want that presence. Ultimately, the goal is to walk through the door and deliver on the perception we created online.
6.) Have a plan to interconnect. You have to be congruent with your approach in order to build, dominate and, and be wildly successful at geographic farming. So again your postcards should look like your website. Your photos should look like you. You're personality and energy has to match with everything you do. Because people are watching and are keeping tabs. What you can absolutely own and control is how you show up and the man or woman you want to be. Everything needs to make sense. So it can to be real for the consumer.
If you're interested in maximizing and automating your direct mail campaigns, check out www.geographicfarm.com
Strategy Matters. Passion Rules!