You Asked… I Answer! (With Special Guest Conor McCluskey) – #TomFerryShow
Reading Time: 2 mins, 52 secs
I still have a few unanswered questions from agents, so let's dive into another Q&A episode of the #TomFerryShow!
This isn't just another ordinary Q&A episode, though, as BombBomb Co-Founder & CEO Conor McCluskey joins me to share his own perspective.
As always, I suggest you watch the entire video for the full experience, but here in the blog I'll recap my answers to three of the most important questions in this episode.
Let's go!
Question: Where should I spend my time as an agent who wants to grow?
Make sure you are actively sharing your wisdom rather than sitting around waiting for people to draw it out of you. You are the knowledge broker for your market, right?
I believe it's irresponsible of you to just sit on all that knowledge instead of sharing it with prospective clients. You need to be creating meaningful content that proactively answers the questions of your customers.
That's how you create more inbound business instead of constantly chasing the next deal.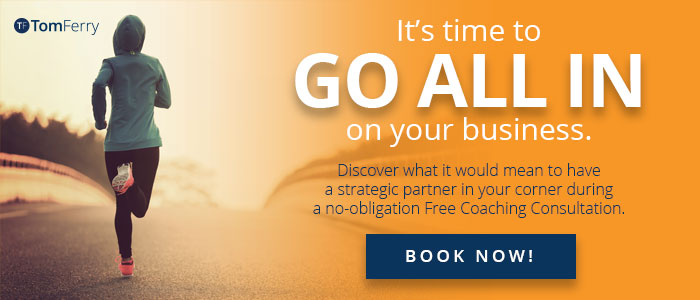 Question: What are your best tips for business planning and life planning?
(Make sure to check out Conor's great answer to this…couldn't agree more!)
The most important step in successful planning is realizing that life is a marathon, not a sprint.
People tend to overestimate what they can accomplish in a year, but dramatically underestimate what they can achieve in a decade.
The problem is the vast majority of people lack patience. They're willing to exert lots of energy in short bursts, but they lose momentum over the long run.
A great exercise to help overcome this is to develop a truly long-term view for your life.
Imagine yourself 20 years down the road and describe your entire life in specific detail. What do you want your lifestyle to look like? (Remember, you're writing your own life story, so be sure to make yourself the hero!)
Here's why I love this approach…
When you possess a vision for where you're going in life, you're better prepared to withstand and overcome the inevitable challenges you'll encounter along the journey. The deal that falls apart is a bummer, but you still trust your long-term plan.
With a plan in place, you become more unshakable.
Without a plan in place, it's easy to get derailed by one setback.
Create your plan and follow it confidently to create the future you desire.
Question: What are some of your rules for operating at #LEVEL10?
The #LEVEL10 mentality is all about competing only against myself. It's not me vs. you. It's not me vs. my biggest competitor.
It's me vs. me.
It's striving to be my very best with no apologies for being positive.
A great way to envision what #LEVEL10 means is to picture yourself with a superhero cape on your back. Then compare SuperYou vs. normal you.
With that cape on your back…
What time does SuperYou wake up in the morning?
When does SuperYou go to the gym?
How many calls a day does SuperYou make?
What does SuperYou's listing presentation look like?
Operate from that perspective at all times and you'll be performing at #LEVEL10!
I'd love to read your comments on this episode! Let me know one takeaway that will help you build the life and business you desire.