How to Adapt to Change and Execute New Ideas: An Interview with Cliff Stevenson – #TomFerryShow
Reading Time: 2 mins, 56 secs
In this week's #TomFerryShow, I sit down with Calgary real estate leader Cliff Stevenson. He's got a fascinating story and shares tons of great advice, so I hope you'll watch the whole episode — or listen to it (don't forget the podcast is always an option). Here in the blog, I wanted to highlight a few of the keys to Cliff's incredible success.
Cliff's ascension to greatness has witnessed many changes throughout his career path. He began as a single agent and then built a hugely successful team. His next move was a sharp pivot into a new role serving as president of the Calgary Real Estate Board (CREB). After his term was complete, he went out and bought a franchise.
He did all of this prior to his 44th birthday. To say Cliff is driven is obviously an understatement.
But it's more than just drive that makes Cliff so successful. Clearly one of his greatest traits is a willingness to embrace change. Where so many agents resist it, Cliff relishes it. He seeks it out.
The Costly Case of Holding on Too Tight
Unbeknownst to him, another of Cliff's defining traits was actually holding him back as much as it was helping him build his business. You see, Cliff holds very high standards for everything he does, which is great, right?
In Cliff's case, the answer was yes AND no. After I started coaching him, we realized sometimes those lofty standards prevented him from delegating tasks to others. In turn, that failure to delegate prevented Cliff from focusing on more important, dollar-productive work. (Sound familiar to anyone?)
"Letting go was when the growth happened," Cliff says now.
Cliff's growth is impressive, too. The year I met him, he'd sold 58 homes. The next year, he closed 126.
(Does "Double PLUS 10" sound good for you next year?)
"When I started coaching, I realized how much I needed it," Cliff told me. "If I didn't have somebody pushing me, that growth never would have happened."
Revealing Cliff's #1 Secret to Success
One of Cliff's secrets that makes him so successful is actually tied directly to his lofty standards. His strategy is to always "Love on his leads."
What's that mean?
It means he's spending a lot of money to get those leads on his desk and on the desks of his agents. So when one comes in, it's not to be taken for granted.
"Loving on your leads means your response time is damn near immediate, and your follow-up is crazy good," Cliff explains.
For Cliff, the average time span from first contact to closed transaction is often 400+ days. He recognizes that if he's not continuously loving on his leads, there are many opportunities for those people to jump ship to another agent.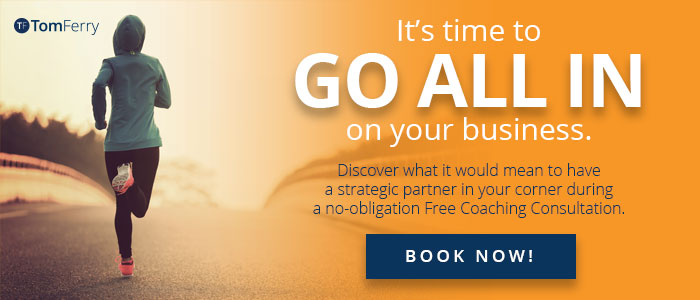 Cliff overcomes that by constantly following up and finding ways to provide value to people throughout the process. It's an approach that requires a lot of patience and commitment. But it's also responsible for taking his sales from 58 homes to 126 in the span of one year.
How Much Do You Love Your Leads?
It might seem like a thin line between liking your leads and loving them. But there's a huge chasm in the result. When you love on your leads, they reciprocate. If you only like them, they vanish.
How will you put Cliff's advice to work for you? I'd love to know your thoughts below!