Set 100 Appointments Like Mariangel – #TomFerryShow
Reading Time: 3 mins, 21 secs
Success Summit is always one of my highlights of the year.
Not only do I get to see so many of you rockstar agents in person, I also get to CHALLENGE you too.
This past year I met a woman named Mariangel, and issued her a pretty amazing challenge that radically transformed her business…
The Challenge
Mariangel came to me saying she was just barely surviving as an agent.
She was just sort of getting by, and not earning the true success she deserved.
This was in late August of 2016 and I told her that if she could book 100 appointments before the year was over I would give her $10,000.
I told her that she needed to be in contact with me and her coach every day, and to commit to doing 2 hours of power, 5 days per week.
She had less than 4 months to achieve this and boy was I surprised…
Doing the Work
As you might expect, making all those calls wasn't easy.
There were plenty of days when she simply didn't feel like making calls.
She also had many of the struggles and business that we ALL have with life.
During this three month period she had two out of town weddings, she was sick, underwent a minor renovation on her home, and had internet issues.
The market in area also went through a series shift as the oil industry had a major impact on the Houston area.
But despite the daily challenges and the bigger hurdles she faced along the way, she held to her commitment.
What Separates the Top Performers From the Rest?
We all have days were we don't want to pick that phone.
The difference is that many people stop right there and don't take any action.
Mariangel kept going even when it was inconvenient, uncomfortable, and when she simply didn't want to make calls.
When she did have those tough days she would talk to her coach Mitzi who would remind her of the little steps to success she achieved along the way.
Mariangel dug deep and found the perseverance and drive to keep going no matter what.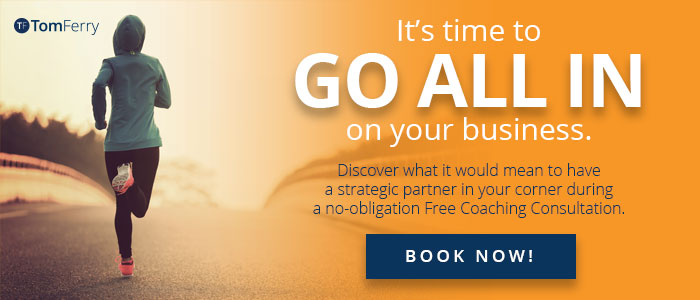 How to Get Over 100 Appointments
Some people think that the only way to get that many appointments is to go out and buy a bunch of leads.
While having more leads can work in your favor, the amount doesn't matter if you don't pick up the phone and call and convert them.
Mariangel looked to her database and her sphere of influence and picked up the phone.
She used the techniques and scripts she learned at Sales Edge, but the most effective thing?
"Are you or anybody you know looking to buy or sell a home in the near future?"
She called and said this to her friends, family, and people from her church group.
Take Action that Gets Results
You've heard the phrase "what got you here what won't get you there."
You can't expect bigger and better results when you are taking the exact same action that you have been taking.
Mariangel took BIG consistent actions.
She went after it every day, picked up the phone, and did the work.
She had her coach hold her accountable and she had a very clear target of what she wanted to achieve and why.
By the end of the year she had set 102 appointments and went from 3 transactions to 13!
She is still working hard and setting some pretty amazing goals for 2017.
She plans on 25 units sold at $5.5M in production and a commitment of an hour of power five days a week.
I'm so proud of her hard work and success!
Your Success
Mariangel is a rockstar, but she didn't do anything magical to achieve those results.
She put effective systems in place, got on the phone, had accountability, and took consistent action.
That same success she achieved is available to YOU too.
Are you willing to do the work to crush your goals?