Summit Insider: That's a Wrap! Day 4 Recap & Notes!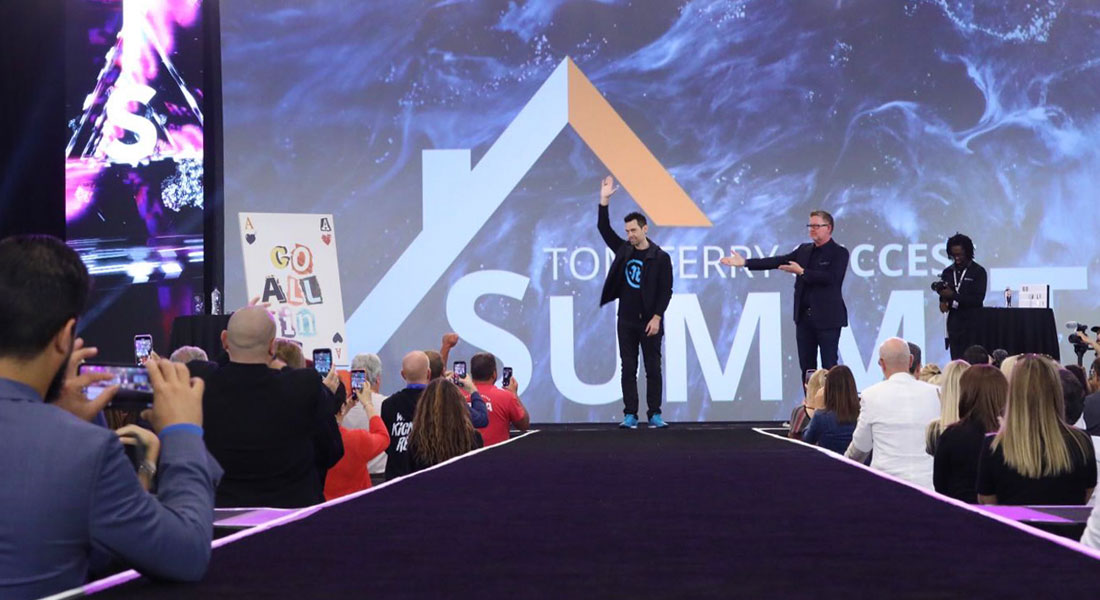 Reading Time: 4 mins, 17 secs
I'm blogging daily from Success Summit, posting a recap of each day's events and takeaways the next morning! If you missed Day 1, click here. If you missed Day 2, click here. If you missed Day 3, click here.
My mind is blown by all we've done and accomplished this week at Summit!
We had FBI negotiator Chris Voss, dozens of informative breakouts led by our own speakers and Rockstar coaching members, and finished strong today with the always amazing Tom Bilyeu.
Which brings me to my Day 4 recap…
Day 4 Biggest Takeaway
If you've been reading these Summit Insider blogs, you've probably picked up on the theme of this year's Summit – "All In."
So it's only fitting that Tom Bilyeu dove deep into what it really means to go "All In" in both your life and your business.
I've seen him speak many times and he wows every time, but I dare say he took it to another level to help us close out the Summit!
He laid out in very convincing fashion that anything is possible (as long as it doesn't break the law of physics), all thanks to an amazing ability that humans possess: You can learn anything!
The only way to actually get better is to acquire more skills. When you put your energy into gaining skills, you can do things others cannot do.
Here are some of the nuggets that stood out to me from his talk…
• "Nothing in your life will ever change until you take extreme ownership."
• "It's not the strongest or smartest of a species that survives, it's those who adapt."
• Don't hold yourself accountable to the end result. Hold yourself accountable to giving a sincere pursuit. Did you show up and give your all? If you did and lost, there's no shame in that.
• Success is feeling good about yourself when you're by yourself.
• Find a method to be obsessive to not allow yourself to lead with a "no." Find the path to "yes" in every situation before you decide whether or not to do it.
• For instance, you're faced with disruptors trying to steal business away from you every day. Are you going to be stopped by the "This can't be done" mentality or are you the type to say, "Hey this is different… But somewhere in here is a 'yes.'" You have to become the energy source that brings the chaos of disruption into order.
• "Whatever crazy dream you have in your head, now is the time."
Seriously… Tom Bilyeu was absolutely on fire today, and shared so much more wisdom than the magic I mentioned above. I'd recommend everyone experience it firsthand through LiveCast, where you'll get ALL 30+ breakout sessions, Chris Voss, my 37 referral drivers and everything that happened this week.
What Else Happened
• I started the day talking about how Winter is Coming and you need to be prepared. Now is the time to dramatically scale your business over the next 18 months.
• It's also time to operationalize how you work with every client group who crosses your path: buyers, sellers, investors, renters and so on. Get your processes established and run everything by design.
• I shared my 5 Business Superpowers every agent needs today!
• Talking money, I posed three important questions you need to answer: 1. What's your most profitable transaction? 2. What's your most profitable lead source? 3. How much auto-forced savings do you have in place now?
• I asked "The Oracle" Steve Harney to shed some light on current market conditions. He confirmed that a recession is likely on the horizon – but also confirmed that it's not likely to impact the housing sector at all. He predicts the next recession will be much more like the 2001 recession – where housing prices increased 6.6% – than the 2008 recession, where they decreased nearly 20%. Here's the problem, though… Homeowners hear the word "recession" and automatically think it's going to be like 2008 again. Steve says it's more than your job… it's your MORAL RESPONSIBILITY to get the word out and set the record straight! You could easily create five super-informative videos from Steve's content, and at the end of his segment, I role-played one video explaining why 2008 happened and why the next recession will not be a repeat of that. You should "rip-off and duplicate" it and send it to everyone in your database!
• We closed out the day by asking two very important questions: 1. What does your business look like on January 1, 2022? 2. Who are two of the most important people you need to enroll in your 2022 plan so it doesn't come totally out of left field when you start demonstrating new behaviors?
Parting words: For those who were here or watching along on LiveCast, like Tom Bilyeu said, don't let this week's experience simply serve as "spiritual entertainment." Identify what you want to implement. Create a plan. Build in accountability. AND TAKE MASSIVE ACTION!
LiveCast promo code LCD230 expires this weekend! Get LiveCast now for just $269 and own everything from this year's Summit forever!