Summit Insider: Day 3 Recap & Notes!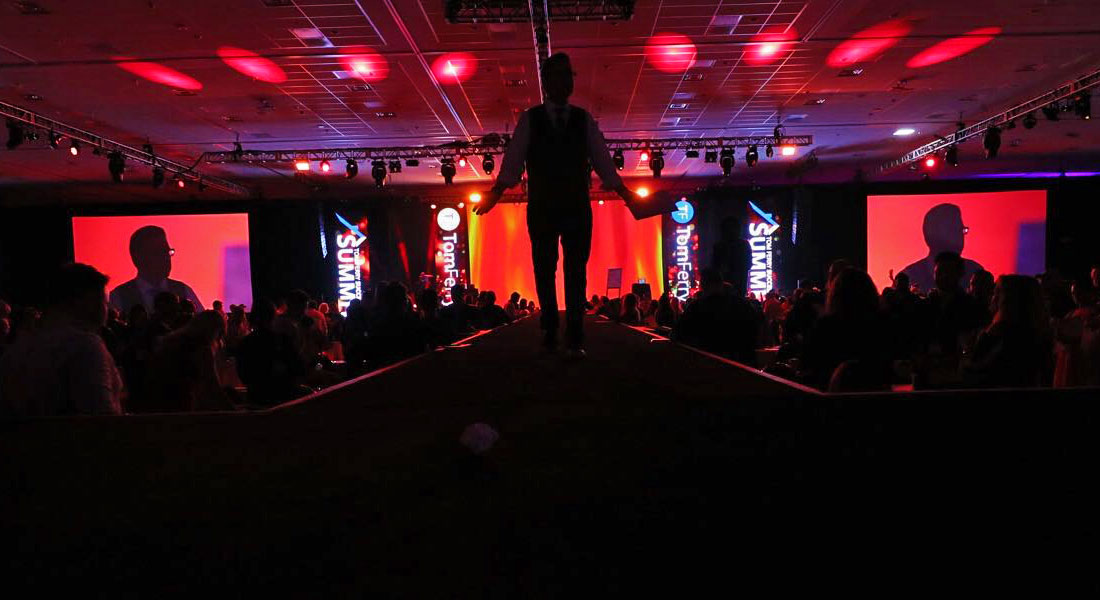 Reading Time: 4 mins, 38 secs
I'm blogging daily from Success Summit, posting a recap of each day's events and takeaways the next morning! If you missed Day 1, click here. If you missed Day 2, click here.
We're done with Day 3 of Success Summit!
The day started with more super-powerful breakout sessions…
…And ended by going full force on annihilating the limitations that have held you back from achieving greatness.
Let's get to it!

Day 3 Biggest Takeaway
Is there anything sadder than someone squandering their potential? Standing on the sidelines and watching opportunities, growth and happiness pass them by?
That's why I devoted the last hour of the day to an empowering – and highly emotional — exercise designed to eliminate limiting beliefs…
…Beliefs that have shaped you and altered your view of the world.
What is a belief? It's accepting any statement as truth.
There are two types of beliefs: Those that empower us and those that disempower us. Which one is taking control of you and your life?
Here's the thing… Your beliefs impact every area of your life, both big and small. How you feel about yourself, the choices you make, the actions you take… or don't take… and how you pass those beliefs to others.
I've heard my share of limiting beliefs already this week:
"I have an accent and that's why I don't make my calls."
"I don't like how I look on camera so I don't do videos."
"No one in my family has ever had money. It's harder for me."
"My parents didn't give me a pony when I was four."
Don't forget: These beliefs don't have to define you, your present and your future. You can choose a different belief.
So that's what I did with the audience.
The exercise itself is pretty much a "you had to be there" experience, but I will give you some food for thought:
It starts with listing all your limiting beliefs and asking yourself this question: What have those beliefs cost you over the last decade? Then letting that pain drive you in a new, more productive direction.
At the end of the exercise, I asked everyone to write a letter to themselves that included their new beliefs, and then they shared those with me. I spent a long time last night looking over people's ultra-powerful words, new paths and commitments… amazing stuff and I thank each person who went "all in" with this exercise and gave their total commitment!
The whole exercise is captured on LiveCast… along with EVERYTHING else happening this week. Use promo code LCD230 to get it this week only for just $269. You'll then own access to it forever!

What Else Happened
• Few people do "company culture" like Lisa Chinatti & Jason Posnick of Chinatti Realty Group. Together they put on a fantastic breakout session titled "How to Hire, Train and Manage a World-Class Team" that was full of golden nuggets for anyone with a team or looking to build one. They defined "leadership" as helping other people grow and inspiring people to act. They also explained their fantastic four-step interview process that helps them identify ideal candidates to fit their unique company culture… Including some savage-but-highly-effective "red flags" that get candidates eliminated from consideration. If you're building a team, you'll want to watch this one on LiveCast over and over again.
• Jason Pantana's breakouts drew giant crowds, and his "YouTube Ads are Insane" session was no exception. He talked about how granular you can get when defining your audience these days, and how when you learn to do it right, it becomes extremely profitable. He also shared a killer hack on the keyword combination every agent should be buying ads on: Zillow + [Your city/market name]! He dove into the critical difference between quotes and brackets when defining custom audiences and much, much more valuable info!
• Andy Dane Carter revealed his 8 Principles of Investing, including the importance of staying true to who you are… even when the so-called experts tell you you're crazy. When it comes to going all-in on investment properties, he said, "Is it gonna be scary? Absolutely. Is the upside worth it? Of course." He explained how when you invest the right way, your tenants will pay for whatever lifestyle you desire.
• In my own "Breakthrough" breakout session, coaching members shared their extremely inspiring success stories, including the tale of one woman who was ready to throw in the towel on her career just 18 months ago and has earned $400k in GCI in the time since! The moral of her story? "Just do the work."
• A very cool LiveCast exclusive segment featured video Rockstars Amber Anderson and Chris Kwon exchanging ideas and their distinctly different approach to achieving the same result – awesome videos that command attention within their marketplaces!
• Me and a few thousand coaching members closed out the night having a blast and dancing the night away at our members-only "Tom Ferry After Dark" party at House of Blues!
Remember: You can still purchase LiveCast using promo code LCD230 for just $269. You'll get instant access to all four days of content PLUS every breakout session is being recorded and will be added at a later date. And you'll "own" it all forever… it never expires, meaning you can go back and re-watch these informative sessions time and time again. Hurry though… this price won't last!
Read Day 4 here.
Photos by AJ Canaria/PlanOmatic (@ajcan/@planomatic)