Summit Insider: What's Happening at Success Summit 2020!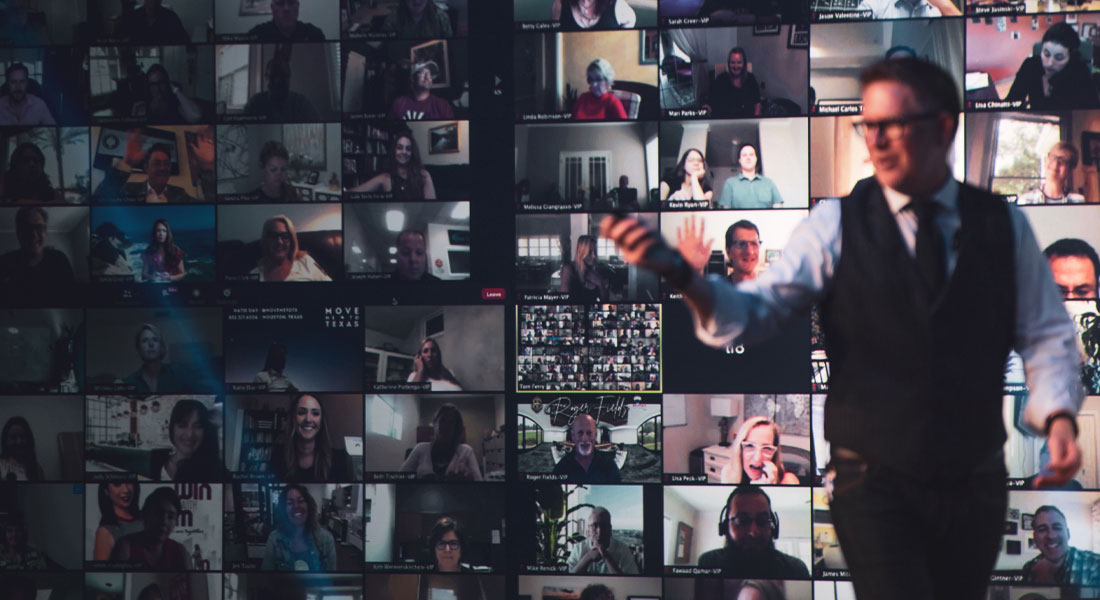 Reading Time: 5 mins, 6 secs
Without a doubt, 2020 has been the year of adjustments, adaptation and being willing to roll with the punches.
And maybe that's a good thing.
Because if the first two days of Summit have proven anything, it's that we're all capable of achieving amazing results when we commit to new behaviors.
Let me share with you some of my notes and highlights from these two uber-powerful days…
All This in a Day and a Half!
I kicked off Tuesday's half-day session by talking about the need to "Embody the Agent of the Future" and necessary innovation based on consumer behavior. Let me ask you a question I asked the attendees: If you were going up against Oprah Winfrey for a listing, who do you think would get it? She would, of course. And why Oprah? Because she embodies the traits you'll need to succeed both today and in the future… Empathy + Confidence and Consistency = High Conversion
Joseph McClendon III then presented a phenomenal keynote speech where he contrasted four steps of the Achiever's Journey: Reaction, Response, Action, Activity. He also shared his 60/20/20 rule for becoming a Megapreneur, as well as processes to "rewire" your brain for maximum productivity. Fascinating stuff and simply one of the most engaging speakers you'll ever see!
Bay Area Rockstar Andy Tse walked attendees through 3 distinct phases of his career's marketing processes. Early on, he started with cold calling, eventually added Open Houses and now dominates in geographic farming – including doorknocking! (Yes, this $10m GCI earner still endorses doorknocking.) His simple, straightforward approach laid out the entire process of how he sold 278 homes last year for a total of $480 million in sales volume. He even gave everyone his COVID-era appointment setting script!
"Real estate is a contact sport. Those who talk to the most people win."
I opened Day 2 with 6 trends I see on the horizon, and I made all attendees "pinky promise" we wouldn't reveal what they are outside of the event. I will say this, however – you're not going to like all of these trends, and you have some big decisions you need to make about who you want to be moving forward.
Two great questions to ask to ensure you're thinking from a consumer-centric POV: 1. What's the result your customer wants but doesn't have? 2. What's the problem your customer has but doesn't want?
Day 2 keynote speaker David Childers from Keeping Current Matters hammered home the importance of accepting your role as the educator in your market. If consumers don't have that information, they won't have confidence to make a move. Your job is to be the knowledge broker and instill consumer confidence.
Everybody is shooting videos now, which means it's time to level up and become more professional. With that in mind, I presented "9 Video Pro Tips for 2021," including creating a thumbnail that can't help but be clicked, a powerful intro that punches the viewer in the face, and making sure you ALWAYS ask for engagement. I also shared 34 video topics you should create in the next 34 weeks. Here's one: "The 4 Biggest Mistakes [Specific consumer type like First-Time Home Buyers or Million-Dollar Buyers] Make When Buying a Home in [Your Market]… And How to Avoid Them!"
Sharing is Caring: So Proud of This Ecosystem
I've said it before, and I'll say it again… I couldn't be prouder of the willingness to share ideas within our coaching member ecosystem. That was on display loud and clear today as Rockstar agents presented the first wave of "Million Dollar Strategies" with all attendees. Here's a quick rundown:
Jim Allen dove deep into how he and his team sold more than 1100 homes last year for $462 million in sales volume.
Lydia Gable encouraged attendees to "trust the process" as she explained her comprehensive approach to turning every listing into 3 or 4 total transactions.
Phil Gerdes revealed his top three rules to video marketing that now regularly result in "Come list me" calls as well as his No. 1 mindset hack to successful video creation. He left attendees with this parting thought – Video takes time. Do it for a year and you'll build the trust to start seeing those "Come List Me"/"I Trust You" calls.
Kris Weaver shared the realization that your admin can scan documents just as well as you do, and you've gotta get over the belief that you're the best one to handle everything. He also shared 5 steps to find the right person for the job.
Genelle Geronsin answered the question of "How will we sell homes during COVID if we can't show homes?" by sharing exact details of how she and her team transitioned to video home tours and haven't looked back. The best part? They're still selling while also saving herself time and saving buyers and sellers from the frustration of looking at a home they wouldn't like.
Tim Smith shared that negotiation is a process, not a game, while divulging his 3 steps to prepare for the negotiation table and 10 key points to every negotiation. He said we all need to stop dancing around the truth and be better stewards for our clients.
Two More Quick Points
At the end of Day 2, I encouraged everyone to ask themselves these two questions:
What do I need to let go of?
What am I holding onto as true that is stopping me from growing to the next level?
And finally, here's an exercise I asked at the end of most sessions we conducted:
Knowing what you know now, what do you need to:
Do more of?
Do less of?
Start?
Stop?
Use that approach to anything you learn!
If this all sounds interesting but you never bought your Summit ticket, it's not too late to purchase Summit OnDemand, where in about a week you'll receive recordings of the entire event, including all 50+ breakout sessions (Oh yeah, I didn't even mention the breakout sessions!) PLUS Gary Vaynerchuk's keynote today and more!