What You Missed if You Weren't at Shift!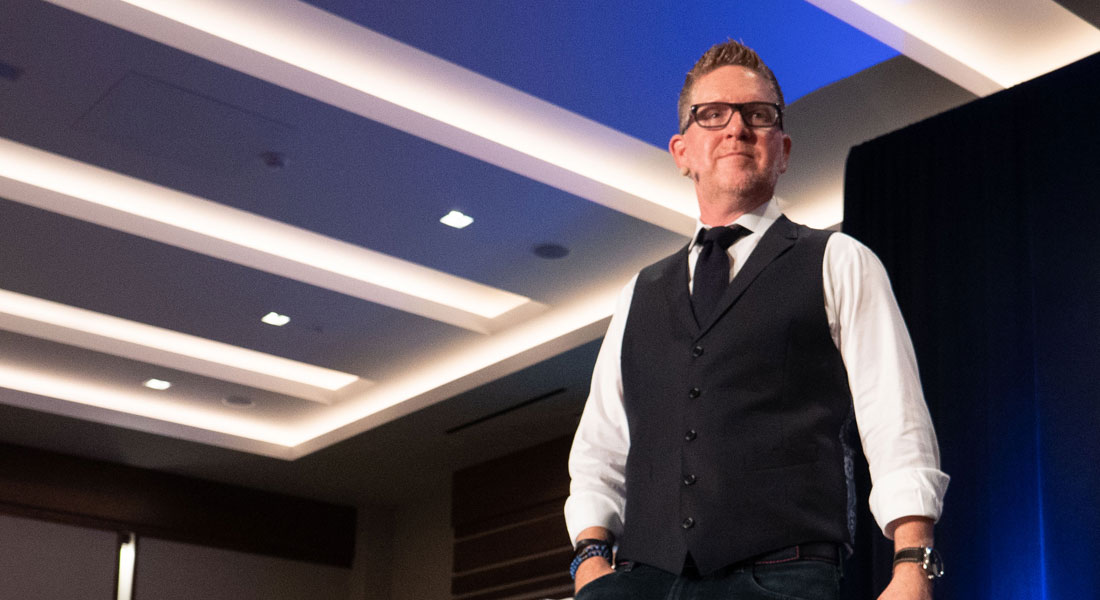 Reading Time: 6 mins, 11 secs
I love what I do.
I just wrapped up our first-ever Shift! event where I spent the last two days playing host and speaker.
But it was so much more than that for me…
Why? Because we brought in some of the most phenomenal guest speakers, and I spent much of those two days in a seat in the audience taking notes and learning from these exceptional leaders.
The event literally just ended as I'm writing this, and I'm still digesting everything that happened. But I want to share some of it with you.
In no particular order, here are some of the biggest takeaways I learned at my own event.
Tiffani Bova: Always Start with This
Tiffani got things started with this fantastic insight:
"Behind every decision you make should be your clients. Then you know you're making moves for the right reasons."
Basically, everything you do should take the customer's experience into mind. If you're not doing this, you've lost sight of the most important aspect of your business.
Bill Pipes: How Leaders Coach People to Greatness
What do you do when performance isn't where you want it to be? Hire more people to increase production?
No…
"Adding more people to an ineffective system is not the answer," said our own master sales trainer and presenter of Sales Edge Bill Pipes.
Here at Shift!, Bill tackled the task of teaching the real estate leaders in attendance how to coach their own agents to greatness, walking them through the six steps of the coaching experience: Goal setting, exploration, options, decision, action and accountability.
Great stuff, Bill!
Jay Abraham: How to Grow Your Business
"You are surrounded by simple, obvious solutions that can dramatically increase your income, power, influence and success. The problem is, you just don't see them."
Marketing consultant Jay Abraham shared his decades of wisdom with the crowd by presenting three simple ways to grow your business and three more strategies for advanced growth.
Increase your number of clients
Increase your average sales price
Increase frequency of your referrals
Which of those can you focus on to impact your bottom line?
(Sorry, I'm not giving away his three advanced growth strategies.)
Mark Roberge: Look at Your Business from the Outside In
Former HubSpot CRO Mark Roberge urged us all to stop looking at our businesses from the old, "inside-out" perspective of:
We have a product to sell
We have salespeople
Those salespeople need to connect with and sell to consumers
Instead, we need to look from the "outside in," which looks like this:
Who is our consumer?
How can our salespeople fill a need for this consumer?
What is really our product?
This means salespeople need to learn to walk in the consumer's shoes.
This means management needs to train salespeople to truly understand the consumer.
This means top salespeople need to talk less and listen more.
Here's my questions for you: How much time are you spending studying your consumer? How much effort are you putting in to get to know them? Do you have personas of different client types written out so you better understand the motivations and tendencies of the people you work with most frequently?
If you want to succeed in this business, you'd better.
Mark Roberge: What Golf Lessons Have to Do with Training Salespeople
Mark delved into another important topic when he compared golf lessons to sales training.
An ineffective approach to teaching someone how to refine their golf swing is to give them 10 or 15 little pointers and then tell them to implement them all and practice their swing. It's simply too much.
The same is true when training a salesperson. Mark says the key is to move them not from step 3 to step 10, but incrementally from step 3 to step 4, step 4 to step 5 and so on.
If you train agents or salespeople, are you rushing the process and overloading them with information instead of gradually moving them closer to the ideal?
Treasure Davis: Invest in Your People in Visible Ways
Colorado Springs team leader extraordinaire Treasure Davis wowed attendees (with her parents in the audience even) by opening up her process and giving everyone an inside look at how she creates such a powerful culture on her team.
Among countless great tips she shared, the biggest takeaway was how she, as a team leader, works with her agents based on specific goals they've set for themselves.
She told a fantastic and heartwarming story about one agent in her office whose entire goal was to take her family to Disneyworld. Treasure helped her frame the goal with her family by reminding her kids that every time she had to take a phone call was one step closer to that magical Disney vacation. Treasure also ensured that if she was going to take this trip, she was going to do it right instead of penny pinching. They worked together toward this goal and never lost sight of it.
When that agent eventually achieved that goal and checked in to their Disneyworld hotel, Treasure had sent a gift basket to their room with a card that read, "Congratulations on achieving your family goal!"
Now that's leadership!
Treasure Davis: A Killer Question to Ask Yourself at the End of Every Day
Treasure shared many of her team's checklists and daily disciplines, but this one blew everybody's socks off. She encourages her agents to ask themselves this simple question at the end of every day:
"Do you deserve leads tomorrow?"
What about you… What have you done today that entitles you to leads tomorrow?
Megan Stirrat: Prioritizing Your Financial Goals
Merrill Lynch financial planner Megan Stirrat shared very insightful building blocks to help everyone in attendance create a solid financial foundation.
What stood out most to me was her advice for prioritizing your financial goals into three categories:
The essentials – food, shelter, etc.
What's important – saving for your kids' eduction, etc.
What's aspirational – those big dreams you're saving to accomplish one day
Are you doing this? If not, when will you start?
Matthew Ferrara: How to Turn Core Values into Core Value$… and so much more!
The #AlwaysInspiring Matthew Ferrara, a master storyteller, closed out the guest speaker lineup with a powerhouse presentation full of incredible nuggets:
"When you value the work more than you value the fee, you'll never struggle again."
"Your one responsibility as a leader is to work harder on yourself than on the job."
"Stop saying 'if' and start saying 'until.'"
When it comes to your goals and vision…
"Focus on who you want to be, not what you want to get."
He also talked about turning core values into core value$ by boiling them down to one singular value that defines exactly who you are and what you stand for. What word would you use to fill in this blank for yourself?
#Always______________.
I hope this gave you some insight into why I'm so fired up after this event. It energizes me anytime I put myself in a learning environment, and I hope you feel the same way. If you couldn't join us at Shift!, be sure to make your plans to be with us at Summit in August! Reserve your spot today!