Case Study: Brand New Agent to $500K GCI in 2 Years!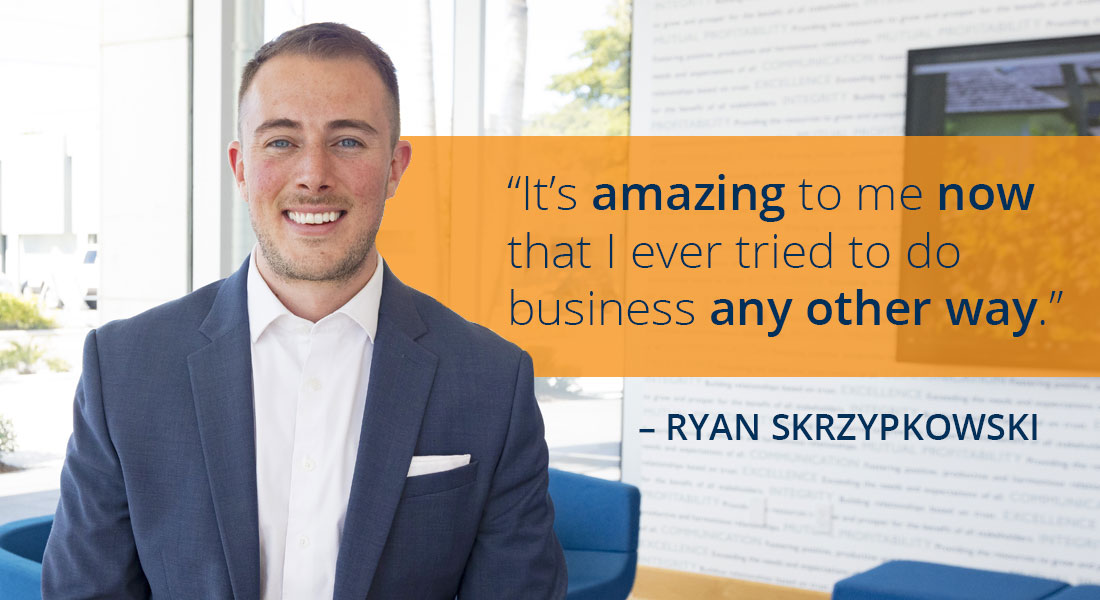 Reading Time: 6 mins, 51 secs
In May of 2015, Ryan Skrzypkowski had been in real estate three short months…
…and admittedly, didn't really have a clue what he was doing.
Today, he's on pace to achieve his goal of $50 million in sales in 2018 after two consecutive stellar years at $20 million.
So how did everything change so quickly for this Sarasota, FL agent?
Ryan's journey to prosperity includes a life-changing epiphany, finding his inspiration, one monumental commitment… and so much to learn from.
Keep reading and we'll tell you all about it…
Starting from Scratch
Ryan has always possessed an entrepreneurial streak. Prior to real estate, he ran a commercial cleaning company for five years. He grew the business to 75 employees, but profitability was a struggle.
He decided to put that pursuit behind him and turned his sights to real estate. As an agent, Ryan knew his success was solely in his hands, and he relished that opportunity.
He admits those weren't easy times financially.
He often ate cereal for dinner and paid his way through real estate school based on earnings from a home-based eBay business he created rather ingeniously.
Finally, in February 2015, he was a licensed real estate professional.
But you know the feeling… earning that license doesn't teach you the first thing about succeeding in the business of real estate.
Ryan still felt lost.
Then in May of 2015, everything changed.
A Fateful Invitation
When Ryan accepted an invitation to attend a Tom Ferry BluePrint event in Orlando, he never dreamt he'd end up sitting next to his broker with tears streaming down his face as a result of the experience.
"I finally felt like I was with my people," Ryan recalls. "It was just the weirdest thing. I'd been craving something like that."
What specifically brought Ryan to tears was a 10-year visualization exercise Tom conducted with the attendees. But the entire event inspired Ryan on a whole new level he'd never felt before.
"The whole thing was just completely mind-blowing," he says. "Tom's breakdown of each individual lead source, the marketing pieces recommended, the campaigns and methods of generating leads – it opened my mind and showed me how to succeed in this business."
Introducing the All-New Ryan
To say Ryan came out of that experience motivated to excel would be an understatement.
"I went absolutely crazy," he says. "I was literally in the office at 6:00 a.m. and showing property until 8:00 at night. I was having more fun than anything I'd done for years and years."
In those first three months of his career prior to BluePrint, Ryan hadn't closed any deals. Using the strategies he learned over three days in Orlando, he closed five deals throughout the remainder of 2015. One in particular was an expired $2 million listing that had been on the market more than five years.
Ryan knew exactly how he was going to re-invest that commission in his business.
When he attended BluePrint, he desperately wanted to start coaching.
But… "Money for coaching was just completely out of the question for me at that time," he says.
So as soon as that $2 million property closed on December 23, 2015, Ryan picked up the phone and joined Elite+ coaching with Tom Ferry. He started coaching officially on January 1, 2016.
From $5 Million to $20 Million in 2016
If BluePrint was the initial boost in Ryan's ascent, coaching was the next giant step in his transformation.
It's not quite fair or accurate to say Ryan was doing things "wrong" before he joined coaching. After all, he was still in his first full year in the business and finding his way, just like most new agents do.
But he quickly recognized a laundry list of things in his schedule and processes that he could have been doing better:
The mindset at his brokerage was very different than what he found from his coach.
He realized he didn't have enough consistency in his approach to be successful.
He wasn't aware of services and tech to leverage that would make his life easier.
His marketing was lackluster.
He didn't have a set schedule or plan.
He "managed" his contacts in a paper notebook instead of a CRM.
All of those things changed for the better when he started coaching.
Perhaps more than anything, coaching taught Ryan to define the lead sources he was working on and develop a process to maximize results from each lead source.
"It's amazing to me now that I ever tried to do business any other way," he says today in hindsight.
From day one, his coach has helped him set goals, put a plan in place and stick to that plan. Ryan's coaching sessions also include tracking his activities, discussing anything pressing, evaluating his costs and finances, and much more.
"Every time my coach brings something up, it's really relevant," Ryan says.
With actual guidance and increased structure in his business, Ryan excelled throughout 2016. He closed $20 million in transactions and earned $500,000 in GCI.
Yet he knew he still had lots of room for improvement.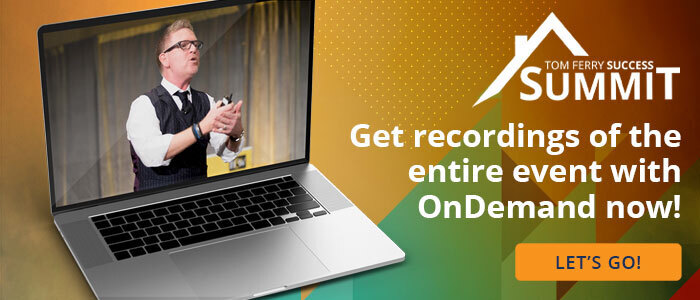 40 Deals – with Much Better Consistency – in 2017
Despite his tremendous growth and financial success, 2016 still felt like a rollercoaster for Ryan.
His second year in coaching delivered increased consistency to his business.
It also brought some significant changes to Ryan's life: He switched brokerages and welcomed his second child into the world.
Even with those circumstances, Ryan gained stability in his production.
He closed 3-5 deals every month and finished 2017 with 40 transaction sides for an additional $500,000 GCI.
It was after a conversation with Tom at Success Summit in August that Ryan embarked on a huge commitment to close out 2017 in amazing fashion.
His "100 Appointment Challenge" entailed setting and going on 100 appointments between Summit and the end of the year.
Achieving that goal meant upping his accountability even further, making his calls without exception and reporting his progress on a daily basis.
It worked!
By achieving his goal, Ryan set himself up for a breakout year in 2018. So far in 2018, he's already surpassed his previous record annual production and is on pace to reach his goal of $50 million in sales volume.
Ryan's Fabulous FSBO Philosophy
One of Ryan's most effective lead sources has been FSBOs.
He says his secret to success is that, well… he has no secrets.
"I give them everything!" he says. "Advice on marketing, photographer recommendations… I give them everything they need to be successful."
In the process, he develops extremely strong relationships with those homeowners. And before long, they recognize the value of Ryan's services.
And at that point…
"There's nobody else they'd list with," Ryan says.
Learn from Others. Share with Others.
Ryan's giving approach can be attributed in part to being immersed in the Tom Ferry coaching ecosystem. He sees it as simply "paying forward" the knowledge and insights gleaned from being part of such a giving group of people who share information freely in the name of raising the industry as a whole.
As a coaching member, Ryan has access to private Facebook groups, The Smartest Referral Network inside illūm, endless mastermind opportunities and more.
"Networking with high-producing agents and those agents being so willing to share and help me is one of the most beneficial things about coaching," Ryan says.
The Journey Continues…
Just over three years removed from feeling completely lost in his new business, things are good in the Skrzypkowski household.
"We don't have to live off cereal anymore," he says half-jokingly.
Looking back on the tremendous progress he's made since early 2015, Ryan loves the life he's living and eagerly looks forward to continuing his growth.
He and his wife have two kids they get to spend quality "family time" with. Ryan has even drawn on the wisdom of the Tom Ferry ecosystem for tips on how to achieve work/life balance, allowing him to devote his full attention to his wife and children during his "home life."
And Ryan credits it all to a process that began with three days at BluePrint:
"That event gave me the ability to conduct myself the way I needed to – to be successful."