15 Fantastic Books to Shape Your Mindset & Grow Your Business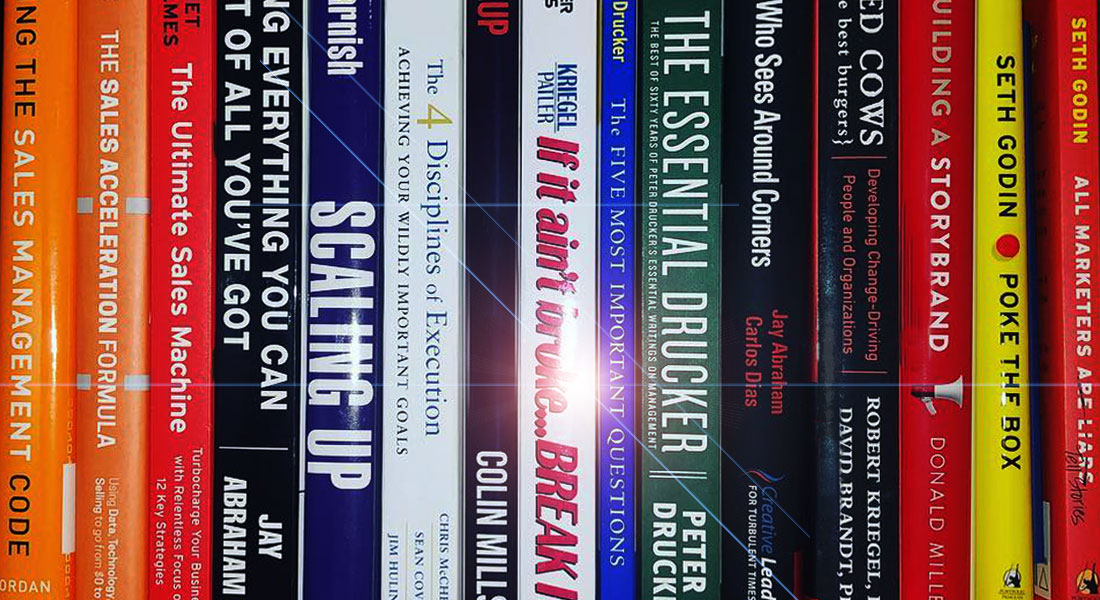 Reading Time: 3 mins, 56 secs
You can romanticize it… snuggling up with a good book next to the fireplace on a chilly autumn night.
Or you can be straightforward about it… educating yourself and arming yourself with new tactics as the New Year approaches.
Either way, Q4 is a fantastic time to dive into some great books.
I recently posted this simple question on Instagram:
It got such great engagement, I thought I'd use today's blog to dive deeper into why these 15 books are so instrumental to me.
Let's go!
Anything Seth Godin does always gets me thinking in new and different ways. "All Marketers are Liars" stresses the importance of storytelling in your marketing, while "Poke the Box" will provoke you to get off your ass and into massive action.
If you've ever felt that your marketing isn't resonating with your audience, read this book. Donald Miller identifies seven ways to connect with people… and get them to take the action you desire.
A timeless book that asks you to look at what you're doing and identify those "that's just how I've always done it" processes that are holding you back from growth and greatness.
You know of my affection for Jay Abraham, and this is the book you need if you're a team leader or in any management position in your organization. The real-world examples and concepts will help you view your business in a new light within today's rapidly changing business environment.
Peter Drucker's words of wisdom fill countless pages in the world, but "The Essential Drucker" boils down 60 years of insights into his most essential thoughts on management. "The Five Most Important Questions" poses five extremely simple questions that lead to deep answers… answers that shed light on who you are, why you do what you do and how you can do it better.
Doing things the "conventional" way produces conventional results. This book challenges you to shake things up, define your own path and innovate. If you feel stuck in the status quo, read this book today!
How do you successfully grow your business without losing the essence of what you've already created? This book reveals how to take your business to the next level while avoiding the common mistakes and pitfalls many encounter along the ascent.
If you've never read this one, it might just be your best bet for where to start. Whether you're a solo agent or running a big team, the four disciplines simplify the process of setting and achieving goals you never dreamt were attainable.
Not to be confused with "Scale Up" above, Verne Harnish's "Scaling Up" presents four decisions every leader must address when striving to grow their business. It's packed not only with theory, but also devotes a large portion of the book to actual execution of your growth. Highly recommended!
This book has practically been my Marketing Bible throughout my lifetime. Jay's insights into how people think and how they act includes tons of real-world, actionable stories to lead your marketing in the right direction.
The 12 "key strategies" presented in Chet's book are structured the same way you should build your business, making this info-rich bestseller a virtual guidebook to everything you need to know about running a successful sales operation.
Do you want "scalable, predictable revenue growth"? Uh, yeah, we all do. That's what Mark Roberge wanted when he joined HubSpot, and this book chronicles how he achieved that goal – and how you can, too, using the same strategies and tactics.
I highly recommend this book to brokers and team leaders who are overseeing a sales team. It details how the "three Ss" of traditional sales management have been replaced by the "three Ms" in today's marketplace: Management, Metrics and Methodology.
Which one will you read first? How many do you commit to reading before the end of the year?