4 Winning Strategies Direct from Top-Producing Agents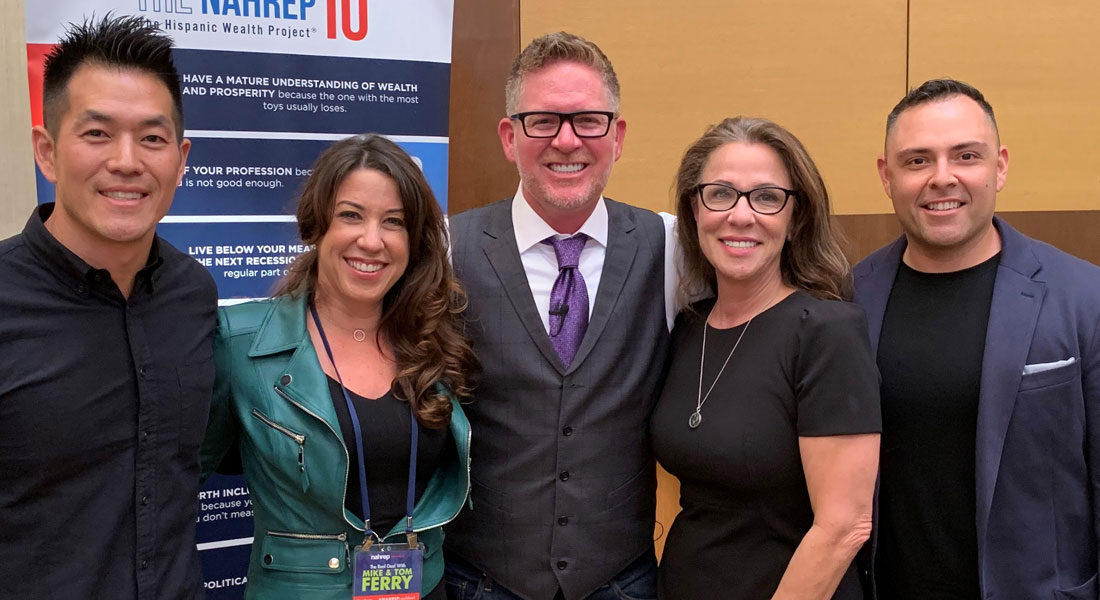 Reading Time: 7 mins, 42 secs
In celebration of National Hispanic Heritage Month, I'm sharing some highlights from The National Association of Hispanic Real Estate Professionals (NAHREP) conference, where I had the honor of speaking back in July of this year. 
I also had the opportunity to moderate the Top Producing Panel, and in today's blog, I'm sharing some big takeaways from four Rockstar agents and coaching members: Eileen Rivera from Long Beach, Steven Amaya from Riverside, Monica Carr and Chris Kwon, both from Irvine, California. 
It was really an honor to moderate this panel and see these top-producing agents share dozens of golden nuggets to Hispanic agents who also provide their services to their community. After all, according to the U.S. Census Bureau, Hispanics account for 62.7% of total net U.S. homeownership gains since 2008. And like any other clients, they're also looking for the best services for them to purchase or sell their home. 
I believe this panel provides many important tactics that you can start using immediately to grow your business and avoid the pitfalls that might present themselves along your way. 
Before these Rockstar agents reached their successful breakthrough, they all found themselves stuck on that same plateau you might find yourself in. If that's the case, don't despair. Instead, read along to discover what strategies and focus they implemented so they could lift off their business with ease and success.
It's All About Discipline 
This is an untraditional panel… instead of speaking in vague generalities all of these agents dove deep into the nitty gritty of what makes their business thrive.
CONSISTENCY! 
Eileen Rivera shared that being consistent in doing her morning routine gave her business the necessary lift. 
"I have a gift for what I do. I have a knack at it, maybe it's a Latina thing," Eileen says. 
Like many agents, she can easily list and sell houses, but admits she was once inconsistent. That all changed when she started to treat it like a business and not a job. 
"The one thing that will outperform talent, every day of the week is discipline. You have to take on the discipline," she declares.
Eileen shares that her discipline really developed when she focused on being consistent with three elements of her morning routine.
Writing her 10 daily gratitudes, exercise, and doing her calls made it so much easier to build momentum and witness herself making magic. She goes on to share that over the years her routine has evolved depending on her needs. 
By designing your morning with what you know is important, you'll make your routine easier, but remember that you have to stick to it if you want to see positive results!
Evolve with Video
Chris Kwon is a solo agent based in Irvine, California. He loves video and that passion began when his daughter was born. 
He wanted to document her life and he dove deep into making family vlogs – and at the time, he was having issues with his videographer of not meeting deadlines and having to wait long periods of time for small edits. 
Chris started to incorporate the video aspect to his business and discovered he loved it.
"It was the key for me to get into a farm that I couldn't get into for a year and a half," he says.
He was doing everything – mailing, ads, email marketing, door knocking – and received no listings from that farm. That all changed when he started to consistently create videos. The calls came rushing in.  
The power of video is so great that it no longer required him to pitch a listing presentation. People grew to know and trust Chris directly from his videos, and would simply call and ask him to come list their house when the time came.
Chris even shared useful advice that can help you overcome your fear of being in front of the camera. 
"My goal for making videos is that I wanted to attract people I would enjoy working with," Chris states. 
The best way for that to happen? Chris has made sure that his personality shines through his videos. 
Chris also gave important video ideas that reinforce his brand voice around listings such as 'Coming Soon Listings' and 'How Can I Sell Your Home for Top Dollar'. 
Once you start making your videos with the audience that you're intending to work with, remember to distribute them in all the social platforms! So get over your fear of doing video and start now!
Shine with Ads
Now that you've started shooting your videos and posted them on all the social platforms, you'll need to take the next step by shining with ad videos! 
This is exactly where Steven Amaya excels.
"I'm more of the behind-the-scenes guy. I just look at the business, I run the business… I just look at it from the backend if it's going to make money, let's try it for a month," Steven states.
Steven also shares that he would focus on doing a lot of door knocking and open houses, but now instead of working harder he transformed it to working smarter. 
He's built a team that consists of an operations manager and a whole marketing team. Steven's role has evolved to the point that he now focuses on two main priorities: Mentoring his agents and going to listing appointments. 
Since he loves being behind the scenes of the business, he's also currently investing his time on YouTube Ads. 
By creating ad videos that pop up once someone types, "Looking for real estate in (My City)" he can easily attract new leads and cultivates them with his community highlight videos. You'll see interviews with local businesses and restaurants. 
The video content that they've produced has helped the Amaya Group pop up in the first page of Google!
Steven also shared a very helpful educational video topic, "Can I still qualify for a home if I have student loans." That's definitely one you should R&D.
Create your content by answering your clients' questions and doubts! By doing this and shooting video ads, you'll maximize exposure in no time!
Go Big with Open Houses
Monica Carr hit a major milestone goal with 2 million in GCI and closing 110 transactions, but before this success she confesses she was chasing after every deal and didn't have any solid system in place. 
She felt she had a straw house and that she was clawing her way to make ends meet. The shift occurred when her coach advised her to hire an assistant so she could focus solely on her strong skills of presenting listing presentations, door knocking and Open Houses. 
Monica was building her brick house by introducing herself while door knocking and saying, "Your neighbor around the corner just put their home on the market for [FILL IN PRICE HERE]. What do you think of that price?"
She also invites them to her Open House to see why it was priced that way. Monica encourages them to attend so they can see if they're also interested in selling their home since many people who are looking to move in the neighborhood will be joining her at the Open House. 
This helps her identify the next seller she'll be working with and while she's hosting the Open House she always asks, "How did you hear about my Open House?"
Monica shares three responses that help her identify the people.
"I live in the neighborhood." They might be thinking of selling. 
"I saw it online." Ding! Ding! Ding! They're a buyer!
"I just saw the signs." They may be just a lookie-loo. (Or they might not. Keep asking questions to find out!)
With these questions, you'll be able to clearly identify with who to work with and what leads to cultivate. 
Now that the market has shifted and Monica has been seeing success in her Open Houses, she is shortening the window of duration for them. She discovered that in two hours she has more traffic during the beginning and at the end of the event. 
I highly suggest you R&D (Rip-Off and Duplicate) her Open House strategy by hosting two of them back-to-back at different properties: One at 12pm – 2pm and another from 2:30-4:30. So get ready to be on top of your game just like Monica!
Go Out and Succeed
Now that you've learned about these golden strategies, take one or two and start experimenting to see which one works for you! 
Figure out what you love to do, what brings in the leads and invest your time to it! See what works for you and your clients. Provide them with the best quality services you can offer to make their decision making smooth as possible!  
And if you still have that little fear that is holding you back, then listen to Eileen's encouragement: "Suspend your disbelief in yourself, have some faith, and take some action."
Let me know what you think of these winning strategies down in the comments below! Which ones will you incorporate or tweak to make your strategy work? Sound off!