Christophe shares his story and experience working with Tom Ferry – Your Coach:
"I got involved in real estate in 1990. Since then, I've been a luxury real estate broker in Beverly Hills for over 23 years and for the last 20 have been coached by three of the top real estate coaches in America.
I first met Tom when he was working for another coaching company.
Although I have always had success with coaching, I can say my coaching experience in Tom Ferry's program has been the most enjoyable and fruitful of them all.
Tom is one of the smartest men I know; positive, forward-thinking, and looking to do everything he can to help his clients.
For me there is NO ONE in the real estate coaching industry that can provide the most current and effective methods to market yourself and sell real estate in today's world.
One big thing that I've accomplished through coaching with Tom Ferry is an amazing quality of life.
For me it's not so much about the number of transactions as it is about the quality of life.
As Tom says it's creating my life BY DESIGN.
Sometimes we need more balance, more happiness, and more business … with Tom I can focus on what I need when I need it.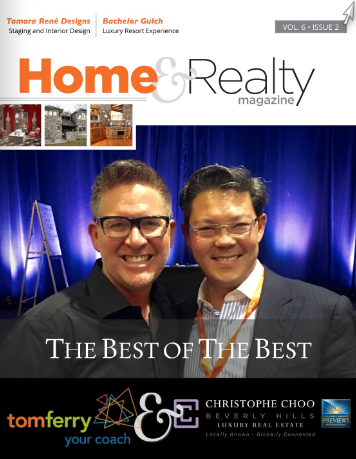 Tom and Christophe on the cover of Home & Realty Magazine.