Where Does Your Business Need Help Most?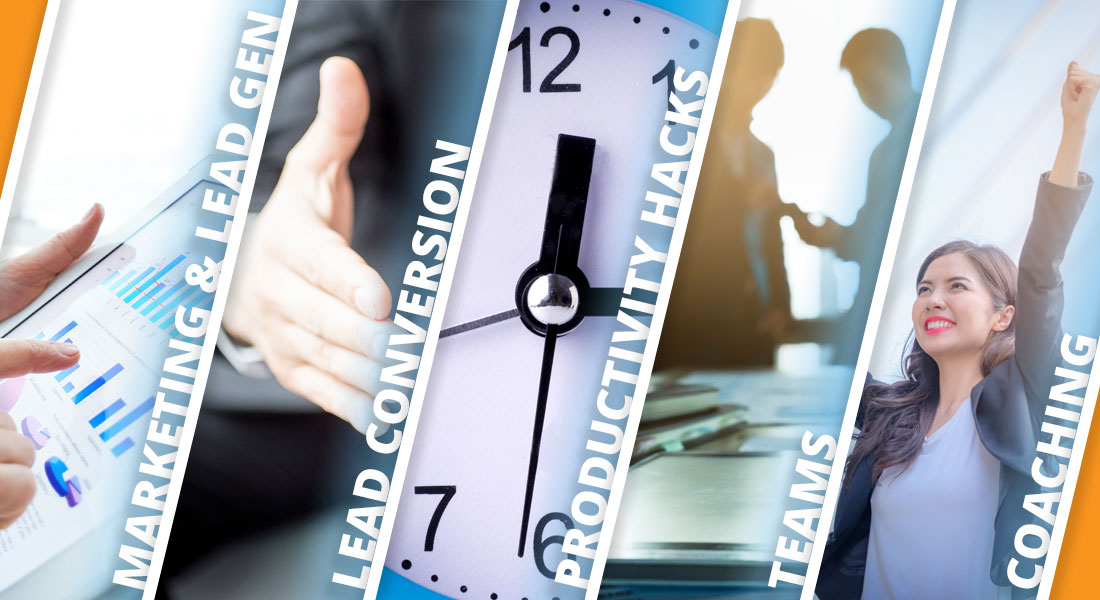 Reading Time: 2 mins, 54 secs
Quick… rate your business in each of these 5 categories on a scale of 1-10:
Marketing & Lead Generation
Lead Conversion
Productivity Hacks
Teams
Coaching & Acceleration
In my 30+ years of working with real estate professionals, these five topics have repeatedly emerged as the most crucial to agents' success.
So… Where do you need help most?
And then… Where will you find it?
I've Got a Suggestion
I'm so excited to help you answer that second question.
Not only will this be our 15th annual Success Summit in August…
But it's also shaping up to be the best one we've ever done.
If you were there last year, you might remember we conducted a few breakout sessions for selected attendees during the four days.
As soon as that event concluded, I knew we were on to something good and we could deliver even more value in 2018 by doing two things:
Increasing the amount of breakout sessions, and
Opening them to everyone!
Here's the real beauty of it…
Among our thousands of coaching members are many different types of real estate agents achieving success in many different ways. From the ultra-successful superteams to brand new upstarts, these individuals will share exactly how they are achieving success in each breakout session.
When you attend, you can then "R&D" (ripoff and duplicate) what they're doing to implement their strategies and improve your own business.
Announcing the 2018 Breakout Sessions!
After brainstorming, orchestrating and developing these since last August, it's finally time to announce the titles for this year's Success Summit breakout sessions.
We've slotted the sessions into the five "tracks" I mentioned above, and we designed them to improve whatever aspect of your business needs help most.
Check it out:
TRACK: Marketing & Lead Gen | Led by Jason Pantana
How to Run Search & Social Ads Like A Pro
How (and Why) to Become the "Digital Mayor" of Your Market
Emails Everyone Opens — And that REALLY SELL!
Building YOUR Brand with Targeted Facebook Groups
How to Create a Marketing Machine that Runs Itself… Not Your Life!
TRACK: Lead Conversion | Led by Bill Pipes
Conversion Secrets of Million Dollar Agents
Influence & Persuasion Hacks that Create a "Yes" Every Time!
Mastering the Art of Objection Handling
How Video Can Become Your Conversion Secret Weapon
How to Convert EVERY Online Lead
TRACK: Productivity Hacks | Led by Jeff Mays
3 Hacks to Earning Higher Commissions
6 Apps & Sites to Get $#!% Done… Fast!
More Time, Stronger Partnerships: The Amazing Power of Leverage
Doubling Your Business in Half the Time
Money-Making Secrets of the Super Organized
TRACK: Teams | Led by Debbie Holloway
Considering a Team? 7 Decisions Every Successful Team Leader Made
The Simple Way to Attract the BEST Talent
90 Days to Super-Effective New Team Members
Coach Up or Coach Out: How to Ensure the Right Fit on Your Team
7 Leadership Strategies for Running a High-Performance Team
TRACK: Coaching & Acceleration | Led by me, Tom Ferry
Young Upstarts: 20-Somethings Who are CRUSHING It!
How to Survive – and THRIVE! – Amid an 87% Failure Rate
Pushing the Reset Button: How and Why Veteran Agents Need a Reboot
Living the Dream Life: Making $10mm GCI a Reality
The Daily & Weekly Checklists of Million-Dollar Agents
These breakout sessions will take place on the afternoon of Day 3 and the morning of Day 4. Don't miss out!
ACT NOW TO SAVE! Ticket prices for Success Summit 2018 will increase on May 16! Buy your ticket today at just $297!