5 Business Superpowers for the Agent of the Future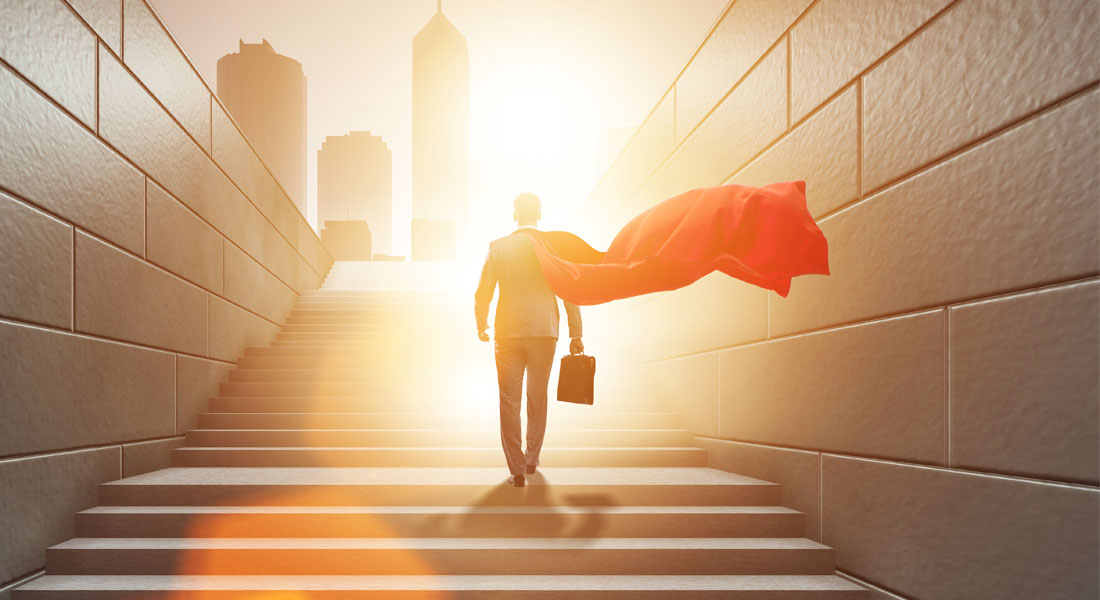 Reading Time: 4 mins, 32 secs
This time of year, it's natural to be thinking about the future.
It's 2020 goal-setting time…
It's business planning time (How's yours coming?)…
And it's New Year's resolutions time.
With all that said, I think it's a perfect opportunity for me to share with you five superpowers I believe every future entrepreneur will need.
Which means one thing… These are all qualities you should be working toward if you plan to stick around for more than another couple years.
Let's dive in!

Future Agent Superpower No. 1: Marketing & Business Development
Tell me if this sounds familiar… and maybe a little bit painful.
You do some marketing, get a few deals, and then get so busy, you STOP doing the activities that earned you that business.
Suddenly when those deals conclude, you find yourself back at square one scrambling to figure out where your next customer will come from. And the whole vicious cycle needs to begin again.
So here's the question you need to ask yourself…
How do we attract and convert at the highest level all the time?
I'll tell you the simple answer:
You can't wait until your well is dry and you "need" a new client.
You can't wait until the market shifts and it's more difficult to attract business.
You need to start now and do it consistently.
Figure out a way to systematize your marketing and new business development so it happens regardless of how busy you are, and you never again have to worry where that "next one" will come from.

Future Agent Superpower No. 2: Brand Building
What are you doing to put yourself on display ­– at scale – in front of the largest number of people in your community?
If you know me, you know I believe there's no wrong way to generate a lead.
But I also believe that there are few better ways to build your brand than with video.
Too many agents I know try video and let relatively low view counts to discourage them. But remember this: Your goal isn't to compete with the Beyoncés of the world; it's to reach very specific people in your community. So if your video gets 50, 100, 200 views, those are all people who took the time to watch what you had to say and likely value your input. And it's a lot more efficient than making 50, 100, 200 phone calls.
And with video, it lives out there in the wild forever, so your view count will continue to grow.
The more videos you create, the more those view counts will compound over time as more and more people discover you and your videos.
In the long run, this will allow you to become the trusted expert in your market that people naturally turn to when they're ready to buy or sell a property.

Future Agent Superpower No. 3: On Presentations, Stop Selling & Start Consulting
What's your mindset heading into a listing presentation?
Is it…
"I'm gonna sell these people on my services and talk 'em into hiring me."
or
"I'm going to listen to what these people want to achieve and show them how I've helped others in their situation, and how I can help them, too."
If you want to thrive in the future of this business, it had better be the second one.
You need to stop acting like a "salesperson" and start acting like a "trusted advisor" who consults people and helps them achieve their goals.
When your actions always come from a place of "I want to help," you're doing the right thing.

Future Agent Superpower No. 4: Maintain Relevancy & Continuity of Experience
There are certain brands where you know exactly what you'll get in terms of product, service and experience no matter where you are in the world.
Whether it's McDonald's or Louis Vuitton, that doesn't happen by accident.
It happens when you take the time and effort to transfer your skills and develop your team to create an experience that people can count on.
In real estate, that means fully operationalizing how you work with:
Buyers
Sellers
Renters
Investors
Do you have that all spelled out and written down? Do you have a blueprint you can hand to anyone who joins your team so they can provide the experience your brand is known for?
This isn't about taking the personality out of your service. It's about removing all the minutiae so no memory is needed to operate. Instead, everything is done by checklist.
Get there!

Future Agent Superpower No. 5: Negotiation Mastery
In an age of more and more automated methods of conducting real estate, your ability to successfully negotiate on your client's behalf takes on more importance than ever.
The more you can help your clients maximize their ROI and communicate to them how you're doing it, the more they'll see your value.
Mastering the art of negotiation takes work… So you can't just rest on your laurels. Make sure you're role playing your scripts and objection handlers on a regular, recurring basis!

What's the most important gap you need to fill in your business? Which of these superpowers will you work on adopting first? Which do you already possess? Let me know in the comments below!