The Definitive Listing Presentation Primer for 2019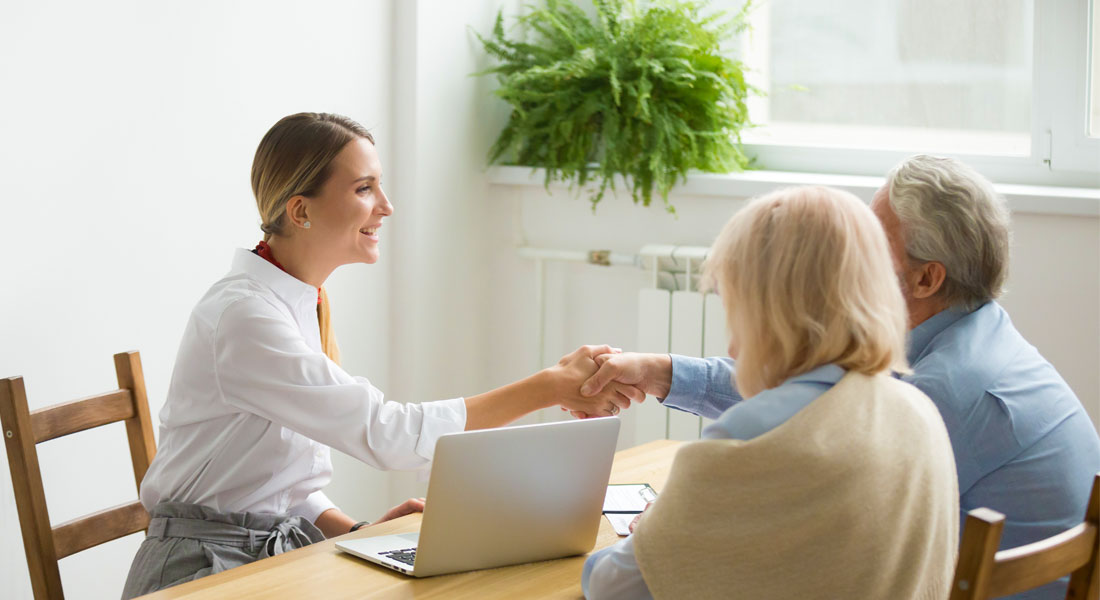 Reading Time: 9 mins, 29 secs
It's time to shake things up.
2019 isn't going to be "more of the same."
A changing market means this year is likely to challenge you more.
It's going to require a new, stronger approach to the things you do.
And there are few elements of your business more important than your listing presentation.
Think about it…
All your prospecting or marketing has led you to a place where you've got a great shot at getting the listing. Isn't it worth doing everything in your power to not only get that listing, but get it priced correctly with reasonable, market-adjusted expectations for the seller?
That's what I want to help you accomplish today. We've pulled together a variety of our best tips, scripts and resources to freshen up your listing presentation and optimize it for today's market conditions. Let's go!
Change Your Dialogue to Frame the Market Correctly
Getting homeowners to understand that we're no longer in a robust seller's market needs to become one of your most important objectives in ALL communications.
The best way to do this is to create a clear distinction between today's market conditions and those of a year or two ago.
My advice is to adopt this specific language: Start referring to previous conditions as the "Old Market" and today's conditions as the "New Market."
In some instances, you might need to dig in and educate the homeowner about the evolution of market conditions over the last few years to show how we got where we are today. Be patient, be willing to put in that effort, and always reiterate "Old Market" vs. "New Market."
Pricing Analogies Are Your Friend
As homeowners witnessed properties in their neighborhood selling over the last few years, they've likely ingrained a certain value they believe their home is worth in their head. And inevitably, they're going to say something like:
"I understand the market has changed but I want X price."
My advice for this situation is to use an analogy that illustrates that today's market will determine the price of their home – not the price they think they can get because a neighbor did 18 months ago.
Start by asking if they own stocks or are familiar with the stock market.
When they say yes, then pose this question:
If Netflix is trading at $270 a share, can you call your stock broker and say, "I want to sell all my Netflix stock at $500 a share today."
No, you can't. Because that's not what it's worth in today's market.
Homes that are similar to yours are selling at X price.
Use This Great Pricing Objection Handler
Another statement you're bound to hear from homeowners is this:
"Another agent said they can get me much more…"
When you do, use this script:
I could line up a thousand agents outside your door, but we're all looking at same data and we'll all come in within one or two percent of each other. So if someone is promising you much more, you've gotta ask yourself what they're up to. Are they just wanting to take your listing to generate a bunch of buyer clients? What's their motive?
This approach plants the seeds of doubt in the seller's mind and gets them to understand what seems too good to be true probably is too good to be true.
Don't Be Afraid to Be Direct
I think there's sometimes a tendency among agents – not all, but some – to want to almost apologize when market conditions aren't as favorable as they were in the past.
You and I both know it's not something you control. So don't be afraid to be direct with homeowners who can't seem to grasp the difference between the "Old" and "New" markets.
Here's a great script to use:
In the Old Market, I could put a ton of cushion in the pricing. There was nothing for sale and demand was so strong, people would still make offers and we'd get deals done. But now, in this New Market, we've got to be pinpoint accurate. If we want to sell in today's market, it needs to be priced at X.
And here's another good "scare tactic" script to get homes priced correctly:
Do you want to get lost in a sea of inventory? Or do you want to price it so well that it sells in the next 30, 60 or 90 days? My recommendation is to price it slightly below other comparable properties on the market. What would you like to do?
Earn Their Trust Prior to Your Presentation
Question: What do you do in between the time you scheduled a listing presentation appointment and the time you show up for that appointment?
I really hope your answer isn't "Nothing."
We've talked in the past about how 86% percent of consumers say trustworthiness is "extremely" or "very" important when choosing an agent, according to the latest Zillow Consumer Housing Trends Report.
So… that gap from after you hang up from booking the appointment until you show up? This is prime "trust-building" time.
Here's my pre-appointment strategy to set yourself apart and begin earning people's trust way before you ever meet face-to-face.
Shortly after setting the appointment, email a personalized video following this script:
Hey [Homeowner's Name] it's [Your Name] with [Your Company]. Thank you so much for the opportunity to come out and speak to you about the sale of your home. I know you had a lot of choices in real estate professionals locally, and I'm honored and thrilled to talk to you about how I can sell your home for top dollar in the shortest amount of time. Below you're going to see a number of things that can help you make an informed decision about selecting the right agent for the job of selling your home. [Then give them a quick rundown of the following assets you will send along with the video.]
In that email, include links to:
Your step-by-step marketing plan – Be sure to "stack the cool." The average agent has 11 things on their list. The more you have, the more you'll stand out. For bonus points, write the property address on a whiteboard and include a photo of you and your team strategizing on marketing possibilities in front of it.
A map of properties you've sold – Don't just do a list… a map is more engaging.
Your reviews – The more specific to convey your skills, the better.
Stats, graphs and charts – To illustrate your degree of separation… Comparing you vs. MLS averages, etc.
Your team of experts – To establish expectations and demonstrate it takes more than one person to manage the process of selling your home in 2019.
This might sound like a big effort, but it's worth it! You're priming the client to win the listing, and in some cases, you might flush out those who aren't really motivated before wasting additional time on a fruitless presentation.
Send Another Video on the Morning of Your Appointment
To further prime the homeowner for your presentation, send another video on the morning of the day of the appointment. Here's the script:
Hi [Homeowner's Name] it's [Your Name], just wanted to make sure we were set today for [Time]. I'm really excited. The team and I are super fired up, we've been working really hard on reverse engineering how we're going to find the ideal buyer for your home. And because we've sold so many homes in [Neighborhood], we already know exactly how to find the buyer. I just wanted to make sure you watched my previous video and you took the time to review some of the information I sent you in those links. Would you please do that before we meet today?
"Reverse" Your Presentation for Maximum Impact
Now it's the moment of truth. Make sure you show up for the appointment early just to be sure you can knock on the door punctually at your set time.
When it comes to your actual listing presentation, rather than take the traditional angle of "I'm going to show you everything I can do for you" for the homeowner, I suggest you follow Gary Gold's approach and do a "reverse" listing presentation.
What's that mean?
It's simple, actually. Rather than make a promise to the homeowner about what you can do for them, show them a case study of what you've done for others and walk them through the process in reverse order.
Rather than starting from what you do right after you take a listing, show the homeowner everything you did to achieve the result. For instance:
We recently sold a property very much like yours for 3% over asking price and for 22% faster than the average home is selling in our marketplace. The sellers were thrilled and they wrote a five-star review on Zillow about what we were able to do for them.
Now, what got us to that point? Well, we ended up getting eight different offers. We went through those eight offers with the sellers and they chose which worked best for their needs. Before we got those eight offers, we had 87 people who came to our Mega Open House, which is the same thing I'm going to do for your home. Now I want to explain how we got 87 people to view the home. Look here… We had 4,200 impressions on Zillow, 1,893 on Trulia and 2,000 on Realtor.com, 3,100 on Facebook, 74 on Instagram, 177 on Twitter and 355 people watched the entire home tour video on YouTube.
Continue that approach throughout your entire presentation. Be sure to include your broker preview, photography and videography, staging and trace the process all the way back to you earning that listing and starting the ball rolling.
When you do this "reverse" presentation, you're letting your track record work for you. You're demonstrating your ability to achieve the results they desire. It's basically all the same information, but presented in a more powerful way.
Coaching client Karen Stone from New York City not only uses this "reverse" approach in her listing presentations, but also to demonstrate her abilities in her marketing. Check out this postcard she uses:
Also, make sure to include high-quality printouts/fliers of all the information you linked to in your pre-appointment video email – your marketing plan, your "Sold" map, your reviews, your degree of separation, your team photo and descriptions of each person's role. Leave those materials behind with the homeowner, even if you've presented them digitally as part of your presentation.
Below is an example of several of these "differentiators" from my brother Patrick, who sells in San Diego. If you'd like to see all six pages up close and personal, download the PDF here.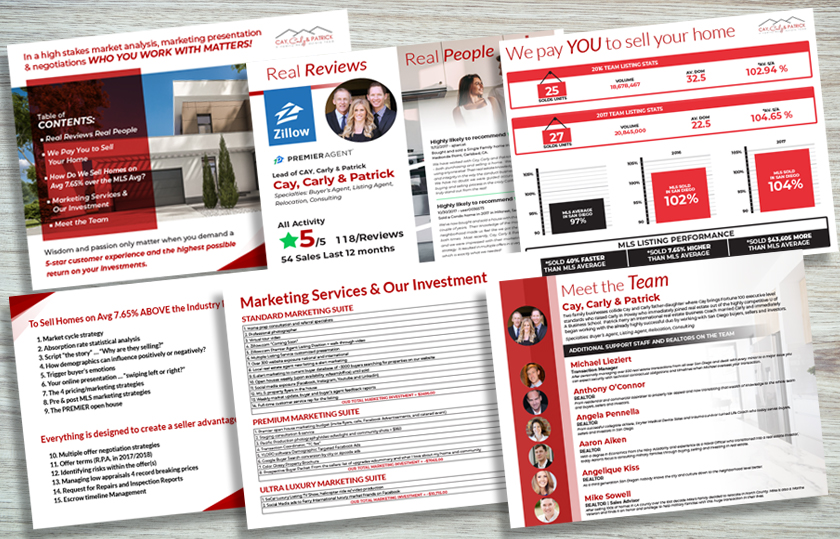 I sincerely hope this information helps you adjust your dialogues and step up your game to dominate every listing presentation in 2019. Let me know your thoughts in the comments below, and don't hesitate to share your own tips as well!