10 Personal Highlights You Missed if You Weren't at Summit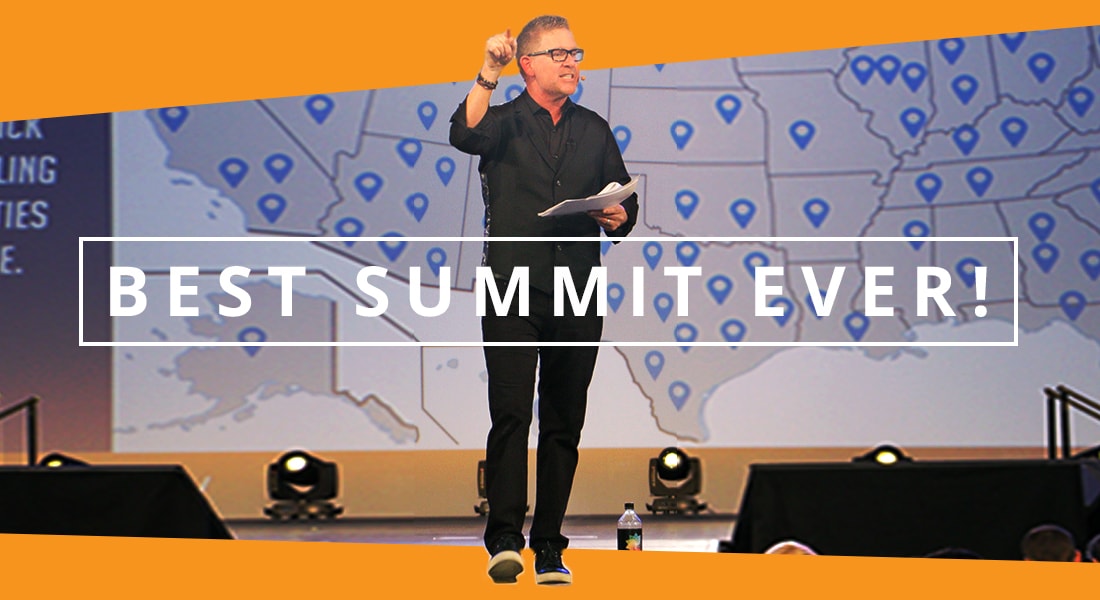 Reading Time: 4 mins, 45 secs
I wish I could adequately describe what it feels like to walk onstage in front of 6,000 dedicated real estate professionals who are…
…filled with energy.
…super attentive and engaged.
…incredibly supportive – of me AND of each other!
…obviously committed to improving themselves and the industry as a whole.
It's like pure inspiration for me!
That's what I felt every time I stepped on stage at last week's Summit in Anaheim.
For those who were there, thank you so much for your amazing enthusiasm and your desire to improve yourself. You rock!
That feeling will stay with me for a long time, and was definitely one of my personal highlights from the week.
In this blog, I'm sharing nine more highlights from throughout the week that immediately come to mind. Let's go!
An Inspiring Transformation from Jason Farris
Seeing my buddy Jason Farris share his story of losing 135 pounds from Summit 2017 to Summit 2018 was an amazing way to kick-off TOMX on Monday! When he took off the suit he was wearing one year previously to reveal his "new" self, the crowd instinctively jumped to their feet to give him a well-deserved standing ovation. Chills! So awesome! Congrats Jason!
Nuggets from Nick
Getting legendary tennis coach Nick Bollettieri to close out TOMX on Monday afternoon by sharing a small fraction of his tremendous wisdom was so special to me. He revealed what it takes to make a champion, why it's okay to be nervous and why you should never say "I can't do it." But personally, the biggest nugget from Nick's speech was this:
"Don't measure yourself by the grade you get. Measure yourself by the effort you put in."
Introducing Tech Enabled Coaching: The HUB…
Do you know what it's like to work on something for two years and not be able to tell anyone about it? I'll just say it felt really good to be able to unveil the new and improved version of The HUB on Tuesday afternoon. We're now entering the era of what we call "Tech Enabled Coaching". Our coaching members now benefit from these productivity-minded new opportunities I introduced:
The Smartest Referral Network
Video Role Plays
Tips from Tiffani
Wednesday's keynote speaker Tiffani Bova from Salesforce proved why she's a world-renowned master sales trainer. She shared the secrets of exactly what customers are looking for in a salesperson, and how delivering an extraordinary "customer experience" makes all the difference in today's world.
Breakouts Filled to Capacity!
On Wednesday afternoon and Thursday morning, we gave the 6,000 agents in attendance the opportunity to split into 25 different breakout sessions. I conducted mine on the main stage, while Bill Pipes, Jason Pantana, Debbie Holloway and Jeff Mays each delivered to capacity crowds of their own elsewhere.
I heard tons of great feedback and I'm very happy we could deliver such a specific instruction so people could "dial in" on the exact topic they wanted to learn about. With topics spanning marketing and lead generation, lead conversion tactics, team building, time management and more, the breakouts offered something for everyone and were a big success!
A New & Improved LiveCast
For those of you who couldn't physically join us in Anaheim, we upped our game big time this year. For the first time ever, we had a dedicated LiveCast emcee (huge props to Minali!) and created tons of "direct-to-LiveCast" content including enlightening interviews, behind-the-scenes happenings, pre-produced features and more!
LiveCast also offers something not even those in attendance could achieve: ALL 25 Breakout sessions were recorded and will soon be added to the LiveCast stream.
It's not too late to take advantage of LiveCast and catch everything that went down last week.
That reminds me of one more "new for 2018" addition: In previous years, we limited LiveCast playback to a short window after the live event. With LiveCast 2018, you "own" the content forever and have unlimited playback!
You People Know How to Party!
Witnessing several thousand coaching members cut loose on the dance floor at House of Blues on Wednesday night is something I won't soon forget. What an awesome night!
Sharing My Mentor Jay Abraham with YOU
I don't even know where to start with this one…
Being able to share Jay Abraham's knowledge and insights with you over the course of 90 minutes was like a dream come true for me.
From getting you to stop "following the herd" to sharing his Strategy of Preeminence to defining "greatness" to his Marketing Parthenon… his session was filled with one nugget after another.
Personally, the biggest takeaway from those 90 incredible minutes when Jay joined me onstage was this message he shared:
Fall in love not with real estate itself.
Fall in love with the lives you are transforming.
So great… Thanks again, Jay!
Matthew's Marketing Mastery
Matthew Ferrara's Thursday afternoon keynote speech hammered home the importance of differentiating yourself through powerful, personal story-based marketing. Answering the questions of "What do you add?" and "Why do you do add it?" will inspire people to work with you and ensure no one else can emulate who you are and how you deliver value. His message obviously resonated with the crowd and resulted in yet another well-deserved standing ovation!
For all those who joined us in Anaheim and on the LiveCast, a million thanks for an amazing week. For those who wish they'd been there, the dates are already set and we'll do it all again next year. I can't wait to for us make more highlights together!