How to sell 92 homes in 3 months! | REal Success Episode 9
Tweet it Out: All lasting businesses are built on relationships #BuildRelationshipsNotDatabases @TomFerry
Selling 92 homes in 3 months is no small feat, but it's definitely attainable with the right team and a raving client list. Colorado Springs agent, Treasure Davis shares with us how to build a highly effective team and a client base that consistently generates referrals.  
Go to (6:02) to discover what it takes to have a breakthrough in your business
Go to (10:40) on creating lasting relationships with new leads
Go to (15:09) on how you should be using social media to nurture leads and take more listings
Go to (21:34) for the do's and dont's of building a winning team
---
9 Ways To Save Time and Earn More Money | #TomFerryShow Episode 18
Tweet it Out: Time is precious ... waste it wisely #TomFerryShow @TomFerry
What's the one thing everyone always wants more of? It's actually a tie… time and money! Here are 9 habits that will help you to gain more time back or make money, or ideally both!
Go to (1:58) to discover the benefits of being a morning person
Go to (3:59) to hear about what I call the P.L.A.N.
Go to (8:29) on how you can earn more money while on vacation
---
Enter to Win a Summit Experience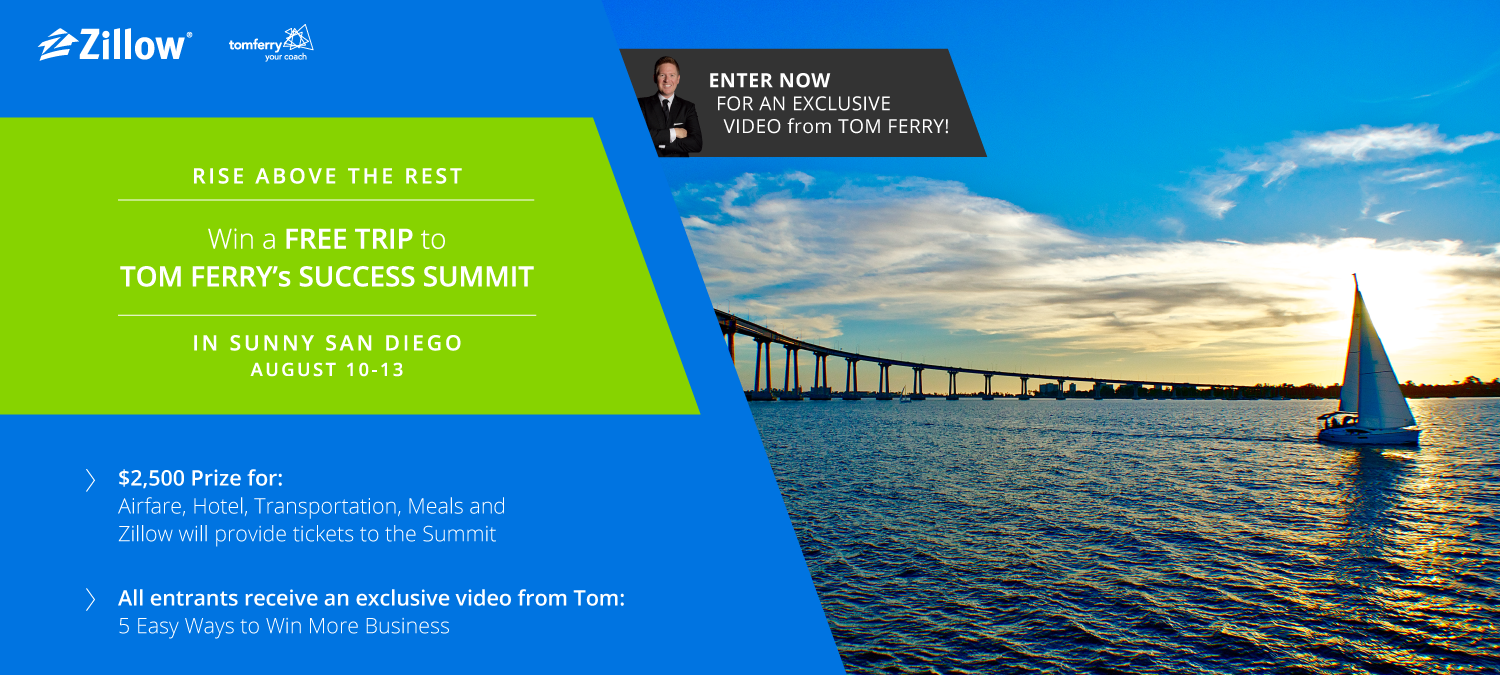 Rise Above the Rest
Enter to Win a Summit Experience from Zillow
It's more important than ever to stand out from the competition, but it's not always easy to find the time or know-how to do so. One way to get started is by attending this year's Success Summit in San Diego August 10–13 .
To make it even easier for you to attend, our premiere partner, Zillow, is giving away (2) two tickets to our largest Success Summit ever AND (1) Grand Prize winner will also receive $2,500 to cover airfare, hotel, transportation and meals to the Summit! 
As you know, the Summit is the ultimate real estate event that will train you how to maximize every opportunity and grow your business at every level.
To enter the Zillow for Pros Tom Ferry Sweepstakes click here.
Everyone who enters receives an exclusive training video from Tom where he shares the top five tips for how to win more business.  These are five easy steps you can take right now to give your brand an instant and impactful shot in the arm!
Don't wait – contest ends 6/3/15 at 12:00 p.m.. PT.
---