The Perfect Elevator Pitch: Stand Out from the Competition – #TomFerryShow
Reading Time: 2 mins, 48 secs
Is there any competition in your marketplace?
You and I both know there are a ton of agents out there!
The challenge is how to separate yourself from the competition…
Here's the deal…
If you're not unique, you're weak!
Be committed to creating a better experience for your customers because you know your unique factors!
Your Super Bowl Commercial
Imagine if you invested $5,000,000 in a Super Bowl commercial!
It would be 30-60 seconds long and be seen by 114,000,000 people.
What would your pitch be?
What would you say about yourself and why should the customer want to work with you.
On a smaller scale you are advertising yourself every day…
When someone says "you are in real estate?", what do you say?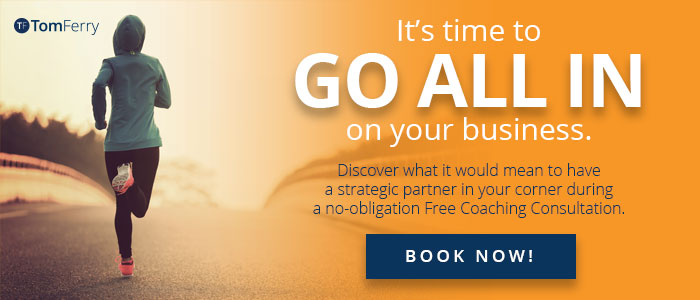 Create Your Pitch
1. Start with a problem
This is a hook, and the reason a customer should be interested.
The goal here is to articulate a problem that connects with the kind of customers you want to serve.
When you speak to people through their problems, you are speaking life into them engaging with you.
2. Amplify a problem
Use quick examples…
Say something like "buying a home is easy…"
Then list out some of the problems most of your customers might face.
Remember to think about this from your customer's perspective, and the types of questions they are asking…
Questions like:
So what?
What's in it for me?
Can you prove it?
3. Offer Your Solution
Talk about facts, data, proof, and credibility.
You can even use a script like the one I talked about on the #TomFerryShow a few weeks ago:
"Clients work with us because we have the experience, we sell homes faster, and get our customers more money. We pride ourselves on customer experience and relationships, and we have 7x times more five star reviews than any agent in our marketplace. Our number one aim is to make sure you are our next five-star review and we want to deliver that experience to you. These are my competitive advantages (restate them) that you can hold me accountable to."
Remember even if you are a brand new agent you can still use the facts and data from your office (be honest and disclose that) to offer the solution to your customers.
4. CTA
You've got to have some kind of call to action!
It could be something like: visit our site, like our page, schedule an appointment, or sign the contract.
Remember if you don't close you can't win!
The Most Persuasive Words
Have you heard of the 12 words that are considered to be the most persuasive?
They are: You, Money, Save, New, Results, Easy, Health, Safety, Love, Discovery, Proven, and Guarantee.
Think about your marketing presentation; are you using those words?
Assignments
1. Check out the Juicero video below:
2. Take each of the lead sources that you use and script out the following steps:
The Problem
Amplify it
Your Unique Solution
Then Close!
You and the Competition
Listen, when you follow all of these steps you are creating a degree of separation between you and the competition.
When you can articulate your uniqueness and how you can solve problems for your clients you are standing out from the competition!
This makes it much easier for your clients to choose you over all those other agents in the marketplace.