3 Proven Marketing Strategies For Growth – #TomFerryShow Episode 71
Reading Time: 1 min, 24 secs
The great Peter Drucker once said: "All business is innovation and marketing."
So the question is, does your marketing drive the success you deserve?
Whether you do all the marketing on your own or work with a team, it is one of the key components for the success of your business.
Here are some great ideas you can put into place to create a winning marketing plan.
Marketing Lead Generation Ideas
1. Market to Your Database
Send them weekly or monthly emails
Create or curate content
Send birthday, anniversary, and other cards as relationship management touch points.
2. Market to Your Geographic Farm
2-3 mailers per month
Social proof card (sold listings/transactions)
Open house listings
Just listed / just sold
3. Market on Social
Weekly show "How's the market?" (Be the local expert)
Share articles from Keeping Current Matters
Share videos of your open houses and other community events
Post regularly on Facebook, Twitter, and Instagram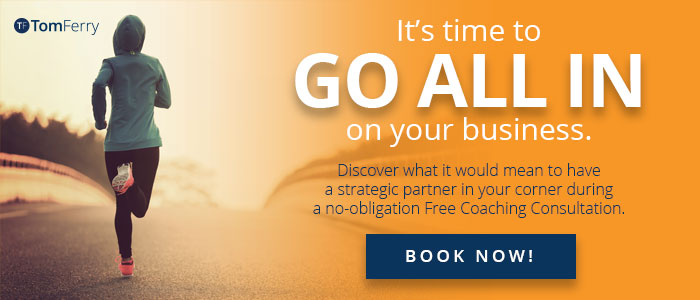 Your Marketing Plan
Do you have a marketing plan that is in place?
Is it up front and visual where you can see it?
Does it answer "how much, of what, to who, and by when" every single month?
If you don't have a marketing plan, you should start working on it today.
View a sample marketing plan here.
Bottom Line
The bottom line is that though your marketing you're empowering and informing your audience.
By doing this you are building trust and giving them the information they need to make good decisions.
Next Steps
We help thousands of agents just like you find the success they deserve.
Learn how we can help you create a marketing plan for success by scheduling your free coaching consultation.