6 Tips to Sell 12 Houses in 12 Months – #TomFerryShow
Reading Time: 5 mins, 31 secs
I want you to take a moment and take in the wonder of us being in the middle of 2019.
Many people decide to make a breakthrough during the beginning of the year, but rarely in the middle.
When it comes to your life and business, it's never too late to amp up your transaction flow!
I challenge you to begin this half of the year with a goal of securing 12 transactions in the next 12 months.
Just one transaction per month and a nice flow of cash!
Whether you're brand new to the industry or a veteran seeking to re-activate your real estate business, Senior Coach and Speaker Eileen Rivera and I have six tried and true strategies to help you secure those 12 transactions in 12 months.
You might not use all six – maybe one or two is all you need to ignite the spark you need. Whatever the case is, I encourage you to experiment and see which ones work for your business! Let's get started…
Tip No. 1: Build and Activate Your Sphere
Before you start rolling your eyes, this classic strategy will always be a gold mine!
Your friends, family, neighbors and anyone that is in your circle can be your future clients or can help refer you to leads.
Surround yourself with these people and tell your story!
Next time you meet up with your friends or have a family reunion, don't forget to tell your story as to why you decided to choose your passion in real estate.
People connect with personal reasons and your story will always resonate with the people that know you.
This emotional connection will always make your case for being the dominant agent of choice.
Trust me, stories are always stronger, so don't be shy about sharing yours!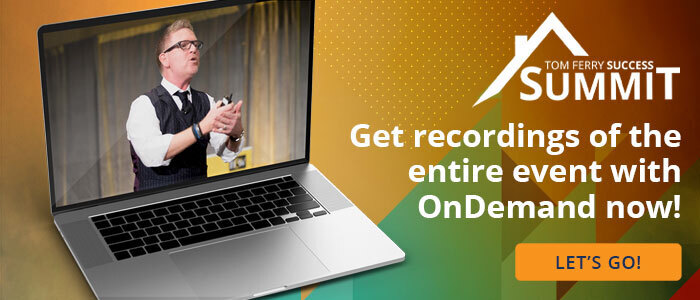 Tip No. 2: Host a Happy Hour
Eileen shared a fun and easy-to-do strategy that anyone can start doing in their closing process.
Once you closed your transaction, you can host a happy hour in your buyer's new home!
This takes the Open House Mastery to a whole other level!
During this cocktail event, you'll hit two birds with one stone by introducing your clients to their new community and adding all these interested neighbors to your database.
By attracting potential leads who may be interested in selling their own home, you'll show them your work ethic and the smooth process of having you as their agent.
Don't forget to follow up with them by sending thank you notes!
And while you're at the Happy Hour, you should leverage this event by taking photos of your clients and posting it on your social media channels!
You'll have more evidence that you're accessible and part of the community!
Tip No. 3: Magic Buyer Letter
Magic doesn't exist, but you can sprinkle some potential leads in a buyer letter.
On your next sale or any other one that happens in your office, make sure to send a hand addressed and hand stamped note to 50 or 100 people that live around that area.
In this note, the only simple message you need to tell them is notifying them of their new neighbors and that additional buyers are interested in moving into their same street.
If they have any thoughts of selling, they should reach out to you in order to start the process of placing their home on the market.
Tip No. 4: Prescribing People's 'Next Best Move'
It's simple human nature: People who have lived in the same place for more than 10 years are due for a move. That's why it's always a great idea to target longtime homeowners and help them create their next best move.
You can accomplish this by reaching out to these people, congratulating them about their great decision of purchasing a home a decade ago and helping them identify their next move by either moving-up or downsizing.
Eileen says that, "A decade represents a cycle in everybody's life."
Present them a great case as to why they should sell. This new chapter can also help you in working with people that are interested in creating wealth through real estate.
Not only are you doing more business, but you're also helping people successfully move on to the next stage of their lives.
Tip No. 5: Stand Out from the Competition
One way you'll stand out from all the other agents is by doing the one thing that the vast majority wouldn't do.
Call every for sale by owner and expired listing in your market!
These leads are treasure boxes that most people are too afraid to open.
Don't be afraid to open those treasure boxes! Call them and ask about their reasons for going the FSBO route or discover their complaints.
This is key information that you can later use for other listing calls.
If you don't want to research, then get straight to the point! Ask them when they're planning on interviewing the right agent to get their home sold.
You'll cut through all the noise and stand out with this strategy. Demonstrate that you're capable of solving your client's problems and you'll get the listing!
Tip No. 6: Knock On Your Potential Listing's Door
Don't be shy! It's almost always a great idea to do some doorknocking around any listing that goes pending!
Be comfortable with yourself and with people.
This lowers the resistance when you talk about at what price are they willing to be a seller.
Joke around and be curious to know what their price is.
Your non-verbal communication is also a key aspect that will help you break that ice.
If they aren't interested, then ask if they know anyone is interested in selling and build rapport!
Bring that wall down and be your own advocate.
Not All Strategies Will Work For You
Like I mentioned before, not every strategy that Eileen and I shared might work for you.
Make the most of those that appeal to you and apply to your market, and ditch the rest. But whatever you do, don't ignore them. Use those strategies and make them work to your favor!
In the next 12 months, I want to see your video or post telling me how you implemented these simple strategies and were able to close 12 transactions!
Are you the agent that does all 6 strategies or none at all? Maybe you've done some and not others. Share the listing strategies you use to secure every listing on the comments below!