6 Modern Strategies to Generate More Referrals – #TomFerryShow
Reading Time: 4 mins, 7 secs
There are people out there who say you can run your entire business on referrals.
Now, I've never been a "put all your eggs in one basket" type – I prefer a more diversified approach…
BUT…
There's no question referrals are a powerful way to generate business.
And here's the funny twist…
The guy who sparked that whole "Referral Revolution" is now a collaborator and my personal coach, Jay Abraham.
So… Recently Jay and I have been working on modernizing strategies from his famous "93 Referral Systems," picking and choosing some of the best ways real estate professionals like you can naturally create more referral opportunities.
On today's #TomFerryShow, I'm revealing six of those strategies. Let's go!
Referral Strategy No. 1: Send a Video Immediately
The big-picture objective with referrals is to make them a conditioned behavior. One good way to do so is to immediately recognize people's effort by sending the person who referred you a video to personally thank them.
Don't just send a note anymore… stand out by sending a video.
And do it immediately!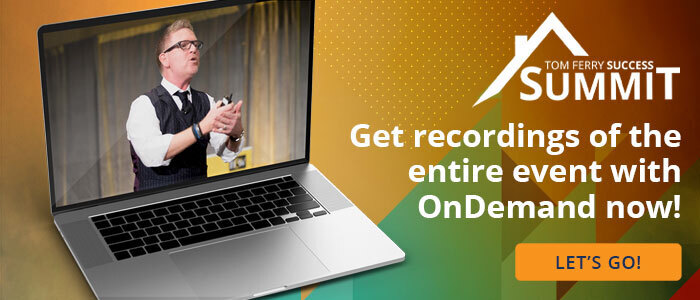 Referral Strategy No. 2: Create Your "Dream 50"
I want you to identify your most valuable referral sources, split into two categories…
…The 25 top agents who refer you business.
…And the 25 best past clients/members of your sphere who refer you business.
Create separate buckets for each in your CRM, and then commit to provide special treatment to those 50 individuals.
More touches, deliver more value, keep them better informed… Anything you can do to further those opportunities. Here are two ideas to implement:
Throw Events Exclusively for These People
Whether it's a holiday party, a summer BBQ, paying for tickets to a charity event, a day at the track or other sporting event, a movie event, bringing in a special guest speaker… You're looking to create "magic moments" for people. I'd advise you to conduct two such events every year!
Send 2 CMAs Every Year
Just like a stock broker keeps his or her clients abreast of their stock portfolio, you should proactively keep this special group of people informed about the value of their home. Send two CMAs annually along with any pertinent updates in the real estate market. Don't wait for them to request these… do it proactively and as a gesture to remind them how valuable they are to you.
Referral Strategy No. 3: Get People Talking with Your Post-Closing Gift
You probably give your clients a gift at the end of every transaction anyway, right?
Here's how to make this more impactful:
Instead of sending it to them at home, send it to one of the homeowners at their office.
Imagine the buzz in a workplace when a giant bouquet of beautiful flowers arrives for an employee….
…And it's from their Realtor!
Think people will want to know who you are? Yes, they will.
Think your client will sing your praises? Yes, they will.
Referral Strategy No. 4: Call & Ask 3 Key Questions
Here's a surefire strategy to spark conversations that lead to referrals…
Call your entire database and ask these three questions:
Have you had any thoughts of selling?
Do you know anybody who has had any thoughts of selling?
Who do you know who tried to move and it didn't work out?
Referral Strategy No. 5: Leverage Your Relationships with Vendors
You work with a wide variety of people on a regular basis…
Inspectors, title reps, loan officers, contractors, etc.
Now ask yourself this: How often are you thinking about how you could be helping each other get business? How often are you challenging yourself to bring them more value so you stand out and receive more referrals?
Remember, the more you give of yourself, the more you'll get in return.
I recommend you meet once a month with a key vendor to discuss these types of initiatives. Ask what you can do to help, and don't be afraid to share what he/she could do for you as well.
By stepping up and taking charge, you're going to stand out and get more business in the process.
Referral Strategy No. 6: Look for Ways to Expand Your Sphere Every Week
What if you called up someone in your sphere and invited them to lunch once a week?
That would be good.
Now let's take it up a notch.
What if you told that person to invite three friends and you'd like to treat them all to lunch, simply in the name of expanding your reach and growing your sphere?
Think of the impact that will make on those people who get invited to lunch. You'll no longer be just another generic bag of chips on the aisle. You'll most definitely stand out!
Which of these will you implement first? Let me know your thoughts in the comments below!