Be More Assumptive to Be More Influential – #TomFerryShow
Reading Time: 1 min, 56 secs
The language you use with your customers is so important!
You and I both know that you can enhance your ability to be influential simply through the words you are using.
That's why today I want to show you how to use this language pattern with your customers…
Assumptive Language Patterns
All selling begins with ASSUMING every prospect is a YES.
You want to assume the sale with your language patterns.
When you are more assumptive with your language and physiology you will:
Win more appointments
Win more listings
Get more offers written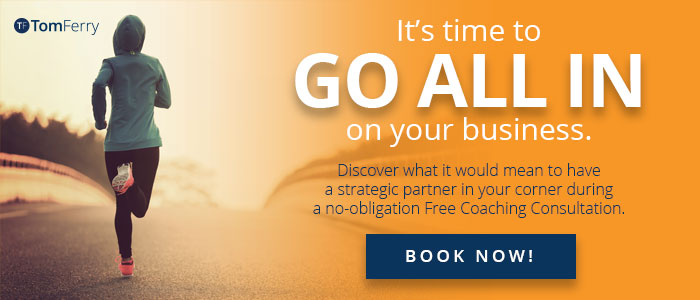 Language Samples
1. When we get together…
This is a great one to use on the phone and assumes that you will get the appointment.
2. When you see the data behind by my marketing plan…
This statement helps drive the value in all the great marketing strategies you are going to provide for your customers!
3. When we start marketing your home…
You are setting the expectations and showing how you are different from the competition.
4. During the negotiation process…
When you set this assumption early on you are demonstrating to your customers the confidence you have to negotiate their deal.
5. After we sell your home for top dollar…
This is another fantastic phase that works well over the phone for a prospect or even a FSBO!
6. When you… CHOOSE ME… to represent you… You'll see why we have so many 5 star reviews…
If you are an "old school" NLP student, you might recognize "CHOOSE ME" (with a pause before and after) as an embedded command.
If you'd like to learn more about these kinds of techniques, let me know in the comments, and I can do another show about just NLP.
7. When you find your dream home… the real reason you… SELECT ME… kicks in.
This is similar to the example above but also reinforces "that real reason" too.
8. While we're finding your dream home…
This sentence is a perfect intro for a benefit you will be offering to your customers.
Assumptive Language
This is really valuable information, and I want you to assume that you're going to get that yes!
When you assume the "no" you're done for!
The "yes" is your mindset and when you practice the examples above, you set yourself up for the win!