Summit Insider: Day 1 Recap & Notes!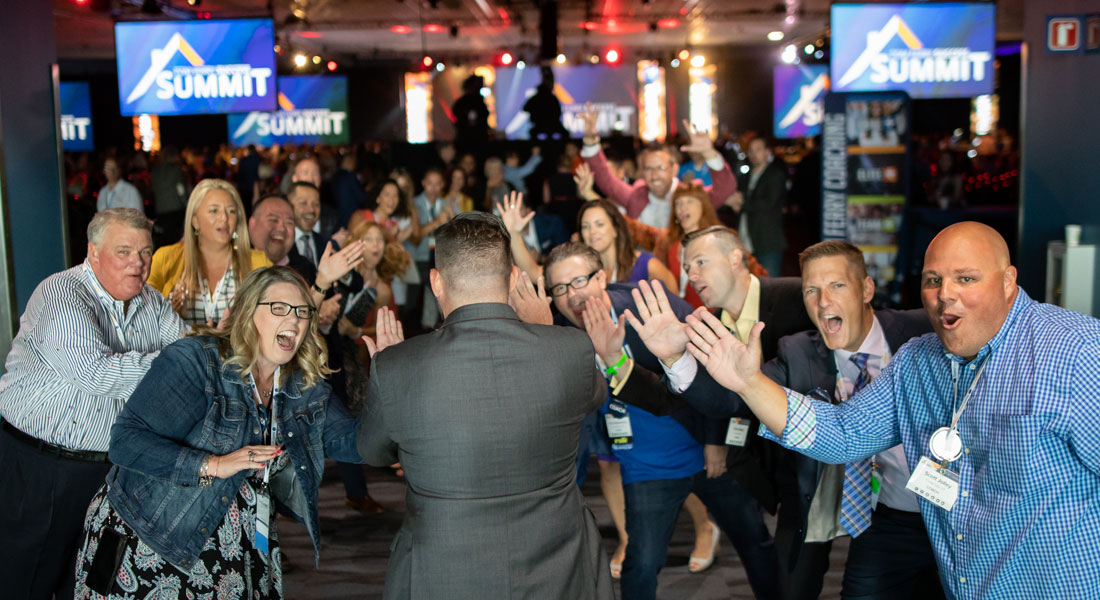 Reading Time: 6 mins, 0 secs
Day 1 of Success Summit was bananas!
For those who were with me at the Anaheim Convention Center or on LiveCast, then you know a lot just happened… and we've only had one afternoon session so far!
If you weren't able to join us, there's still time to catch all the action on LiveCast. (Use code LCD230 to save $230 and pay just $269!)
I'll be blogging each day covering some of the biggest takeaways and other random notes!

Day One Biggest Takeaway
I think it's safe to say that most agents – whether you're with me at Summit or just reading this blog – are doing so because they're seeking economic growth. With that in mind, my eight drivers of economic growth are the "biggest takeaway" from Day 1!
Let's dive in!
1. A scalable process to attract new business
Create a repeatable and scalable process for attracting new customers every day. The best part is that you can use 5 ways to thrive:
Use your database to optimize referrals
Crush geo-farming that ranges from 500 homes to 100K
Do MEGA OPEN HOUSES
Invest in online advertising (Zillow, Trulia, Realtor, Google)
Create awareness on social media that you're the trusted advisor
One attendee, Andy Tse made his own Rockstar breakthrough by aggressively geo-farming for the last five years.
Wanna know how much he closed year-to-date?
$5 million in GCI and he's got his sights set on $10 million by the end of the year!
2. Increase frequency and size of repeat and referral business
3. Increase your average sales price
A little incremental jump creates geometric growth!
4. Increase your average commission percentage
…And it all boils down to skills and marketing.
5. Build a team!
Having additional administration, marketing, and sales support on your team will help you boost your business.
Even big producers are joining teams on traditional team splits because they're sick of doing EVERYTHING! By having a team, these Rockstar producers can focus on just working with clients and not worry on doing every small detail.
When building your team, align the size of your team with your ambitions! The more aggressive growth you seek, the bigger your team needs to be.
6. Penetrate a new market every 18 months
7. Add a new service or offering every 12-18 months
8. Acquire another business every 12-18 months
The average agent is 57 years old and potentially thinking of getting out of the business.
You should take advantage of this possibility. Buy their book of business and fold it in to your own as they leave the business.
Think of the value to be mined from the databases of longtime veterans like that! It will definitely bring you and your economy tremendous value.
Can you identify one person in your marketplace that you should buy their business? My advice is to create a list of several agents in your market who you want to buy their business over the next five to 10 years.

What Else Happened
• Watching everyone stream in to cheers and high-fives when the doors opened was goosebump inducing… as always! (Which is obvious in the photo at the top of this blog.)
• I told everyone in attendance they need to basically be running two different businesses: One for the present day and one preparing for how the market will be in 2020, 2021 and beyond. So the question you need you answer now is how do you generate maximum results over the next 18 months while also strategically preparing for what's to come? Because winter is coming in one form or another.
• Some food for thought on your ambitions: Ask yourself, Do you REALLY want to be THE agent in your market? If so, who is that agent in your marketplace who you want to de-throne?
• Somebody showed up and sat in the audience in a banana suit! Love it… and honored!
• I strongly believe we're in an era of Economic Darwinism. What's that mean? It means that you better be ready and willing to adapt and change if you want to succeed. Those who do will survive and thrive in this business. Those who resist change better start considering their next career. Example: When someone tells me "I don't really like video," I just roll my eyes and ask them "Are you living in the dark ages?"
• Do you recall my 3 Little Pigs analogy from last year? Well, I've adapted it. It's not just about building your "house" out of bricks anymore. It's about building your own castle with a moat. And then you need to consider everyone in your database as someone who is inside your castle and is your responsibility to not only protect them, but thrive with them. Because if you don't… Someone else definitely will.
• I shared the three commonalities of the top 1,250 businesses from an article in the Harvard Business Review: 1. Every year, they put all their energy into top line revenue growth. Why? Because they innovate, adjust, and adapt all the time. 2. You cannot "cost-cut" your way to growth. The third point? There isn't one. Refer to points one and two. So with this in mind, where's your mindset right now? Are you "all in" on innovation or trying to cut corners and save costs? You don't win in sales by playing defense.
• Here's an important question I asked attendees to ponder: What are the limiting beliefs that are holding you back? For me, I started in my dad's business when I was just a teenager, and as a result, for many years I told myself I was too young for some of the responsibilities I took on. I wish so bad I could go back and tell myself to stop being stupid and just own it. I wasn't too young. I was just making excuses.
• Are you "all in" when it comes your business? Yes or no? (If you said yes, then I'm curious… how many videos did you shoot this week?)
• What's it mean to be "all in"? Here are four must-have elements: 1. You need a clear, emotionally-charged goal. Something that makes you mad you haven't achieved it when you read it. Having that goal will draw you into the future and beyond your limiting beliefs. 2. You need to raise your standards. Maybe change the people you spend your time with. 3. You need to surround yourself with like minds. 4. If you're truly ALL IN, you need to massively increase your accountability.
• I also dove into the 37 Referral Drivers for real estate!
• After the session, all the attendees gathered for the Welcome Reception to network and make new friends!
Here's a parting thought: There are only two ways to sustain happiness. Do you know what they are? Come back for Day 2's blog for the answers!
Don't forget… You can still get LiveCast and "own" all the content from all four days including every breakout session, which will be recorded and added later. (And don't forget to use code LCD230 to save big!)
In the meantime, let me know your thoughts in the comments below!
Read Day 2 here.
Photos by AJ Canaria/PlanOmatic (@ajcan/@planomatic)