Coach Larry Webb's 5-Year Journey to Financial Freedom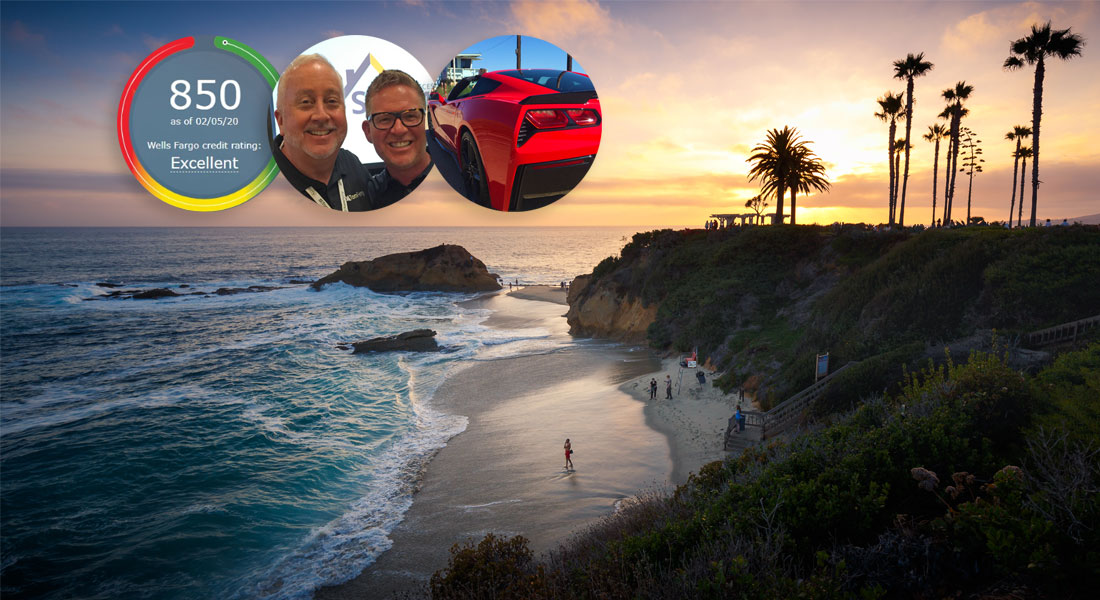 Reading Time: 6 mins, 30 secs
Small steps – done repeatedly and consistently – can get you to big places.
That's not just an empty cliché.
Inside the Tom Ferry ecosystem, it's a way of life.
And today I'll prove it to you by sharing the story of one of our very own coaches.
He talks the talk with his clients, and he walks the walk in his own life.
And now, in his own words, he's living the dream… but it wasn't always this way.
Meet Larry Webb.
A Five-Year Process
Larry says he embarked on this journey toward financial freedom about five years ago.
"I recall Tom saying something like, 'Do what others aren't willing to do for the next five years, and do whatever you want for the rest of your life,'" Larry says.
It resonated with Larry, and he'd seen Tom speak about the same financial concepts he covers in his most-watched video.
Then… most importantly, he acted on that knowledge.
And here's where he's at today:
He just paid off his principle residence.
He pays his taxes regularly and is expecting a sizable refund.
Against the mantra of "Stop buying dumb $#!/," Larry fulfilled a lifelong aspiration and bought a red Corvette… but he'll pay off the remaining balance with his tax refund.
He's created positive cash flow and is working now toward the "big savings."
I'm very proud of Larry's actions. But even more importantly, I want to share what he's done with you so you can follow his lead.
Setting Himself Up for Success
Note: Many of the financial principles Larry uses can be found in this video.
Larry began this journey by taking two important steps.
One, he created an S-corp.
Two, he set himself up at his bank by creating "sub-checking accounts" within his main business account. He titled that account "Webb Real Estate & Property Management," and then named each sub-account including the percentage he'll allocate from each check.
He explains:
"So first, 100 percent goes into Business Main account… 'Webb Real Estate & Property Management,'" he says. "Then I allocate from that feeder account through online banking (transfer funds) to these specific account names. I have to manually do it because Wells Fargo won't do it automatically:
10% TITHE (First 10% goes to my church)
10% SAVINGS (Pay myself next)
30% TAXES (Set aside for taxes)
30% BUSINESS (Re-invest into business)
20% PERSONAL (Household/Fun/Vacations)"
Larry's disciplined savings and his willingness to track and measure everything resulted in a powerful outcome.
"I found out the money lasted longer when I had that plan," he says. "Awareness is the big takeaway. In the past, I just put everything into a general account. Now I had a purpose. I had more clarity on where to trim and where to increase."
An Important Question for You
Having seen just a glimpse (so far) of Larry's financial setup, how does it compare to yours?
I don't ask that to discourage you or make you feel bad.
I'm actually asking to encourage you to follow his lead.
Because here's the thing… Larry didn't get where he is today overnight. This has been a five-year process. And he's right there with me…
"You don't have to do everything all at once," he says. "Start small. Put $100 in each of those sub-accounts, and you'll create the discipline of doing it regularly. With every check, allocate those amounts. And then when you get the big checks, it's already ingrained in your brain."
The Magic Ingredient: Discipline
Larry was an athlete in his youth and went on to serve in the Navy, so he's excelled in highly disciplined arenas throughout his entire life.
At one point, he started getting up at 5:00 a.m. every day and realized he was getting a lot more done. So then he moved it up to 4:00 a.m. and became even more productive. When he decided to add a workout to his morning routine, he shifted to 3:00 a.m.
"I've trained my body to get up at 3:00," he says. "I wake up at 2:55 and my feet hit the deck by 3:00."
That discipline extends into his coaching schedule as well as his financial management.
"I've gotten a tax refund for the last 20 years because I'm overly conservative and I always pay my taxes on time," he explains. "Agents who are paying themselves through an S-corp or an LLC and are using those tax advantages, that's the way to go. It's almost like it creates a forced savings account."
One of His First Instructions to a New Coaching Member
As a longtime business coach in addition to running his own real estate business, Larry says these fundamentals are one of the first discussions he has when taking on a new coaching client.
"The majority of people I coach don't understand the concept of incorporating their business," he says. "So I tell them… Go talk to an accountant, figure it out, and then we can talk about treating your business like a business."
Although it's not a financial tip, Larry also emphasizes the importance of time management for success in real estate.
"The biggest problem my clients face is their schedule," he says bluntly. "If you have a good schedule, you can rule the world. But if you're giving yourself leeway, you don't have a good schedule."
Food for thought.
A 'Debt' of Gratitude
Larry says he also owes big thanks to his lender and friend for his newfound financial freedom.
A little over five years ago, Larry was considering refinancing his Orange County, CA home.
His lender's response?
"No, I'm not going to do it."
Larry was baffled. Here was a prime piece of business falling in his lap, and the lender said no.
Why? Here's what he told Larry:
"I'm not going to let you do that. Double down on your payments and have the American Dream. You just need to pay your house off."
At that point, Larry had built around 75% equity in his home.
"That push was a real eye-opener," he says. "I actually tripled down on my payments and paid off the balance in five years."
"Now It's Our Time"
With his house paid off, his beloved Corvette about to be paid off and his FICO score resting comfortably at 850, Larry has certainly put himself in a good spot.
"Looking back compared to five years ago, we don't have to worry about anything now," he says.
He and his wife have four kids and six grandkids, but the youngest of their own just moved out of the house.
They even have a luxury Caribbean vacation scheduled (and completely PAID FOR) in April.
"It's a total feeling of freedom and options," Larry says. "I've got options now. I can do a lot of stuff because I don't have any obligations. It's a really good place to be."
Achieving the #NDBSTPCF Ideal
Measured against the #NDBSTPCF standard I explained in this #TomFerryShow, Larry is already killin' it and has his sights set on improving both his savings and cash flow.
He says he's already earmarked his 2020 tax year refund toward buying an investment property.
At 62 years old, the world is his oyster.
"I love my job. I'm changing lives all the time. And it's interesting to see the growth in my coaching clients," he says. "Coaching people to make $200,000 a year and helping them slay their dragons."
Way to go, Larry… Keep it up!
Do you share Larry's aspiration for financial freedom, but lack his discipline? Find out how we can help in a free coaching consultation.