The Power of the Mastermind Group – #TomFerryShow
Reading Time: 3 mins, 10 secs
How many times have you found yourself isolated in your business?
You might be surrounded by teammates or colleagues in the industry, but you still feel mentally detached.
That's where the mental motivation comes in: books, podcasts, videos, etc.
And while I do believe that these tools are crucial for mental toughness, there's one BIG problem with them … they can't interact with you.
They can't brainstorm with you, challenge your ideas or role play with you like actual human beings.
There isn't a feedback loop for improvement.
Which is why two of the most important people in the history of personal development are huge advocates for surrounding yourself with people that can help you reach your goals.
Napoleon Hill and Jim Rohn know quite about success wouldn't you agree?
Jim Rohn has hundreds of great quotes about leadership, motivation and success.
The one that really makes people feel uncomfortable in a "Oh, wow … that makes sense and I never thought about it kind of way." is this:
You Are The Average Of The Five People You Spend The Most Time With
Think about that … your beliefs, your values, your dreams, your goals and your desires are constantly being molded by the people that you spend the most time with.
And that has a direct correlation on your happiness, health and wealth.
Napoleon Hill who many say wrote the book on success when he penned the classic "Think & Grow Rich" dedicates a whole chapter to the Mastermind group and declares it the 9th Step Towards Riches.
In this episode of the #TomFerryShow I give you a sneak peak into my very own mastermind group as we discuss questions submitted by the Tom Ferry coaching community.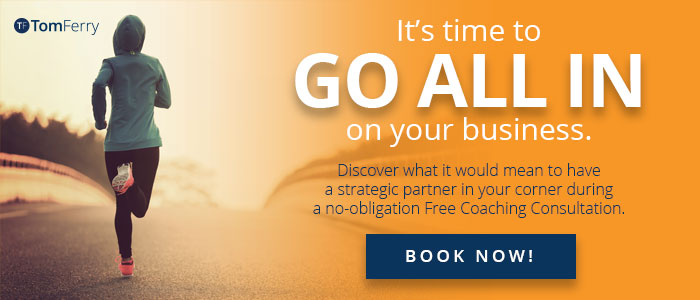 Mastermind Discussion Questions
How do you survive when you're surrounded by deep discount brokers?

How do you maintain relevancy when technology and rules change so quickly and so many competitors are entering the market?

What are you doing to prepare for the 2020 market?

Do you see a trend of huge mega agent offices moving towards mom and pop offices?

Which social media platform will dominate real estate in the next 3-5 years?

What are the current trends in email marketing?
I was super excited to host my good friends and fellow mastermind partners at our offices to be in this special episode.
Conor McCluskey, Co-Founder & CEO of Bomb Bomb – They make it easy to add video to your communication so you can build relationships faster through email, text and social
Greir Allen, Co-Founder & CEO of BoomTown – A growth engine for agents, teams and brokerages by handling all of your digital marketing by generating leads and putting them into a predictive CRM for maximum ROI.
Bill Harney, President & CEO of Keeping Current Matters – KCM helps agents explain what's happening in the market and how it affects their buyers and sellers by giving them smart tools to stay on top of the ever changing real estate landscape.
The benefits you get from a mastermind group are the same you get when you are in coaching.
Because you'll be adding your coach to the list of the five people you surround yourself with the most when you talk to them weekly.
Your coach will expose you to the latest trends and systems, brainstorm with you, challenge your fears, ask the tough questions and ultimately hold you accountable to your goals and dreams.
The consultation is free and lasts between 30-45 minutes. Once you fill out the form someone from our office will call you to schedule a day and time to speak with one of our consultants.