5 Key "How's the Market?" Takeaways from the Oracle of Real Estate – #TomFerryShow
Reading Time: 3 mins, 33 secs
You absolutely need to watch the video above to get every "How's the Market?" insight from the Oracle, Steve Harney, founder of Keeping Current Matters.
In it, he…
Breaks down the current state of the market
Predicts the year to come: Home values, transaction numbers, interest rates and more
Talks "recession" news – and how you should refer to it instead
Weighs in on the impending "bubble"
Shares tips on your crucial task of controlling the narrative
Identifies two things winners do in a changing market
Explains why you're a flag-bearer of the American Dream
And much, much more!
Here in the blog, I'm going to recap five of my biggest takeaways… So let's get to it!
What's Happening with Home Prices Now
With all the talk of a real estate slowdown – and memories of 2008 as the most recent example in people's minds – there's a perception that the home prices are trending downward.
Steve says that's not true.
What's really happening is that price appreciation is slowing… but prices are not depreciating.
This is a very important distinction to make when speaking with homeowners and prospective buyers.
What this means for you: If you've been promising homeowners that you can get them the fastest sale at the highest price, you might want to adjust your spiel.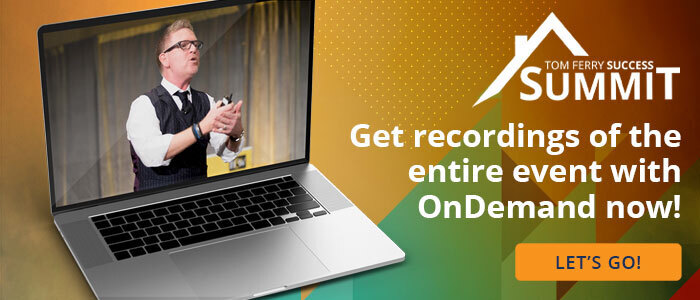 Okay… But Where Are Home Prices Headed in 2019?
KCM researched the 2019 pricing projections of 100 leading housing economists.
Are you nervous? Don't be…
Ninety-four of those predict home prices will continue to appreciate in 2019.
Two of them predict no change in home prices in the coming year.
Four of them predict a slight depreciation in home prices between now and 2020.
I urge you to cite these statistics when speaking with consumers. This is NOT 2007 all over again. As I've been saying all along, we're simply in a "normal market" now.
Solid Advice for High-End & Luxury Agents
Steve made a special point to single out agents who specialize in the upper end of the market. His advice is solid regardless of market conditions, but it's especially important to take to heart now:
Price your listings correctly from the start!
High-end properties that are overpriced are languishing on the market.
He added this creates an opportunity to get Expireds and price them to sell!
Control the Narrative
One of your most important roles right now – in a changing market – is to control the narrative.
Whoever has the right data and believability to present it is who controls the narrative, Steve says.
What concerns him the most are the conversations people are having before they ever get to you… the myths and rumors swirling in the media and among consumers that perceive market conditions to be much worse than they actually are. Remember what you're up against: Media outlets area trying to elicit clicks by writing juicy headlines. But beyond those juicy headlines, the articles are often all fluff. The sky is not falling. The market is not crashing. It's simply slowing a little bit.
Steve's advice is to put the actual market stats on your phone in a handy graph so you can dispel those rumors quickly and follow up with the script, "I'd love to show you more. Why don't I come over at 2:00 tomorrow to talk about it in greater detail?"
He also added, "It's not what you know that's important, it's what you can communicate that matters most."
When informing consumers about current market conditions, Steve advises to take off your "salesperson" hat and operate with the heart of a teacher instead.
Insights, not information, is what people want from you most in uncertain times. Help them connect the dots and frame your conversations in terms of what it means for a homeowner trying to sell his or her house.
Adopt This Mantra
Here's Steve's seven-word mantra for success in today's market:
Calm down. Sit down. Think. Plan. Act.
Bonus Tip: Start an #AMA (Ask Me Anything) show to keep people up-to-date on market conditions and provide a "safe space" for them to ask any real estate-related questions they might have.