Video Hacks Learned from the Industry's Biggest Influencers – #TomFerryShow
Reading Time: 4 mins, 51 secs
For the second consecutive year, BombBomb has conducted a comprehensive analysis of how real estate professionals are using video. The result of their efforts is the fantastic Real Estate Video Influencers Guide, packed with tons of extremely valuable advice direct from the winners themselves.
If you haven't already, make sure to download the 2018 report and watch the videos from the influencers who share so many excellent tips and strategies.
For today's #TomFerryShow, BombBomb CMO Steve Pacinelli joins me to share insights from the report to help you avoid the common mistakes and make the most of your video efforts.
Watch our entire conversation above, while here in the blog I'm outlining 5 video hacks based on Steve's visit.
Video Hack #1: Curiosity is Crucial
This topic really tackles two of the biggest obstacles most agents have when it comes to video:
They're scared to get in front of the camera
They don't know what type of content to create
Let's look at the second one first…
If you're blanking on what type of videos you should be making, Steve says to look inward and ask yourself these questions:
What are you passionate about? What are you curious about? What can you create based on your personal interests?
Remember, not all of your videos need to be directly related to your business. Agents who follow their passions and create interesting content around those passions are attracting audiences they can then steer toward their real estate-related content.
So if you love food, create a video series about food. If you like dogs, create something about dogs. Fitness? Same thing. Don't limit your creativity. Instead, capitalize on it and pour your true persona into your video project to demonstrate the authentic "you" to prospective clients.
Now I'll circle back to how curiosity can help you get over your fear and step in front of the camera…
Instead of the old "Just Do It" command to get over your fears, why not instead use your own inspiration? Find something you're endlessly curious about and make it a passion project! Your own inner desire will help you overcome your fear and make it much less stressful.
(If that doesn't help you put yourself out there, I'll share another great tip from Steve later in the blog.)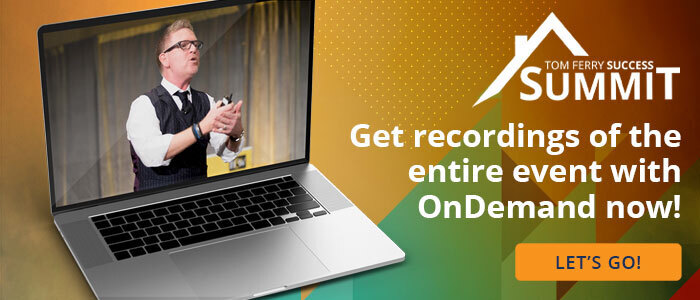 Video Hack #2: The Key to Standing Out
Steve equates your video thumbnail to the subject line of an email…
If you aren't piquing interest, building intrigue or making a meaningful promise, you're not very likely to get people to stop scrolling and click that PLAY button on your video.
Make sure to put effort into your thumbnails and create something unique that will stand out. It's one of the most important steps in any the creation of every video, and it's often one of the most overlooked.
Video Hack #3: Respect Your Viewers by Qualifying Them
Steve says the BombBomb team lives by the mantra of "Every email you send teaches the person whether or not to open your next email." Great advice!
In essence, how much value you deliver and/or the relevance of your message determines whether or not a person will be eager to open your next email.
The same is true for your videos.
You don't want to waste people's time with videos that aren't relevant to their situation.
So… qualify them right up front!
Ask a series of specific questions that "preview" what will be in the video. That way, people can decide for themselves if the video is right for them, and they'll appreciate the fact that you respect their time.
In essence, these qualifying questions are training people to watch your future videos because they know you're not going to squander their most precious resource, time.
With this approach, your video views might not be as high, but the quality of viewer will be much higher.
Video Hack #4: Getting Over Your Fear of the Camera
Here's the most tactical advice Steve had for those who might still be afraid to start shooting videos:
While you're working at your desk, set up a camera and press RECORD…
…and then, go about your normal business.
To take the next baby step, start talking directly to the camera every once in a while.
The more you do this, the more comfortable you'll become being on camera.
But remember: It takes repetition and practice to gain that comfort level. Don't ditch this idea after one try. Keep doing it and let yourself grow accustomed to being on screen.
Another great tip is to start sending videos to family and friends before you ever think about sending them to your prospects.
Video Hack #5: Diversify Your Distribution
Having a "Pillar Content Strategy" means diversifying your distribution methods to ensure you're reaching a wide audience and maximizing engagement.
It also means repurposing your videos into various edited forms based on where they'll be seen…
…to ensure your content is wherever people feel it's most comfortable for them.
Think of all the options available to you: Twitter, LinkedIn, YouTube, Instagram, IGTV, Facebook, Facebook Live, Facebook Premiere, Pinterest, etc…
The best video marketers have a systematic approach to breaking one big content piece into smaller pieces for distribution throughout all of these avenues.
Make sure to discover how you can achieve the same result in this previous #TomFerryShow.
Which video hack will you put into action in 2019? Which ones are you already doing? Let me know in the comments below!
Related Links:
Video Domination Is Coming: Tips & Scripts For Successful Online Real Estate Videos
How To Reach A Massive Audience With Digital Marketing
BombBomb's 2018 Real Estate Video Influencers Guide