3 Killer Takeaways from One of the Brightest Minds I Know – #TomFerryShow
Reading Time: 4 mins, 1 sec
Matthew Ferrara is such an engaging speaker and interesting thinker, I hope you'll watch the video above.
I felt very fortunate to have him speak at this year's Summit, and now I'm very happy to be able to share him with you here on the #TomFerryShow.
In the blog below, I'm going to do my best to break down the three essential lessons he shares to get you thinking differently… and to stand out from the competition.
Let's get started…
Takeaway No. 1A: Controlling Your Story
Listen to what Matthew says…
These people you're working with on a daily basis aren't just "moving" or a "buyer" or a "seller."
They're tearing up their lives and replanting it somewhere else.
Think they want someone who they feel comfortable with during that process?
Of course they do! That's why it's so important to control your story and TELL your story.
Matthew says the easiest way to think about it is like this…
When someone refers you to a friend, they'll say something like, "I want you to work with [YOUR NAME] because ________________________________." What's that blank for you? It's not going to be your sales figures. It's going to be a trait that resonates emotionally with people.
When telling your story, don't be vanilla. Don't brag. Just be true to yourself and connect with others.
Also, Matthew says many agents are failing to capitalize on their testimonials. He says rather than publishing them verbatim, the key is to look at what people are saying about you and develop your message around that story that people want to be part of.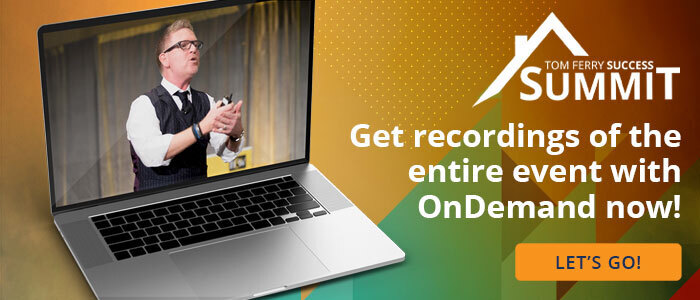 Takeaway No. 1B: Controlling the Story in Another Way
The media only reports sudden and shocking things, Matthew says. And there's a lot of fear being thrown around in the media today about a slowdown in real estate.
To Matthew, the problem isn't just that consumers will believe it. It's that you – the brokers and agents in the marketplace – will believe it yourself.
Even if there is a slowdown, it doesn't necessarily mean anything is wrong.
It's just a natural part of any cyclical market.
If you don't control the story in your mind, you can create a self-fulfilling prophecy that there are no buyers, no sellers, etc.
Tell the real story and give the consumer a fuller picture of today's market conditions.
Remember, your identity alters your beliefs, and your beliefs influence your behaviors.
So don't let yourself be manipulated by the media – who are trying to sell ads – rather than trust what you see and experience yourself as someone who's in the trenches every day.
Takeaway No. 2: Give Yourself Permission to Try New Things
Are you taking enough chances in your business? In your marketing? In your messaging?
Or are you coming across as if you're actively trying to blend in with every other agent in the marketplace?
Matthew says you'll be surprised how creative you can become if you give yourself permission to try new things. To speak your mind. To take some chances.
In general, he feels homes are being over-staged and many people are basically sucking the life out of their home photos and descriptions by trying to come across so ultra-"professional."
He advises to try something different and make it look different than other homes on the market… maybe the first photo is black and white just to differentiate it on all the online listing portals.
If you're not getting a little bit nervous and second-guessing yourself before you hit that "Send" or "Post" button, you're probably not taking enough chances. And if you take a listing and immediately go into "production mode" without giving it any thought, you're likely not getting creative enough with how you're marketing the property.
Great agents give themselves permission to take those chances.
Takeaway No. 3: Slow Down to Speed Up
If you let it, this business can keep you busy every waking moment of the day.
And some agents take pride in that grind, putting themselves in a constant state of GO, GO, GO!
Matthew suggests a different approach…
…at least for anyone who wants to maximize their own productivity.
Sometimes you need to slow down to speed up…
Which means giving yourself time to reflect or take a pause purposefully… in your schedule!
Growth does not come from non-stop work.
Give yourself time to pause and recharge your batteries now and then in order to become your most effective version of yourself.
What's your biggest takeaway from this episode? I hope you enjoyed Matthew as much as I did. Let me know your thoughts below!