5 Reasons Why Agents Fail In Real Estate – #TomFerryShow
Reading Time: 1 min, 30 secs
Go to (0:33) on why agents fail in real estate
Go to (2:56) to discover the top sources for lead generation
Go to (7:03) to hear what lead gen systems are right for you
The economy is great and homes are selling quickly, so why is it that agents are still failing out of real estate? Here are some tips to avoid failure and a plan to turn your business around!
The 5 Reasons Agents Fail In Real Estate
There is no plan or strategy
They failed to attract enough lead generation
Poor conversion
No service or poor service
The money ran out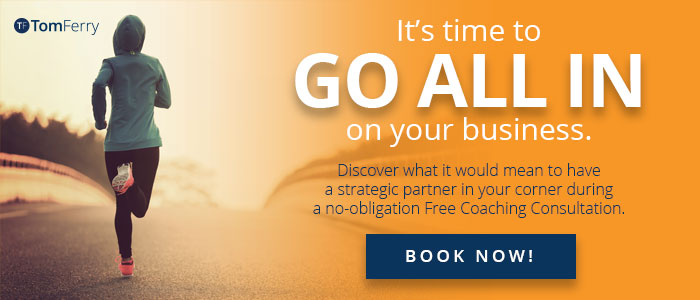 How To Avoid Failure in Real Estate
Out of those 1,000 clients that we surveyed, they all had these top sources in common for generating leads. These agents know that there is no wrong way to serve and attract customers.
Database
Open houses
Online
Geo farms
Door knocking
Expired's
FSBO's
Relocation's
Non-Owner occupied's
Recommendations
Ask yourself if you have enough leads. If the answer is no, here are a few recommendations for you:
Analyze where your leads are coming from
Can you get more out of each source?
How can you operationalize this through better planning?
Visually track your results
The market is good right now. The #1 mistake that I see agents making today is thinking that this market will last forever. Unfortunately, it's not a matter of if the market will change, but when the market will change. If you operationalize your lead generation and become stable then you will win! You'll win because your organized, efficient, and generating enough clients.
What actions are you going to take? Maybe it's time for you to take advantage of a free coaching session. I want you to become one of those rock star clients I talk about in my videos.