Would you be willing to embrace boredom in exchange for achieving your goals?
"Embrace boredom?" What's that mean, Tom?
It means doing mundane tasks day after day after day…
Sounds exciting, huh?
But here's the promise: When you do them, you'll become wildly successful.
Do the thing, have the power.
Do not the thing, have not the power.
To-Do List vs. Checklist
There's a big difference between making a new "To-Do List" every morning and operating from a daily or weekly checklist.
A "To-Do List" relies on your memory and only addresses the here and now.
Your daily and weekly checklists force you to do the things that ensure your business runs smoothly in the short term AND help build your business exponentially in the long run.
That's what my "Million Dollar Business" checklists are all about.
At Summit, I shared daily and weekly checklists geared toward helping the thousands of agents in attendance add $1 million to their GCI. Now I'm sharing these checklists with you.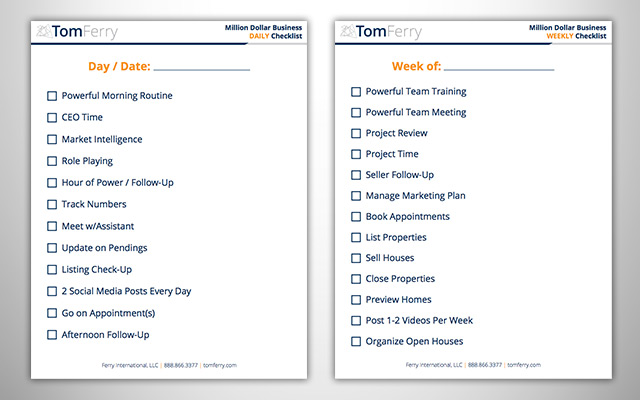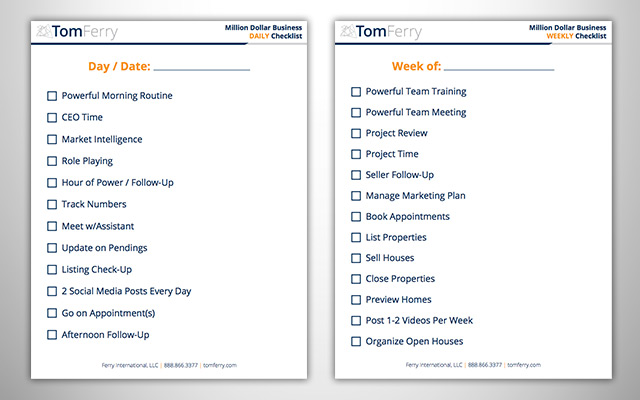 Download your own copies here:
Daily Checklist PDF
Weekly Checklist PDF
Then I'd encourage you to watch the #TomFerryShow above to fully understand each task on the checklist.
Don't just watch it… show it to all of your team members.
Embrace it. Adopt it. Become it.