Never Celebrate Too Early – #TomFerryShow
Reading Time: 2 mins, 10 secs
Here's what we know…
The economy is up.
Real estate sales are up.
GCI is up.
What is going on?!?!

With everything on the upswing complacency starts to creep in.
Do you know anyone who has celebrated too early?
This happens in sports all the time, and it happens in real estate too.
The Cycle
Think about this, everything in real estate follows a 120 day cycle.
That means if you aren't on the top of your game right now, things won't look good for the holiday season.
Step Up
I want you to have an amazing holiday season and that's why I'm making this ask…
I'm asking you to step up your leadership and step up your personal responsibility.
You owe it to yourself and your loved ones to maintain the discipline throughout the summer months.
Pick a goal and go after it for the next 8 weeks.
Do the thing, have the power!
You've heard me talk about it before, but I love this quote from Emerson,
"Do the thing, have the power!"
Here are three disciplines that will help you be more successful now and will continue to pay off several months into the future.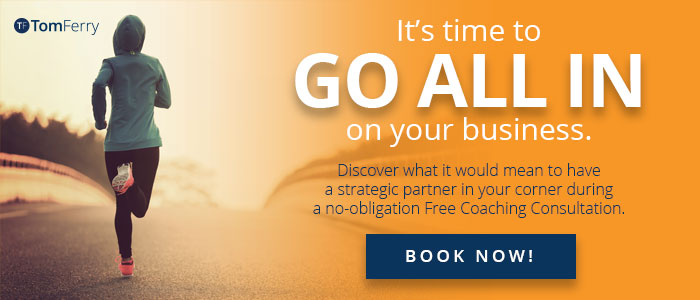 1. Double down on what works.
Are you great with open houses?
Awesome, double down on those.
You know what works for you; double down on your efforts!
2. Know and act on your automatic shot.
Listen, you know where you are most successful.
Each agent has a different skill set, but the point is to know what you are good at and to automatically take action.
So for example if you are good at getting listing appointments, get in there and take the shot!
Take action!
3. Over index on personal and professional development.
I talk about this all the time because it is so important.
I love listening to podcasts and reading personal and business development books.
You can even see a few of my favorite books here.
I love the books and the podcasts because they put me in an inspired state.
You know that when you are inspired you are way more likely to take those important actions that lead to success!
The Best Is Yet to Come
As your coach, friend, and ally I want this to be the best holiday season yet for you.
I want you to experience more joy and happiness and less stress.
How do you make that happen?
Do the thing, have the power.
This is your chance to take action now, knowing that it will pay off big time this holiday season!