7 Ways To Seize All Your Real Estate Opportunities – #TomFerryShow
Reading Time: 7 mins, 10 secs
Don't miss out on our 3 main points from this episode!
Go to (1:11) to learn how to be unstoppable and resourceful 
Go to (2:35) for 7 helpful tips that will lead you to taking advantage of the wave of opportunity 
Go to (8:38) to hear about our upcoming Success Summit in San Diego, CA
Hey everybody. Welcome to the Tom Ferry Show, Episode number 12. Let me ask you a question. Has there ever been a bigger wave of opportunity? A bigger wave of opportunity than right now in the Real Estate business?
Think about it. Porsche has gone out and raised $100 million. Zillow has acquired Trulia. Realty purchased Zip. Berkshire Hathaway is trying to buy everything. Keller Williams is over 100,000 agents. RE/MAX is probably 6 people away from being at 100,000 agents. The growth is extraordinary and the time is now and my question for you, are you being unstoppable, or are you being lazy? Are you being resourceful and doing whatever it takes, or are you still blaming resources?
There's no inventory? Go find the inventory. There's lots of people out there that are trying to figure out if now is the time. Are you talking to them or are you blaming the fact that there's no inventory?
Listen, there's never been a more exciting time, for me 27 years in the industry, than right now. There's so much opportunity. Again, I just look at it like this giant wave of opportunity and the question is, are you doing what it takes to capitalize on it?
The market is going to change. It's going to adjust. It's not a matter of if. It's only when, but while it's hot are you going to go all in, put all your chips in and absolutely crush it and make as much money as you can, help as many people as you can, or is this wave going to pass you by? We know what we want to do so let's talk about it.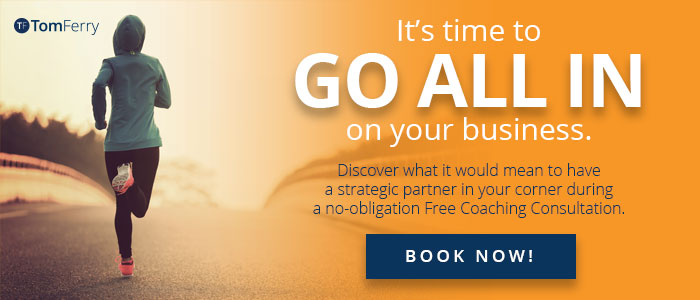 7 Ways to Take Advantage of the Wave of Opportunity 
Set Big Sexy Goals – You've got to stop looking at incremental growth in today's market. I know you did X last year and you want to do 20% more. The wave of opportunity is going to pass you by. This is where we've got to start asking ourselves "What is the Total Addressable Market?  How many transactions are being done? How many homes are there? And what is my goal? Do I want 1% of the market? 5% of the market? 10% of the market?
Your goals have to be impactful! If you don't wake up in the morning emotionally charged about your goals, they're probably just like how much of what and by when goals. But if it's really about a movement, if it's about a calling, if it's something that you are passionately committed to, and you're rallying people around, that's the kind of big, sexy goal.
Who Are You Surrounded By? –  You've got to surround yourself with people that believe the way you believe, that are absolutely resourceful, that are unstoppable, and when you do what happens? Like minded people attracts the same type of people and that group feeds off each other's energy. If you walk around your office and the office environment's totally dead, you don't get inspired to go take action.
The unstoppable agent walks into the environment and they create the environment. You need the support. We need the people that understand what it is we're going for and they give us the occasional boost.
Train, Learn and Model – the reality is any time you're going for a big, sexy goal there's going to be a gap. There's a giant hole and guess what? Inside that hole there's going to be some crocodiles trying to get you. There's going to be some giant boulders you got to climb over. You got to be resourceful, but understand, if you're not training, if you're not learning to try and figure out "What's the best way for me to get over the alligator, around the boulder to ultimately achieve my goals?" then you get stopped.
Listen, a lot of entrepreneurs that are watching this know what I'm talking about. You set this crazy intention. You set this exciting goal and then something happens. You get stopped. You run out of money. You can't figure out how to do Facebook ads. You don't know what you're doing. You get stuck. We've got to learn. We've got to grow. We got to figure it out. We got to do whatever it takes. That's that whole resourceful word. Do whatever it takes to achieve your mission. With that kind of mindset you're going to succeed.
Be Flexible – You got to ask yourself "Hey, I've been doing this for 120 days. It's not working. I got to change." Too often you watch people overly romanticize about doing the same thing over and over again because it used to work in the past. Doesn't always apply when the wave of opportunity is as big as it is now, so you've got to be a little agile.You got to be a little flexible. Not in being lazy. In "Hey, I'm doing this. It's not working. Let me make an adjustment."
Go the Extra Mile – Just because I just watched my son, Michael, 15 years old. I walk in his room the other day. He's sitting in front of his computer screen. He's watching "Think and Grow Rich." The old original Napoleon Hill videos, and it hit me. He said to me "Dad, what's the best thing for me to do if I'm going to build this new company?" I said "You should go old school. Watch the original 10 Napoleon Hill videos."
We talked about it. I said "Michael what does that mean to you?" He said "Dad, everybody quits. Everybody stops. If you just do a little bit more, like if the average entrepreneur works 50 hours a week. If I work 100 hours a week, I pick up an additional week on them." I said "That's going the extra mile. That's the willingness to be unstoppable, to not be lazy, to be resourceful, and make it happen." That's a big one my friends.
Avoid Lazy People – If you're hanging out with lazy people and they're not moving towards their goals they're going to pull you down like 2 crabs in a bucket. You know that metaphor.
Have the Right Mindset – I like the mindset of being unstoppable. I like having a mantra, a theme for the year. And for us the theme is unstoppable. We are an unstoppable force for good. We are committed to do whatever it takes to help our clients achieve their goals and maximize their opportunities in the market right now.
How about you? As you're watching this video you might be like "Whoa! Coach I'm drinking from a fire hose here. You're going a little nutty on me." I get it. I'm just that excited about the market. I'm just that excited about the wave and I want you to capitalize. I want you to send me a note in a year and say "I went from selling 20 homes to 40 homes. I doubled my business. I helped way more people, and you know what? I made a ton of money. I served a lot of clients, and I feel like I left it all on the field." #UNSTOPPABLE!
Those are my thoughts. I want you to pick 1 or 2, and then because this is coming up, I'm going to invite you to something. You ready?
Success Summit
By the way, look at the theme. #UNSTOPPABLE! This year, Success Summit – San Diego, Cs. Last year at Anaheim, we sold out. This year we are on track to sell it out by June. So as you're watching this video, knowing that it's coming up August 10-13, you need to make a decision. Are you going to join us? Are you going to help me in this war against lazy agents? Are you going to help yourself and create an unstoppable business plan for growth and opportunity?
There'll be about 5,000 of us there with one mindset, let's go serve as many customers as we can. Help as many people as we can and let's take advantage of the wave of opportunity. This is your time! I hope I see you at the Summit.
Remember, hit me up on Twitter, Facebook, or YouTube, and let me know what's going to be that 1 adjustment you make to make sure that you're taking advantage and capitalizing on the wave of opportunity!