How to Stay Motivated for Maximum Effort – The Power of Ambition – #TomFerryShow
Reading Time: 3 mins, 0 secs
Are you an ambitious person?
Ambition is what drives effort, but what is ambition?
Ambition is a strong desire to do or achieve something that requires determination!
If you want something really bad, you'll do whatever it takes to achieve that goal.
That's why I want to share this plan with you to help you be even more ambitious…
The Financial Blueprint
I want to share with you a series of questions that will help you get clear on your financial goals.
1) How much does it cost to run your business?
Do you know exactly what it costs to run your business?
You should, it is your business!
Think of the fixed costs, variable costs, leases, etc.
2) How much does it cost to run your home?
These are the basic costs to run your household.
3) How much outside income are you bringing in?
Don't forget to consider the outside incoming in as well.
After you've calculated that, find the difference between what is coming in and what it costs to run your household.
Now you know what your numbers are!
4) What is your average commission check after taxes?
Don't forget the taxes!
Agents often see the big number and forget to plan for taxes.
5) Therefore you must…
From these numbers, you know exactly how many transactions you need to close!
This is what you need to survive!
We aren't talking about savings or planning for the future, this is what you need to pay the bills, and get by.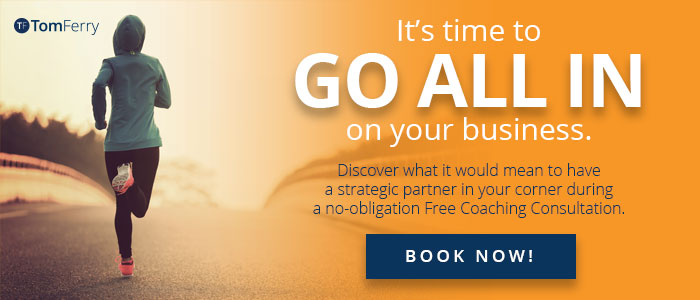 Most Agents…
Listen, you and I both know that most agents have a "coma" plan for a financial blueprint.
They operate from deal to deal with little to no planning or savings.
They close a deal and then spend all the money.
Then the cycle repeats!
Own It
I know you've been working a ton of hours, and for many agents they are barely surviving.
This is your time to own it.
Awareness is the first step to change.
Ambition
Do you really want to stoke the fires of ambition?
Ask yourself these questions…
What do you want so badly that you're willing to do whatever it takes?
In my nearly 30 years of coaching I've noticed that if someone doesn't have an answer to that question, they won't have the drive or the effort to get it done.
I know you aren't like that though.
Write down your answer in a journal or on your vision board!
Who do you want to take care of?
This could be your parents, friends, church, community, or even a cause.
Who do you want to help?
When it isn't just about you, you'd be amazed at the drive and ambition you'll have to be even more successful!
Do you want to retire?
Don't be like those agents who didn't save for retirement!
Make good decisions now, and put a plan together.
Know how much you want and the time frame you want to do it in.
Take Action
I want you to take action and have that ambition be on fire!
You should be in a place where your effort is automatic and you know what you need to be successful.
Figure out your answers to the questions and add up the answers!
Take those answers and convert them into what you would earn after tax in a transaction.
This is your time.
There has never been a better time to be crushing it in your business.
Get more deals, make more calls, and dominate your market!