5 Winning Strategies to Attract More Listings – #TomFerryShow
Reading Time: 6 mins, 52 secs
I'm continuing with my goal of leading you on the path of success, which includes answering questions you may have about your business that are keeping you up at night.
If you have one of your own, record your question and email the video to me at tfs@tomferry.com
On today's #TomFerryShow episode, I answer a question from Hector Vazquez, a listing coordinator from San Clemente, CA, on how to generate more listings for his team.
Here we go!
TOFU, MOFU & BOFU
Before I share my five listing attraction strategies, I want to show you the helpful client funnel diagram.
It's important to think about what stage of the process people are in before you try to reach them with a "one size fits all" approach. The TOFU, MOFU & BOFU diagram really helps you see clearly where your leads are located and indicates how to market them.
TOFU are leads that are all at the Top of the Funnel that you reached by your content marketing and social advertising on Facebook, Instagram, LinkedIn, Twitter, and YouTube.
These leads aren't yet interested in hiring your services. They weren't actively searching for it. Prior to seeing your ads, they were looking at makeup or cat videos or searching for their ex and happened to come across your ad.
MOFU are all the leads that are in the Middle of the Funnel and they went on Zillow, Realtor or Trulia. These leads are actively searching for their next property and once your profile appears in their filters, you're closer to the next part of the funnel.
BOFU, Bottom of the Funnel are found in your database. These leads talk about your services with their friends and family, and can provide more referrals!
Now that I've got you thinking more specifically about where people are in the process, let's begin on the winning strategies you can use to attract more listings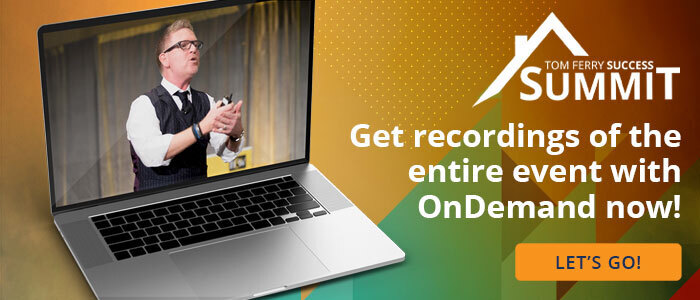 Strategy No. 1: Quarterly Thematic Marketing Campaign
Each quarter, you'll want to create three marketing campaigns and send them through email, social blast, and your database.
I assure you that these will make you the knowledgeable and trustworthy agent of your area.
90 Day Market Update
At the beginning of every quarter, you'll be sending all the listings, closings, and price data that is happening in the community.
You also want to include your interpretation of the data because at the end of the day, the goal is to make you the "knowledge broker" of your area.
People will want to know what YOU think. By providing a clear take of the information, it'll be more appealing to look over.
Prove Your Worth: Highlight Your Success
In this second marketing campaign you'll want to send out all your new listings and sales that you took and closed to demonstrate what you're capable of.
During month two, you also want to include all the case study examples that went phenomenal. You can share: properties that you listed at the right price, success stories of when you generated many offers from an expired listing that you re-marketed and re-staged it and sold it in four days… tell those stories and show how you solved the challenges your clients were facing!
Highlighting your success will generate social proof of your work and the quality that you offer.
Send all your wins four times a year, through mail, email, and social posts.
The magic formula for becoming the go-to agent is:
FAMILIARITY + FREQUENCY + RELEVANCY = TOP OF MIND
When you gain top-of-mind awareness from your leads, you create trust and automatically become their first choice when they're ready to take the next step.
Take a Break from Real Estate
Before your eyes bulge out, give me a moment to explain.
Differentiating yourself from the competition is vital in this current market.
Showing that you're part of your community and care for it demonstrates that you don't see them as dollar signs and that you see them as people.
During month three, you want to share content that moves away from real estate. Maybe it's "4 Things to do in [YOUR COMMUNITY] During Spring/Summer" or the Holidays. Or the "Top 10 [YOUR COMMUNITY] restaurants that everybody should visit."
By moving away from real estate sector and providing an insight of what the community has to offer, you'll easily create that trust!
To help you stay on track with these quarterly marketing initiatives, we created this handy checklist. Download it, print it and hang it on your office wall as a constant reminder of the importance of these efforts!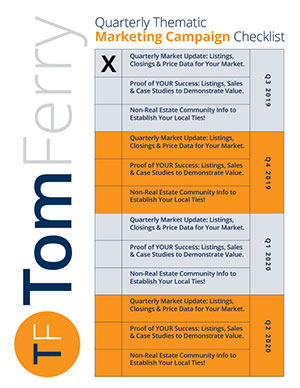 Strategy No. 2: Closing Gifts & Lunch
This strategy is so simple yet the return is massive!
Sending flowers or balloons to your sellers or buyers to their office will gain a lot of traction.
With a note that is congratulating them on their purchase or sale, you will not only show that you genuinely care for the next step of their lives, but also gain attention from their co-workers and create a conversation that encourages your client to talk about the help you provided.
Imagine one of your clients gushing about how much they loved you and how much you helped them improve their lives! You'll automatically be on top of mind with their co-workers!
The next step is to call them and invite them and their friends to lunch.
This helps build your sphere, connect with other people that are also interested in either purchasing or selling their property.
It will be much easier for them to hire your services once they've seen and heard the quality you provide. Plus you're also seen outside the real estate bubble!
Remember to be seen as part of the community, it's always good to move your content away from real estate every now and then.
Strategy No. 3: Acquire New Businesses
I've mentioned this during this year's Success Summit and I'll keep saying it again!
It's essential you acquire a new business!
Did you know that the average agent is 57 years old and looking to retire? It's at this moment that you should take advantage and buy their book of business.
Just imagine the value that their database possesses.
Before they take that step, you might want to start by partnering with them.
You're showing that you care for their clients and continue to provide great value to them.
Strategy No 4: Send CMAs to Past Clients
Another traditional yet phenomenal listing strategy is to send a Comparative Market Analysis to all your past clients – unsolicited!
By delivering this free CMA to every person you sold a home to, you'll spark the curiosity they may have selling their property.
They should receive two CMAs a year from you and they'll be accustomed to being informed on the value of their home.
Strategy No. 5: Start Your Own Business Mastermind Group
Just because the mastermind group of your town is not accepting new members, doesn't mean you can't contribute!
Don't let that stop you from creating your own!
Contact people like a financial planner, head of your local bank, florist, handyman, insurance broker, business and divorce attorney!
Be the leader and coordinate to meet up once a month for an hour or two. Talk of each other's business to know what works or not.
Since you're the knowledgeable agent, you'll want to share and help them with all your tips and strategies! You can even send them referrals!
Remember that the Law of Reciprocity is powerful and it will always come back!
Attract Those Listings!
Don't wait any longer and start now!
Remember to choose two or three listing strategies that work for you and your team!
Focus on strategies that will express your business, values and services.
Which strategy will you implement first? Let me know your answer and any other feedback in the comments below.