Tracing Jon Grauman's Path from 'Starvation' to Mega-Deal Stardom… And Everything in Between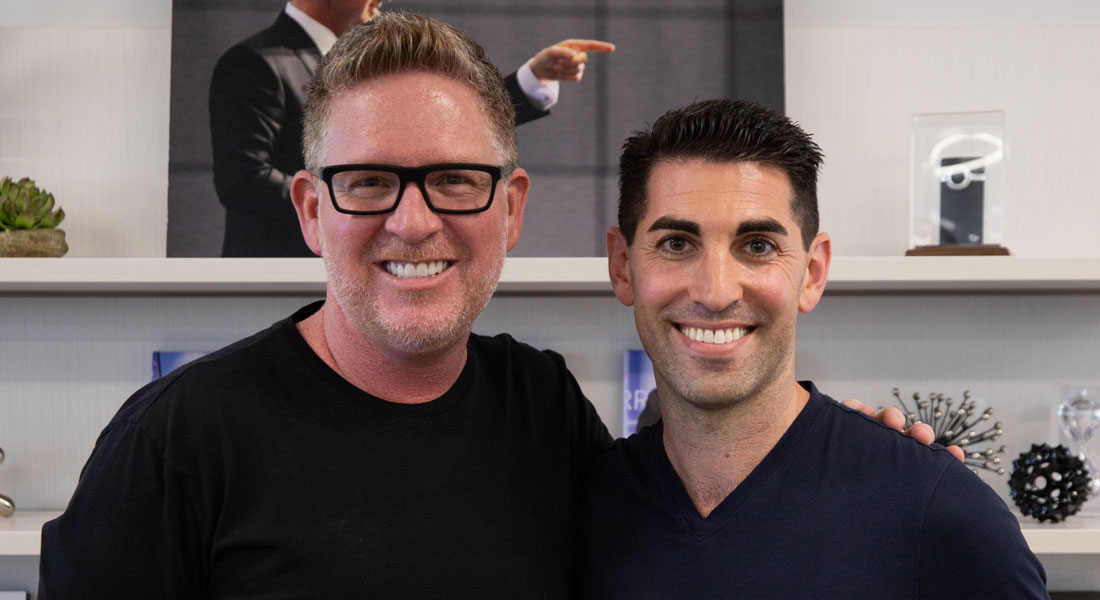 Reading Time: 6 mins, 18 secs
Admit it… When you hear about an agent involved in one of those absurdly large, news-making real estate transactions, it's easy to let envy creep in to your thought process and tell yourself things like…
…They're one of the lucky ones.
…They must have known the right person.
…Or they didn't earn it, etc.
Then you meet someone like Jon Grauman and hear his story – filled with all the same struggles new agents face – and you realize he's worked extremely hard to get where he is today.
Earlier this year, that work paid off when Jon was involved in the eighth-largest real estate transaction in Los Angeles history… 822 Sarbonne Road in Bel Air, which closed for $75 million.
And he'll tell you that transaction took tons of skill, patience, adaptability, perseverance and dedication to get closed.
In today's blog, I'm digging deeper not only into the story behind this sale, but Jon's journey as a whole. Let's go!
Things Didn't Start Exactly as Jon Planned
After eight years in the mortgage industry, Jon turned his sights to real estate sales in 2011. He quickly learned that his mortgage experience didn't necessarily translate to instant success in sales.
Or any success, for that matter.
"I had no sales my entire first year," he says. "I starved for that whole time."
He admits it was a year full of collapses and "many dark moments," but here's the key… He never gave up. He continued putting the building blocks in place to grow his business.
"I was determined enough that I knew I would ultimately get where I wanted to be," he says.
Starting to Gain Traction
Having come from the mortgage industry, the vast majority of Jon's contacts came from other real estate professionals, so he couldn't burn those bridges when he transitioned to sales. As a result, he had no book of business to work from.
What to do? He went all-in on Open Houses and eventually began building relationships and helping people buy and sell properties.
"I sat every Open House I could," he says.
But that's not all he did. Jon did his homework and prepped for them. He'd reach out to other agents asking about pocket listings or homes that might be hitting the market soon. Why go to all that effort?
"Buyers coming in are more knowledgeable than you are," Jon says. "We used to be the gatekeepers, but with so much information readily available online, you gotta know your shit."
Jon says because most Open House attendees aren't going to purchase that property, you always need something to pivot to, ideally something off-market.
He also said his key to Open House success was that he never tried to "sell" people. Instead, he aimed to build rapport and provide value… to show people how he can help them.
"You need to be a local market expert," he says. "If you're not, why are people paying us so much money?"
An Eye-Opening Revelation
Jon considers attending the 2014 Success Summit a major turning point in his career.
At the time, he and his fiancé, Lauren, both worked in real estate, but had resisted joining forces professionally. Through the course of the event, Jon recognized an important truth: His ambitions out-sized his current ability to serve.
"At the Summit, I realized this isn't a one-man job. You cannot do this job at a high level by yourself. Period, full stop," Jon recalls. "There are too many touchpoints in every transaction to do it all yourself."
He picked up the phone and urged Lauren to quit her current role and come work for him.
She agreed, and together they embarked on the next chapter of their journey.
A Difficult – But Lucrative – Juggling Act
Even with Lauren in his corner, things weren't magically all better. Jon looks back on 2015 as a "rocky road," navigating this new business partnership while simultaneously planning their wedding.
It wasn't easy… by any stretch of the imagination.
Jon and Lauren learned an extremely valuable lesson that year, however.
They each needed their own well-defined roles, and once they established those roles…
"Stop swerving, stay in your lane and do your job," Jon says.
Figuring out that formula worked wonders for Jon and Lauren's productivity… and income!
They went from earning $250,000 in take-home pay in 2015, to $500,000 in 2016, to $800,000 in 2017 and then crossed over into seven figures in 2018. This year, they're on track to earn $2.7 million!
Learning the Mega-Deal Mentality
Adaptability was a huge keyword in Jon's success with the $75,000,000 transaction.
First off, he represented the buyer, but never met the principal until many months into the process. He says he had literally hundreds of conversations with his client's representatives before meeting the actual purchaser.
Throughout the course of working together, many elements changed from the buyer's original intention… price range, location, timing, etc. For instance, a planned 30-day escrow expanded into an eight-month escrow!
Despite all the uncertainty – including months at a time wondering if this transaction would actually materialize – Jon maintained the attitude of "just keep taking your swings and playing this out."
Forget 'Normal.' This Process Was Entirely Unique.
Jon also says he had to throw out any pre-conceived notions built on his years of industry experience. He learned that clients at this level most definitely march to the beat of their own drum. So it wasn't about thinking outside the box. Instead, it was…
"There is no box," he said. "We veered so far off course in this deal, I never thought we'd see land again."
The transaction went through several iterations of the contract. Not just minor modifications, Jon says, but ripping the whole thing up, throwing it out and starting over three or four times.
Another important takeaway was to get an attorney involved in the process. "It's not an ego thing," Jon says. "You just need an attorney involved."
From a servicing standpoint, Jon learned that with a high-profile international client, he needed to be extremely fluid and work whenever his client was available, regardless of what time it was in L.A. "There is no clock… you're just 'on,'" he says.
"This One, We Celebrated"
Celebrating your wins is a huge part of avoiding burnout and recognizing why you devote so much effort to your business.
But Jon says what often happens is that by the time he gets a transaction to the finish line, he's exhausted and not in the mood for celebration.
But this? This was different. He recognized you don't get the opportunity to participate in a monumental deal like this every day.
"This one, we celebrated. We popped champagne the second we got the recording confirmation," he says. "It felt so good to get it across the finish line."
Jon's Parting Advice to Crack the Luxury Market
Jon often gets questions about how to transition into the luxury real estate arena.
You're not going to get those deals just by wishing for them or watching them from afar, he says.
Simply put, you need to get yourself in proximity of that clientele.
"Where do those people live and what are you doing to put yourself in proximity to them?" Jon asks. "Put yourself in that space and eventually the opportunities will materialize."
Follow Jon on Instagram @jongrauman
What did you learn from Jon's story? Let me know your biggest takeaway in the comments below.