The Monumental Journey of Jamie Mell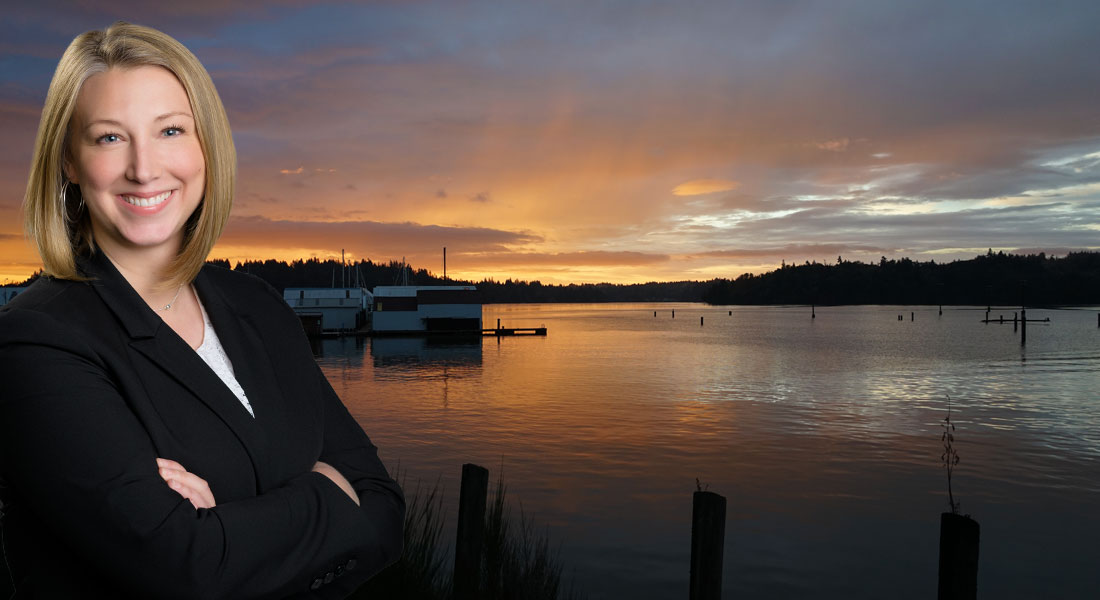 Reading Time: 9 mins, 14 secs
I meet so many inspiring entrepreneurs in my travels, sometimes I wish I could just tell people's stories all day, every day.
The grit, determination and inner strength of these dynamic professionals drives me to up my game and to serve at the best of my ability.
I've got a really good one for you today.
Meet Jamie Mell of Shelton, WA.
Her real estate journey spans just over a decade, but her massive transformation has really been compacted into the last 12 months.
Whether you're a new agent struggling to find your footing or an established broker looking to grow your company, I'm confident you'll find value in her story.

A Plan Seven Years in the Making
For seven long years, Jamie had an idea brewing in the back of her head.
Then she got more than she ever asked for… literally.
Since 2009, Jamie has been a licensed agent and office manager for a real estate office and property management company in the small town of Shelton, Washington. In the years since, Jamie built an affinity for the property management side, and dreamt of one day purchasing it from her broker, who owned both.
In May 2018, Jamie and her broker each found themselves at a crossroads in life. One day, they decided to go to lunch together, and Jamie mustered all her courage. She asked straight out, "Would you sell me the property management company?"
Her broker's reply?
"How about both of them?"
Wow.

A Monumental Decision
Jamie didn't answer right away. She wanted the property management company, but had never even considered owning the real estate office as well.
She had a lot to think about…
…a huge financial commitment.
…the demands on her time as a single mom raising two kids.
…AND a nagging fear based on her relative inexperience in the industry.
Outside of her role as office manager, she had sold a maximum of FOUR properties in her best year ever. In a small town with far more experienced sales agents, Jamie wasn't sure if she would command the necessary respect to be able to attract skilled agents to her brokerage.
But ultimately, the pros far outweighed any cons.
"I woke up one day and said I'm gonna try it," she says. "I know I can build the best brokerage in the area with the best people."

Rocky Beginnings to This New Venture
As you might suspect, embracing such a monumental undertaking didn't necessarily go smoothly.
Jamie's plan was to slowly bring change to her brokerage, moving it from an office stuck in old-school methodologies to a modern, progressive real estate organization.
But people are creatures of habit. They don't like change, and Jamie faced resistance early on.
"There were a good amount of really difficult conversations," Jamie says of those early days after taking control of the Shelton office of John L. Scott. "We parted ways with two agents, and had good, open and honest conversations with others who didn't understand what I was trying to accomplish."
Change moves slowly, however, and in that time, things weren't going well for Jamie or the office.
When she found herself calculating how many more months she could keep the doors open to both companies, she realized she needed to do something dramatic.

Seeking Survival Solutions
As a novice business owner, Jamie started seeking outside influences to help guide her path. She found Tom Ferry online and started watching videos and listening to podcasts.
Eventually, she decided to take the next step. She picked up the phone to find out what coaching actually entails.
On her coaching consultation, the person she spoke to asked about her sales history and goals.
Remember… Jamie's previous best sales year was selling four properties!
So when she replied with her meager aspirations, the consultant immediately said "Why so low?"
"Now looking back, I'm thrilled he did that because I was completely on the fence and I just kinda went all-in," Jamie recalls. "I agreed to it, I paid the money, and I've never had any buyer's remorse. Every time I pay that fee, it just adds to my drive."

"This is Ridiculous"
Jamie recalls setting her personal goals in one of her first coaching sessions. She said she wanted to earn between $50k-80k in GCI for 2019.
Her coach, Katherine, pushed for more.
Together they decided on an audacious goal of $120k GCI. Jamie recalls just thinking to herself, "This is ridiculous."
As of early November, she's closed 23 transactions for $150k GCI in 2019!
"It's the most amazing thing," Jamie says. "And it's not all about the money. It's about the fact that I set this goal that I didn't think I could attain, and I blew it out of the water."
What made the difference?
"With coaching, I really understand what it means to run a business," she says. "Now, nothing's going to stop me. It makes me so excited for 2020. How crazy do I want to be with my goals?"

Overcoming Her Own Self-Doubts
Jamie admits that before she joined coaching, she had a lot of self "hate talk" in her mind.
She questioned her experience.
She doubted her worthiness.
She worried about how others perceived her.
She lacked confidence.
Today, with the help of her coach, that's all behind her.
"I just decided to draw a line in the sand, where from this minute forward, this negative crap is not following me," Jamie says. "Having her help me get past that has been awesome."
She says her results have also contributed to keeping those negative thoughts away.
"When you set a challenge and achieve a goal, it automatically helps your confidence. Setting these goals with Katherine and achieving them has been the biggest boost ever."

4 Deals to 23: What Really Changed?
It wasn't purely a mindset shift that led to Jamie's massive growth in production.
Her coach also guided her to new, more effective behaviors that made a major impact on her business.
Prior to coaching, Jamie kept all her contacts in Outlook. As a result, she never really put any actual lead gen or follow-up plans in place.
She implemented a CRM and began a drip campaign to people in her sphere.
"I don't know why I didn't do it earlier," she says in hindsight.
Jamie also took strides toward establishing a stronger social media presence.
She began doing some farming in her community.
She also integrated several of Tom's best scripts and dialogues into conversations with people she'd run into when out and about.
Add it all up, and she went from a "personal best" of four transactions to 23 in less than a year!

Re-Defining a Brokerage Stuck in Its Ways
On the brokerage side of her business, Jamie also relied on her coach's advice to help facilitate the transformation she envisioned.
"She's been a huge help with the office culture that I came into," Jamie says. "Some of the agents were stuck in the old way of doing real estate. They only wanted to do floor time and they sat there playing solitaire waiting for people to walk in. We've shaken things up in the last year, and having her guidance with that has been a huge help to me."
Jamie says she's recruited four agents to her brokerage in the last three and a half months, including two veterans who jumped from other local brokerages. She's been focusing on transactional excellence with her agents, establishing higher standards… and seeing huge strides!
She's even been surprised a few times. She shared how one of her agents who was initially one of the most reluctant to change suddenly made a major turnaround and has shown up with a whole new perspective.
Another agent was recruited by a local competitor with a very attractive offer, but informed Jamie she decided to stay put because she loves the culture Jamie is building within the office.
"It's another signal that coaching is working," she says. "People are seeing the changes and recognizing the positivity."
Jamie has even adopted a new mantra developed in conjunction with her coach:
"The new way of doing real estate in Mason County!"
She adds: "If you want to get on board, come on over because we're just getting ready to take off."

The Amazing Support of the Ecosystem
Another way Tom Ferry coaching has impacted Jamie's business is through the incredible knowledge base of the ecosystem.
As an Elite+ coaching member, Jamie has access to both the Core+ and Elite+ level private Facebook mastermind groups.
She says they're always full of valuable insights, but one experience in particular demonstrated how crucial a role they could play in providing solutions for her business challenges.
"It was Friday at 5:00 p.m. and I had a VA appraisal go sideways. How do I navigate this?" Jamie wondered to herself.
She decided to post what happened in the Elite+ Facebook group, seeking whatever help she could find.
"Within 24 hours I had 30-something comments with advice and guidance," she says. "Just knowing I have that there for help and support is really cool.'"

Achieving Balance as Owner of Two Companies and a Single Parent
Jamie is a single mother of two, a nine-year-old boy and a 20-year-old daughter.
"I live a really full life," she deadpans about juggling her busy schedule.
But really… How does she manage it all?
"I live by my calendar. I make sure to schedule everything and I follow that schedule," she says. "I know I can manipulate that in 2020 to make it even better."
One recent change took place after her son complained that Jamie was "always on her phone" at home during the evenings.
"It was another eye-opener," she says. "I realized this isn't right. I need to make sure I'm successful not just at the office, but at home. Now I have it set up so I check the phone when I leave the office, once again at 7:00 and again right before bed." The rest of Jamie's evenings are devoted to her family.

Best Thing She's Ever Done for Her Business
As Jamie reflects on the last seven months since she joined coaching in April, she's seen massive growth in herself, her confidence, her business and more.
So what's been the biggest difference maker?
"You have to be open to getting out of your comfort zone," she says about how coaching has impacted her most. "You have to be all-in and willing to take on challenges and put in the effort.
"For me, it's just the best thing I've ever done for my business!"

What's the best thing you've ever done for your business? Let me know and share your thoughts on Jamie's journey in the comments below.