Making Dreams Come True: How One Agent Pushed Herself to Pay Off Her Mother's Mortgage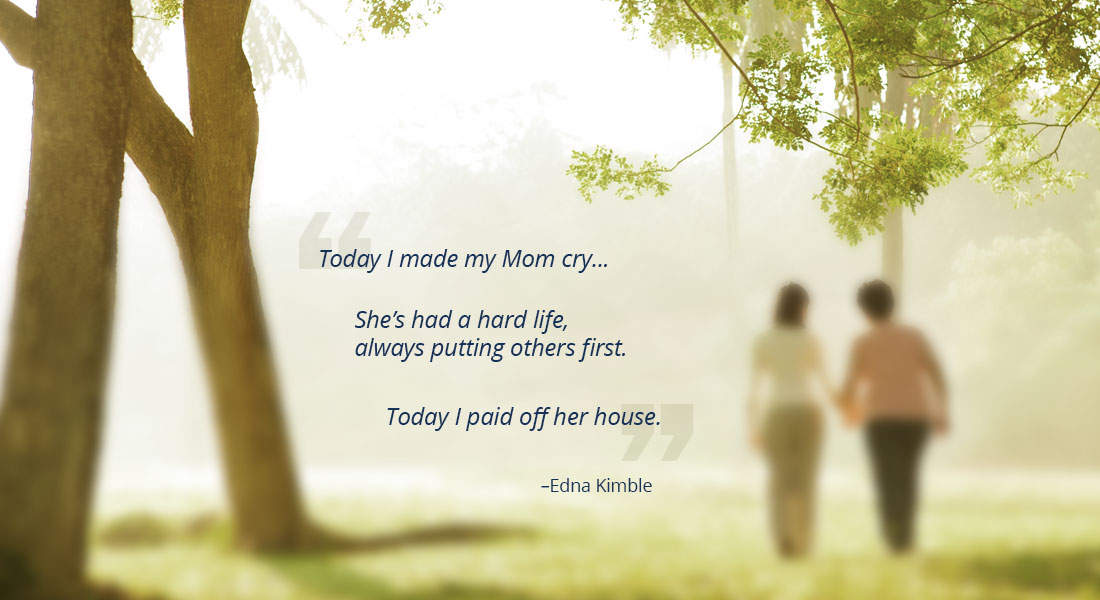 Reading Time: 8 mins, 6 secs
Want to see something beautiful?
Watch this short video:
What you just witnessed was Oklahoma super-agent and coaching member Edna Kimble surprising her mom with paperwork stating that Edna had paid off her mom's house.
Now here's the thing… Edna didn't necessarily want recognition for what she'd done.
Edna shared this video in our private Facebook groups only at the urging of her teammates with the aim of inspiring other coaching members.
In turn, I then begged her to be able to tell her story here in the blog, including her secrets to success, the backstory of how she developed her goal, and more!
She relented, so let's dive in!
How Edna Found Her "Big Why"
Massive success doesn't often originate from a place of comfort.
When you're already among the best of the best, it can be difficult to find motivation.
Such was the case for Edna.
As the No. 1 Century 21 agent in Oklahoma and No. 7 nationally, Edna found herself at somewhat of an impasse in January of this year.
"When I was at Elite+ Retreat, Tom talked a lot about your 'why' and setting goals," Edna says. "At the time, I was struggling to set goals. I'd done 170 deals (in 2018) and was going to do 200 deals (in 2019). But I couldn't get excited about it."
Edna says she and her coach had many discussions in search of her genuine motivation, or her "why." Her coach kept pushing her and prodding her, and then one day Edna just happened to casually mention how she wanted to make things easier on her mom.
"What does that look like?" her coach replied.
It was then that Edna realized that if her mom's house was paid off, she would be able to live a much more carefree existence and actually start enjoying her lifetime of hard work.
Instantly, this goal resonated with Edna.
"It made working that extra day or hour so much easier," she says. "My work was suddenly about helping my mom and changing her life."
How Do You Re-Pay a Lifetime of Devotion?
Edna describes her mother as having "the worst hard-luck story you've ever heard." She raised five children as a single mother and always worked three or four jobs. Yet she's never let it get her down.
"My mom is pretty phenomenal," Edna says. "Every day of our lives was never about issues or problems that arose for her, but how she believed we could do anything we set our minds to."
Edna's mom never finished high school, but after Edna earned her high school diploma, her mother got her G.E.D. and they started college together. Edna's mother went on to earn both a nursing degree and a medical administration degree.
She worked as a nurse for many years until her husband fell ill and required constant care. Edna's mother accepted that "caregiver" role for five years until he passed, wiping out her life's savings entirely during that trying time.
"She always lived on a very low, fixed income, yet she's still such a grateful person," Edna says.
The Apple Doesn't Fall Far from the Tree
It's safe to say her mother's dedicated work ethic rubbed off on Edna.
After working crazy hours in the food industry, Edna transitioned to real estate 15 years ago.
She says her first couple years were spent learning a lot and having fun, but not making much money. "I was basically a tour guide," she says in hindsight.
Then in the blink of an eye, suddenly Edna had to start making things happen. In what she describes as a "horrific situation," her family's economic situation was completely wiped out overnight. Edna was relied on to become the family's "bread winner," and she went all-in in that endeavor.
She started doing Open Houses every weekend. She became active on social media. She built her brand with her tagline, "Edna Sells," and took a picture of every client with her "Edna Sells" sign at closing, which she posted on social media.
As a result, she quickly started making a name for herself in her small marketplace of Tahlequah, Oklahoma.
Is This How You Define Success?
Fast-forward about a decade to late 2015, and Edna's efforts had paid off big time. She was a top producer selling well over 100 homes annually. Her easy-to-remember tagline had taken hold and she even recalls everyone at her daughter's high school gym chanting "Edna Sells" in unison one time when Edna arrived to watch a basketball game.
There was just one problem.
"I had no life and I was miserable," Edna recalls.
So in January 2016, she joined Tom Ferry coaching to help bring balance to her life.
Edna's coach instantly recognized that she was overworked and needed assistance, and advised her to start building a team. At the time, Edna was so busy she felt that would be fruitless… she wouldn't have time to train them anyway.
Eventually they worked out a plan where Edna set aside a few hours every Thursday to teach her new assistant one new task per week. Edna was beginning to see the light at the end of the tunnel.
"Coaching absolutely helped me take strides in the right direction for balance," Edna says. "The money was there but it always felt like I wasn't enjoying any of it."
One goal Edna set for herself to achieve better balance was to take her whole family on a major trip. She even left her cell phone at home and escaped to Hawaii for 10 days.
"It was a pretty fantastic trip," she says."It was the most amazing week to never once have to say, 'Let me just finish this call.'"
How Edna Became Tahlequah's "Family Realtor"
Fast-forward further to the present day, and Edna is on pace to achieve 200 home sales personally in 2019. She also oversees a team of three buyer's agents who maintain their own lofty goals.
She says the majority of her business is from repeat clients and referrals. She's also known for throwing a couple big events in her town every year – a Santa Claus event and an Easter Bunny event.
With 15 years of experience under her belt, she's beginning to work with some of the "next generation" of her clients from when she first started in the industry.
"I've always believed that if you take care of the client, the client will take care of you," Edna says. "Having been here so long, it's pretty cool. People start thinking of you like the family doctor. But the family Realtor."
Edna enjoys having her Tom Ferry coach to help strategize her business and hold her accountable. But it's also so much more…
"Coaching is not just one thing," she says. "It's the ecosystem. It's the accountability factor from your coach and your peers. If you make a big, audacious comment or goal, people will call you on it the next time you see them. The amount of feedback you get from your peers is priceless."
What's Your Why?
Simon Sinek's fantastic book, "Start with Why" was published in 2009, and ever since, we've recognized the importance of truly knowing what you're working for.
Even knowing that, it's really easy to discount that importance when you're as busy as Edna. But she now recognizes that knowing her "why" is most definitely a driving force behind her success.
When Edna set the goal to pay off her mother's house, it dramatically changed her outlook.
She points to an example of it being Saturday at 5:00 p.m., feeling tired and ready to go home, when a client calls and says, "We think this is the one. Can we come in tonight?"
"It made it easier to say yes," Edna says. "My mom never got to go home at 5:00 on a Saturday. She always had multiple jobs and cleaned houses on the side."
So if you learn just one thing from Edna's inspiring story, it's to take your "why" seriously.
"What I like about the Tom Ferry system is that it closes the gap of the 'why,'" Edna says. "It brings balance to your life. You need to find your why. I've been fortunate my children have been successful from a young age, so it's cool to be able to help my mom. Now she's my 'why.'"
Accelerated Success Allowed Her to Accelerate Her Plan
Originally, Edna's plan was to pay off her mother's house by the end of 2019.
However, a recent happening brought to light just how tight money was for her mom, so she decided to accelerate her plan. She got everything completed in time for her mom's birthday. Then the only issue was waiting for the day to arrive.
"I almost couldn't sleep the night before," Edna says. "I was just wondering how's she going to take it."
In the video above, you can see her mom look at two pieces of paper. The first one was the payoff letter from the mortgage company stating PAID IN FULL. The second page was her statement that said "No more house payments."
They hugged. They cried. The tension was finally broken and a huge weight lifted off both their shoulders.
Suddenly Edna's mom smacked her head as a realization hit her: "Oh no!" she exclaimed. "I already made the house payment this month!"
What's your why? Share it in the comments below.