Getting Unstuck: How One Agent Got Off the Plateau and Doubled His Business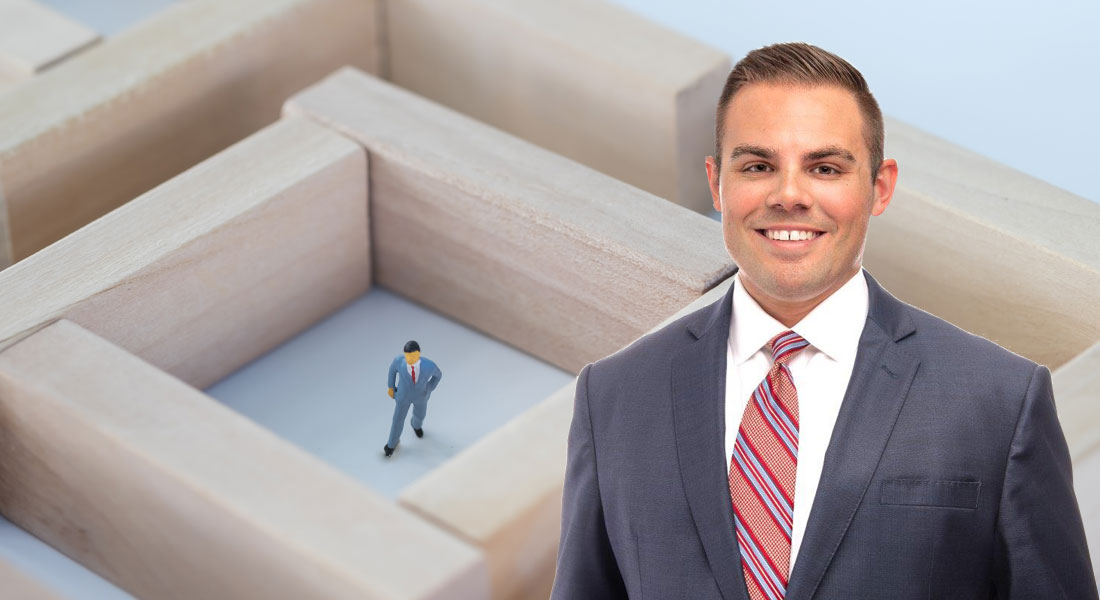 Reading Time: 6 mins, 40 secs
Here for the contest? You'll find the details at the bottom of this post. Don't miss this awesome success story, though… ESPECIALLY if you've ever felt like you just can't get your business to that proverbial "next level."
Some might not consider it a "problem" to be stuck at $240k annual GCI…
But if you're ambitious, you're damn right it is.
Especially when you know you're capable of more.
This is the scenario Richmond, VA-area agent Chris Elliott found himself in approximately two years ago.
He'd earned $270k GCI the year prior, and then finished 2018 at $240k. He was trending the wrong direction, and he didn't know where to turn. He felt stuck.
He did some research and examined his admittedly "frugal" approach to business. And as a result, he made some realizations that have since launched him to a whole new level of production and personal fulfillment.
Let me show you how he did it…
"Spazmatic" in How He Did Business Early On
Chris has always been a go-getter. But he was broke when he got into the business and relied solely on his strong work ethic to close 21 transaction sides in his first year.
Early on, he had no consistent lead pillars, although one of his approaches was to drop off a packet of materials with Expireds throughout his market.
Eventually he realized it was time to invest in technology to streamline his approach, so he went with Vulcan and immediately realized he should have done it much sooner.
"It was the stupidest thing in the world that I waited," he says, adding that he attributed $100k in GCI directly to Expireds in his first year using that technology.
Eventually a similar pattern emerged with his business as a whole.
He'd earned $270k GCI in 2017 and $240k GCI in 2018, but was at a loss for how to get off that plateau and ramp up his business to the next level.
Until he found a way to tap into his full potential…
The Common Denominator Among Successful Agents
No matter how successful you are, it's frustrating when you don't feel like you're achieving everything that's available to you.
Chris knew in his heart he was capable of more.
So he surveyed the landscape around him and came to a realization:
"I realized everyone who was doing high levels of production had a coach," Chris says. "I've always been frugal, so I was hesitant to make that investment. But eventually I took that leap into Core+."
One of the first things his coach noticed was that Chris was doing way too much himself.
He encouraged Chris to hire an assistant and walked him through the process.
"I never realized how much time and mental energy I was putting towards things that weren't producing new money," Chris says in hindsight. "It's very true that if you don't have an assistant you are one."
Adding Fuel to His Fire
Within a couple months of joining coaching, Chris loved the accountability, the strict tracking of his numbers, and the ideas he received from his coach. More than that, he saw the real difference it was making on his bottom line.
So he ramped it up even further.
He upgraded from Core+ coaching, which provides two coaching sessions per month, to Elite+, where he'd now have four sessions monthly.
"I did the math and realized this is pointing me in the right trajectory," Chris says of his decision to go all-in. "If I can pour more gas on this fire, it just makes sense to spend that additional money. I saw a lot of value in the calls. And with a weekly cadence, I know [my coach] Paul is going to hold the line every week and call me out on my bullshit if needed. Two weeks is sometimes too long without supervision."
Surpassed 2018 in Five Months
By the end of May 2019, Chris had already surpassed his total 2018 GCI with $245k in commission income.
He continued to flourish throughout 2019 and finished the year at $500k GCI!
He says part of it is the accountability. Part of it is having an outside expert weighing in on his business. And part of it is simply being among other agents all performing at a very high level.
"It's amazing," Chris says. "One of coolest things about coaching is that you realize the ocean is that much deeper. You're around people doing so much more production. It's humbling. Being around people doing bigger and better things is very inspiring."
Here's the real kicker, though…
"On top of all that, I'm less stressed and working less now than I was before," he says. "There's a lot less spinning my wheels. And I'm no longer spending time on things that aren't producing. It's just been invaluable to have someone looking at my business from the outside in."
2020 Vision
Chris set a goal to hire a buyer's agent in 2020 and ramp up his GCI to $625k. COVID has temporarily put those plans back a bit, but he's still on track to reach $500k in GCI for the second year in a row.
His former "spazmatic" approach is now well defined into specific lead pillars. He says 50% of his business comes from Expireds, followed by Past Clients/Sphere, then Geographic Farming, and then everything else, including a handful of FSBOs every year.
And he's done all this in a market with a $275k average sales price.
For those who are averse to working Expireds, here's Chris's sage advice:
"So what. I don't like working out, but it's a good thing to do," he says. "Those are stories they're telling themselves. You've gotta kiss a lot of frogs to find a prince. I'll earn $250k off Expireds this year. Only a handful are nightmare clients. They're people who need help and just listed with the wrong person before."
Making an Impact at Home
Chris and his wife – who is a nurse – have two daughters, and they've both always wanted for her to have more "home" time to be there for their family. The success Chris has created over the last two years has allowed his wife to step back, work less, and spend more quality time with their daughters. They also plan to move to a bigger house next year.
Professionally, Chris sees 2021 as the year to add a buyer's agent so he can focus exclusively on listings – and growing the business even further. Hand in hand with that comes the objective of gaining even more control over his schedule.
Investing in Himself Paid Big Dividends
Chris is to be commended for doing his homework, identifying real opportunities among all the noise in our industry, and committing to himself and his business.
"I'm pretty tight with finances, and in this business, everybody's got something to sell you," Chris says. "You've gotta be wise where you spend your money. At the end of the day, if you want more heat from the fire, you've gotta throw some wood on it. Once you identify those things that bring a positive ROI, you've gotta pull the trigger."
Meanwhile, Chris attributes much of his success to his coach.
"I have to give props to Paul Labossiere," he says. "Having a weekly call has been great for me. It serves to re-center me back on what I need to focus on instead of the drama, stress and minutiae we all deal with in this business. It's also been helpful to have Paul confront my on my bullshit, call out my excuses and get me out of my head."
Way to go, Chris! We're all proud of how far you've come in such a short time!
Want to win 3 months as my personal coaching client? Check out the contest here!