Introduction
Mindset, Model & Marketing
I wear a lab coat… After coaching real estate agents and teams for nearly thirty years, my team and I have studied and documented the art and science of success in real estate. Together we've helped countless agents better serve their customers while creating a life and a business they love.
One of my favorite ways to teach and share what I've learned with agents is through my popular series on YouTube called the #TomFerryShow. On my show, I've taken my research and the proven business-building techniques and strategies and put them in a fun and easy-to-watch lesson. In this book, I've taken the best of those strategies and research and put them in an easy to read guide you can start implementing in your business right away.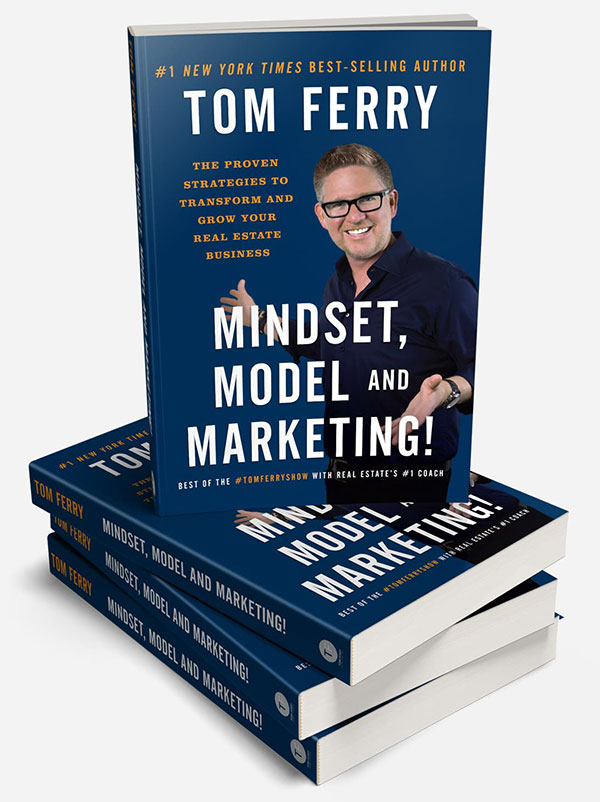 I've created this book with three sections in mind: Mindset, Modeling, and Marketing. The book starts with the mindset section, because that is where success starts. One of my favorite sayings is "Your head is a scary place to be!" From my experience, you've got to have the mental toughness and growth mindset in place so you can more powerfully implement the proven strategies and techniques shared in this book.
Mental toughness is more than just a theory for me in my own life and business… On July 7, 2016, my wife was diagnosed with breast cancer. I, along with our boys, family, friends, and a terrific medical team, rallied and supported her to victory. We're so grateful to be on the other side of surgery and chemo. I've had to practice and continuously improve my mental toughness. Mental toughness is staying in inspired action despite the circumstances surrounding you.
After mindset strategies, I cover modeling. Consciously or not, all of us are modeling someone or something in our lives and our businesses. In this section, I share with you the systems, structure, processes, and skills that I've found to create the most success for your business and your life.
The last section is all about marketing. As the great Peter Drucker said, "All business is innovation and marketing." In this section, I share some of the best marketing methods I've seen work time and time again. I've also included some very effective scripts that you can use immediately.
What's possible for you? Are you thinking big enough? Know that I believe in you, and my desire is that this book will inspire you to do what you love, serve clients that you love, for the people you love. Now that's a great business! As I mentioned earlier, my life and family have been impacted by breast cancer and this book is dedicated to my wife Kathy. Proceeds will benefit breast cancer research.
Remember, now more than ever, your strategy matters and your passion rules!